It has been years since the Colorado Rapids were the top Denver sports story of the night. In a town where football, basketball, baseball and hockey dominate the news, the Rapids finally enjoyed their spot on center stage - well, kind of.
Up in Toronto, the Colorado Rapids defeated FC Dallas in extratime and snagged their first MLS Cup.
At the moment the final whistle blew, it wasn't just the passport-wielding fans who celebrated. All across Colorado, bar-and-grills were packed to fire code with dedicated fans who bleed burgundy, as they cheered at deafening decibels.
"Everyone was screaming and cheering. The owner was running around," the bartender at a viewing party in The Celtic Tavern described. "It felt like I poured 100,000 shots as everyone celebrated."
"It was so loud, you could not hear for over 20 minutes," a bartender at the Back East Bar and Grill shared. "We are the only official Rapids' supporter in Colorado Springs, so it was packed out and crazy."
For those who gathered in their homes with friends to watch, the victory was just as sweet. It has been 15 long years for this club without an MLS Cup to show for it. The Rapids have captured the heart of every soccer fan in Colorado, and are beginning to catch the attention of local sports news.
One sports newscaster did the entire late night broadcast wearing a Rapids jersey. They also sent a camera crew to show a viewing party at another supporting pub, The British Bulldog.
All throughout the Mile High City, the Rapids were being honored for the gritty 2-1 win.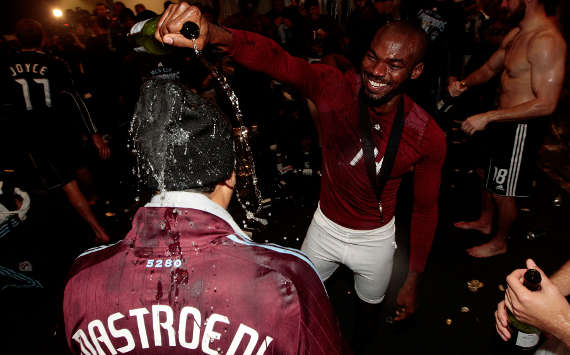 However, had it been the Superbowl, the NBA finals, or the World Series, the local news would have slotted it in as the top story of the night. The only sad part of the evening for Rapids' fans was having to wait eight minutes for the newscaster to mention that the Rapids' won the MLS Cup. What news was shared in the prior eight minutes? "It will snow this week." "Hundreds of rats were removed from a lady's home."
The Colorado Rapids have never needed attention. Their staff and players have always focused on their game and their fans. The extra attention is just a bonus.
Thanks to Facebook, there is a chance of a parade, and hundreds of fans are preparing to greet the Rapids on Monday as they step off the bus carrying the MLS Cup. Whether the local news will take notice won't matter.
This season, the Colorado Rapids and their fans departed on a memorable and exciting journey together. It isn't the Rapids who are missing out on the local media attention, it is the local media who is missing out on an amazing story.
Keep updated with Major League Soccer throughout the playoffs by visiting Goal.com's MLS page and joining Goal.com USA's Facebook fan page!