TORONTO - It may not have been the prettiest soccer match you'll have seen this season in Major League Soccer, but for the Colorado Rapids, winning their first MLS Cup was a worthy reward for a tough year.
Captain Pablo Mastroeni was most proud of the collective effort of his team that saw them raise the Philip F. Anschutz Trophy for the first time in team history.
"I'm just excited. The feeling really hasn't set it yet," said Mastroeni after the match. "What has though is the resolve we've had all year to continue to do what we're doing. We've always had such a belief in one another. When you're winning it's easy to say, but even when you're losing.
"For the guys to be rewarded with a championship means everything to me. It's been a collective group effort and I'm so excited that we were able to lift that trophy today."
Pushing the heavily favored FC Dallas to the brink, the Rapids came back from a one-goal deficit to eventually win the match in extra time thanks to a George John own goal.
Not having a match-winner in their squad didn't bother head coach Gary Smith one bit as he'll take goals wherever they may come from.
"Honestly, I don't mind how they come," said Smith at the post-game press conference. "If they're winners, it doesn't matter. The overriding thoughts have to be, for someone to score an own goal, they have to be under some pressure to make a mistake. You don't get too many volleys that go in from 40 yards. I was just pleased that the guys were able to mount enough of an attack to make a difference."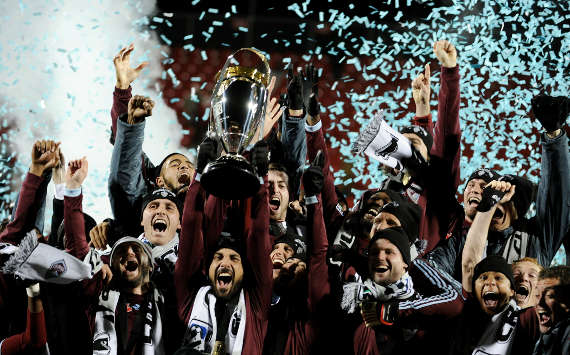 Their team has struggled at times this season and in the past, and Sunday's victory was made all the more sweet because of it. For Mastroeni, finally getting a medal was worth all the prior heartache.
"Not having won in many years, and being knocked out of the playoffs last year, it's been a struggle," said Mastroeni. "We've still been trying to find an identity. I guess for a lot of the clubs, especially the small market teams, it seems like you have to win the whole thing to even be heard.
"This year, we've identified that Conor and Omar [Cummings] have been the catalysts for everything we do going forward and that has alleviated a lot of the pressure from everyone else. We have a great thing going on in Colorado, lots of exciting players. We have a deep group and the future for this club is really looking brighter."
Match MVP Conor Casey probably said it best as he feels if nothing else, his side deserved the right to lift the cup.
"It feels like we really earned it," said Casey of the momentous victory. "Our backs were against the wall for most of the game but we really showed great resolve."
Keep updated with Major League Soccer throughout the playoffs by visiting Goal.com's MLS page and joining Goal.com USA's Facebook fan page!