Pablo Mastroeni vs. David Ferreira
Ferreira was named the league's Most Valuable Player earlier in the week and has shown during the playoffs just why that is. Ferreira scored a splendid goal against the Los Angeles Galaxy that turned the game in FC Dallas' favor, and had two assists in the first-round series win over Real Salt Lake. Ferreira is difficult to contain because of his elusiveness, but Mastroeni could be able to do just that.
Buoyed by the support of fellow defensive midfielder Jeff Larentowicz, Mastroeni is strong-nosed and disciplined enough to put himself in the right positions to slow Ferreira. He's also physical enough to knock him off the ball and perhaps leave him with a bruise or two. Mastroeni must stay on top of Ferreira, though, as the Colombian playmaker is dangerous enough to change the course of a game with one opportunity.
Ugo Ihemelu vs. Omar Cummings

Cummings' pace can put fear into any backline, and it can also destroy it. But if there is one center back with enough pace to neutralize Cummings, it is Ihemelu. The Dallas native has always been a physical specimen, ever since he was a rookie on the MLS Cup 2005 champion Galaxy. Ihemelu though has now blossomed into a solid defender who does not give much away.
In his last nine regular-season games, Cummings scored nine goals. One of the two teams who stopped him during that stretch was FC Dallas. In that match, Ihemelu was not available but FC Dallas' backline was still able to neutralize the Jamaican. FC Dallas has several pacy players such as Jackson Goncalves and Marvin Chavez, who can all keep Cummings under wrap, but Cummings' position along the backline will put much of the pressure on Ihemelu.
George John vs. Conor Casey
What Casey offers in size, John can counter with his own physique. Casey and Cummings have been one of the most lethal striker pairs in the league, but John and Ihemelu have the tools to keep up with them. Casey had 13 goals but also added six assists. He can muscle his way into opponents' backlines and make his presence felt with his play in the air but can also get his foot to the end of passes – his sliding series equalizer against Columbus helped the Rapids reach MLS Cup.
John, though, is a physical presence in his own right. At 6-foot-3 and 200 pounds, John has enough of a body to knock Casey out and neutralize the Colorado striker's own attributes. John can get to balls played in from the flanks and could take away a portion of Colorado's aerial game in the process.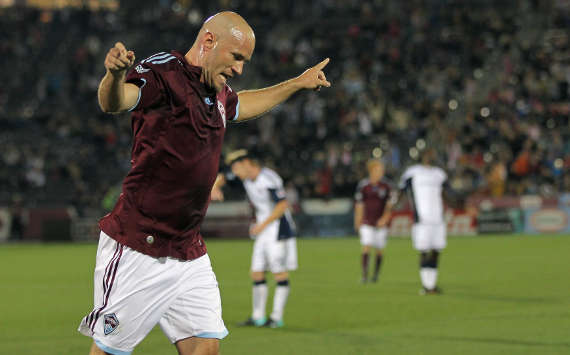 Brek Shea vs. Kosuke Kimura
Shea has been one of FC Dallas' bright spots all season. The 20-year-old left midfielder has had a steady season for the Western Conference champions and has only grown in prominence as the season has progressed. Shea had an assist on FC Dallas' second goal in the Western Conference Championship against the Galaxy, setting up George John with a well-placed ball early in the second half.
Shea's size might cause problems for Kimura, but the speedy right back will be able to keep up with Shea. Kimura will also put Shea on the defensive with his own runs and service from Colorado's right flank. Kimura scored the goal that led Colorado to MLS Cup, swinging in a cross from the right that bounced its way into the back of the net. Shea cannot afford to get caught out of position against the heady Kimura.
Keep updated with Major League Soccer throughout the playoffs by visiting Goal.com's MLS page and joining Goal.com USA's Facebook fan page!