With Real Salt Lake boasting a home unbeaten streak that now extends to 33 games in all competitions, FC Dallas knew it would take something special to advance past RSL with the second leg in Utah's Rio Tinto Stadium.
FCD coach Schellas Hyndman may not have the best fashion sense, but he sure knows how to exploit a tactical deficiency when he sees one. His side's determined high press for the first half of the game set the platform for a credible 1-1 draw which saw Dallas advance to the Western Conference final over last year's champion.
Salt Lake has won plaudits over the past two years for a slick, interchanging passing game. On the ground, its midfielders boast the best collective ball control of any MLS side, even without the suspended Javier Morales. But the defense is slightly more rugged.
Hyndman instructed his second line – Brek Shea, David Ferreira, and the frighteningly quick Marvin Chavez – to pin down the RSL defense roughly three-fourths up the field. Jeff Cunningham, in for the injured and slower Milton Rodriguez, buzzed between the centerbacks, forcing them to seek early passing options.
Those balls either came to tightly-marked fullbacks Robbie Russell and Tony Beltran or sailed over the midfield as low-percentage clearances.
The heavy pressure helped create the first goal. A long throw by Ugo Ihemelu fell to Jamison Olave, who didn't deal with it in time before David Ferreira pounced. (By the way, good luck finding a comparable whole-hearted display by fellow MVP candidates Edson Buddle and Chris Wondolowski to the two-way masterclass Ferreira put in.)
When Kyle Beckerman and Nat Borchers stepped over to close down the Colombian, Dax McCarty took off sprinting for the box.
"We had the ball on the left side and I saw David [Ferreira] break free a little bit," McCarty explained. "I saw that their center back was out of position and just made a run forward."
Shea chested Ferreira's chip into the path of McCarty, who slotted home to give his side a two-goal aggregate advantage.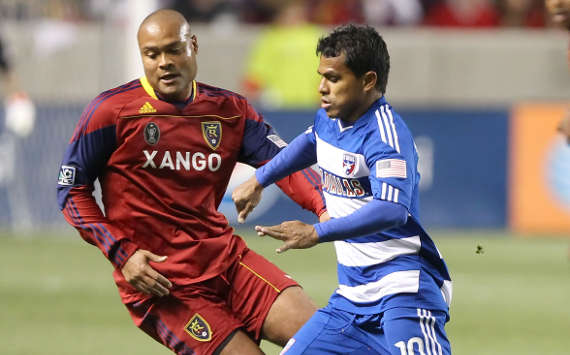 That buffer allowed Dallas to sink back a good 15 yards and give up the press in the second half. Despite its ruthless effectiveness, no team would be able to maintain the high line for 90 minutes at altitude.
However, Hyndman pointed out another benefit of collapsing into a defensive shell: utilizing his side's pace on the counterattack.
"We started off on level one and then we talked a little bit about going to level two and using that 40-45 yards of space for the counter attack," Hyndman said after the game. "We had a couple of great one-on-one situations that could have made it a little bit easier for us."
Had Cunningham or Ruben Luna finished off their chances on the break, the tie would have been over as a contest. However, with Salt Lake suddenly able to find its midfielders, Andy Williams put his stamp on the game and crafted an equalizer for Robbie Findley in the 80th minute.
By that point, though, Dallas had already laid the foundation for the aggregate victory thanks to some excellent high pressing in the first half.
Zac Lee Rigg writes things and stuff for Goal.com. You can follow him on Twitter @zacrigg, if you really want to I guess.
Keep updated with Major League Soccer throughout the playoffs by visiting Goal.com's MLS page and joining Goal.com USA's Facebook fan page!