SANDY, Utah - FC Dallas goalkeeper Kevin Hartman may not have won Goalkeeper of the Year, but his leadership and outstanding saves were the difference in a tight series with Real Salt Lake.
Hartman's four key saves in the second half of Saturday's tilt at Rio Tinto preserved a road draw for Dallas and allowed the side to advance to the Western Conference final.
"[Hartman] came up big time," captain Daniel Hernandez said. "In the second half, he basically saved us. There were two or three times that [Salt Lake] had chances to score and he kept us in the game. He was the difference maker."
Dallas started the second half up 3-1 on aggregate and needed to keep that lead for 45 minutes in order to advance. The side essentially gave up on any second half offense and focused all efforts on stopping Salt Lake's league-leading offense from getting the two goals back. The strategy put Hartman in a series of difficult situations and required him to bail out missed assignments on multiple plays.
"In the 49th minute we gave away an opportunity to [Fabian] Espindola and I was able to spread myself out to come up with the save," Hartman said. "It gave me confidence through the first portion of the second half."
For the rest of the half, Hartman sat back with his defense in what often looked like an offense v. defense practice drill. Dallas sat in a shell and tried to kill the clock, while Salt Lake moved additional players forward as the half continued.
In the 57th minute, Salt Lake went to a three-man back line as Collen Warner (midfielder) replaced Robbie Russell (outside back). Ten minutes later, Paulo Jr. (forward) replaced Ned Grabavoy (midfielder) in another attempt to push more players forward. Hartman's four saves came as Salt Lake's defenders and midfielders served ball after ball into the box, occasionally to open forwards. These openings were repeatedly closed by Hartman.
Hartman held off Salt Lake's attack until the 79th minute when Andy Williams served a ball forward into the box. Nat Borchers headed it to Robbie Findley who finished easily.
"I was never under the assumption that we were going to get a shutout here," Hartman said. "Everyone worked really hard and came up with plays when they needed to."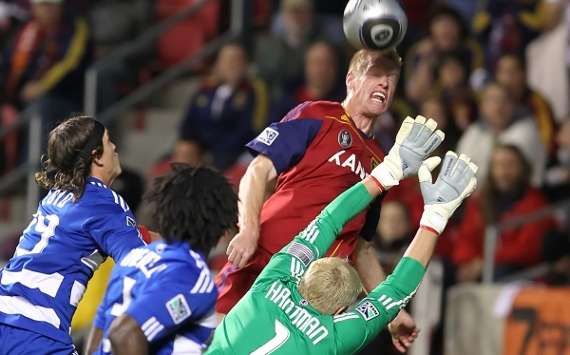 The crowd at Rio Tinto cranked up the volume following Findley's goal and play was delayed while streamers were pulled from the field; however, Salt Lake couldn't build any momentum in the final 10 minutes.
Following Findley's goal, Dallas prevented any further shots on goal, though they survived a few near misses by Salt Lake.
The result was a draw for Saturday's match and an aggregate-goal win that put Dallas through to the next round of the playoffs.
Salt Lake's players and staff gave credit to Dallas and to Hartman for the victory. Coach Jason Kreis summed up the feeling.
"We lost to an extremely good team playing extremely good soccer right now."
For more insider information on Real Salt Lake from Tyler G. Page visit realsoccernation.com.
Keep updated with Major League Soccer throughout the playoffs by visiting Goal.com's MLS page and joining Goal.com USA's Facebook fan page!