Every team reacts differently to the increased pressure of a playoff game.
After all, most regular season matches do not demand the concentration and the intensity required to succeed in the postseason. The number of adequate tests encountered during the seven-month campaign likely fits on one hand. The lack of experience in these pressure-cooker situations means it isn't easy to project what sort of impact the additional strain will have on a club's approach or its performances.
One weekend may not provide all of the necessary evidence, but the opening four games on the road to Toronto did underscore one critical point. For most of the teams involved, there is plenty of work to do in order to reach the standard required to realize those MLS Cup dreams.
Composure deserted several sides as they sought to secure a positive result to open their conference semifinal series. Instead of following the tried and true script of keeping things tight at the back and operating opportunistically and ruthlessly at the front, some clubs allowed chaos to reign and disaster to strike at inopportune times.
Columbus nearly suffered fatal damage as they struggled to keep their heads and their shape in Commerce City. Colorado pulled apart the Crew time and again in the first half, distorting the visitors' shape and reducing it to rubble. Only a resolute display of last-ditch defending kept Columbus in the tie before the halftime whistle blew. It isn't all bad for the Crew, however, after a significant improvement after halftime restored the defensive structure and limited the damage to one goal ahead of the return leg at Crew Stadium on Saturday.
Similar problems plagued San Jose as it attempted to repel New York's advances on Saturday night. The Earthquakes' constant defensive shuffling took its toll in this match as New York engineered chances by exploiting gaps in the Earthquakes' back four with some regularity. Jon Busch bailed out his teammates on several instances, but a dearth of calmness at the other end from Golden Boot winner Chris Wondolowski prevented the Earthquakes from grabbing an unlikely draw.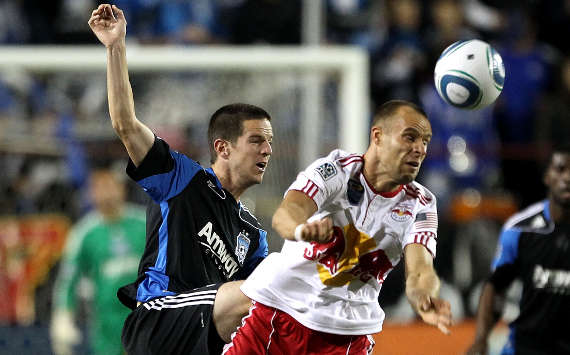 If those two teams persevered through nearly fatal breakdowns due to a lack of composure and shape and managed to cling to life, a handful of sides merely coped with uncharacteristic wobbles.
Colorado lacked the nous to steer its way to an emphatic advantage against Columbus. More ruthlessness in the first half could have seen the Rapids compile an unassailable lead, but the early dominance yielded to a placid second stanza. Instead of building on their positive approach in the first half, Colorado buckled after Columbus righted itself and nearly squandered its narrow edge with a nervy display in the final fifteen minutes.
FC Dallas and Real Salt Lake deviated from their usual operating practices at points at Pizza Hut Park. FCD buckled under RSL's high pressure during the early stages and conceded too cheaply to Fabian Espindola early in the match. Espindola's early goal should have spurred RSL onwards, but the bright start petered out due to a lack of possession and a surprising bit of uncertainty at the back. FCD grasped control of the proceedings by the half-hour mark, scored a scrappy goal through Jeff Cunningham shortly before halftime and snatched a deserved late winner through Eric Avila. A lack of composure even afflicted RSL playmaker Javier Morales as his frustration boiled over into two second-half yellow cards and a suspension for the second leg.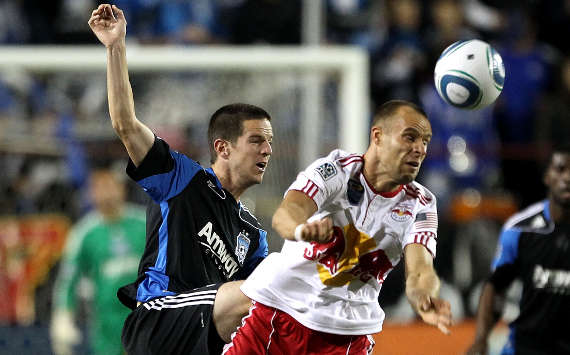 While those five sides wrestled with lapses, the three remaining participants all displayed varying degrees of the consistency and the diligence required to succeed in the postseason.
Seattle faltered for reasons unrelated to their approach and their mentality. On another night, Sounders FC would have converted one or two of its early chances and coaxed Los Angeles out of its resolute shape. Donovan Ricketts' excellent performance in net and the Galaxy's stout defensive efforts repelled those ambitions, but Sounders FC's troubles stemmed only from an inability to find an alternative to a wing-fueled attack. It may provide scant solace after Edson Buddle's stunning strike staked the Galaxy to a cushion ahead of the second leg, but Seattle offered a decent effort lacking the necessary invention and quality to break down the resolute visitors.
New York suffered from no such problems in its victory at San Jose. Bouna Coundoul looked a bit shaky with his handling between the sticks at points, but the Red Bulls allied a solid performance at the back with the necessary cutting edge at the sharp end. Joel Lindpere capped a fine display with a well-taken goal to provide the margin of victory. All in all, the Red Bulls supplied a professional statement of intent in a playoff run expected to proceed further than this initial hurdle.
Similar sentiments apply to the impressive work submitted by Los Angeles in its visit to Seattle. Bruce Arena sent out a well-drilled starting XI designed to nullify Sounders FC's inherent strengths out wide.
David Beckham and Landon Donovan offered selfless performances on the flanks as they tracked back for most of the match, while Sean Franklin and Eddie Lewis buttoned up Sanna Nyassi and Steve Zakuani as the two fullbacks. Buddle may have secured the points with a goal worthy of winning any game in the world with its audacity and its quality, but the Galaxy's success sprouted from its team-first approach and its dedication to remaining composed in a difficult and hostile environment.
Los Angeles' comprehensive showing revealed the template necessary to succeed in the postseason. In order to adapt and employ a similar approach to suit their own situations, the other combatants will need to locate the necessary composure and the required discipline quickly in order to survive.
The pressure will continue to build as teams continue their search for the perfect playoff formula. As this weekend showed, the fate of these eight teams lies in how they react to the changing circumstances as they fight to prolong their MLS Cup dreams.
Kyle McCarthy writes the Monday MLS Breakdown and frequently writes opinion pieces during the week for Goal.com. He also covers the New England Revolution for the Boston Herald and MLSsoccer.com. Contact him with your questions or comments at kyle.mccarthy@goal.com and follow him on Twitter by clicking here.
For more on Major League Soccer, visit Goal.com's MLS page.