COMMERCE CITY, Colo. -- For the first game of the 2010 MLS postseason, the Colorado Rapids intended to walk away with a couple of goals. That plan was thwarted by the Columbus Crew, but the Rapids were still happy to earn a 1-0 win in the first leg of the playoff series.
The Colorado Rapids took the field of Dick's Sporting Goods Park against Columbus exuding confidence and flair. Notably, captain Pablo Mastroeni scored early in the match, as opposed to one of the Rapids' two potent strikers, Conor Casey and Omar Cummings, who combined for 27 goals in the regular season.
That was to be the only goal of the game.
Despite continually pressing the game and fighting to widen the lead, the Rapids could do no more. To go into the next game with a bigger lead would have been a great advantage, but the Rapids contented themselves with the win.
"Would it be better to go there with a two goal lead? That was the plan," Mastroeni affirmed after the match. "We had enough opportunities to do that. The first half especially. That's probably the most disappointing part. That's the game."
While the score was not ideal, the Rapids took solace from a fine performance against an opponent with more playoff experience.
"I was absolutely delighted with our conduct and the sheer commitment of the group. We set a very good tone and tempo in that first period," coach Gary Smith said. "The second period, when it got a little bit bogged down, and we had to show some resolve, I thought we did it with flying colors. We defended set pieces very well, limited them to one very good chance, and that was from the corner and Matt Pickens made a wonderful save.
"But all in all, we deserve the win, and probably on the balance of chances deserve to be a tad more in front on this side than we are."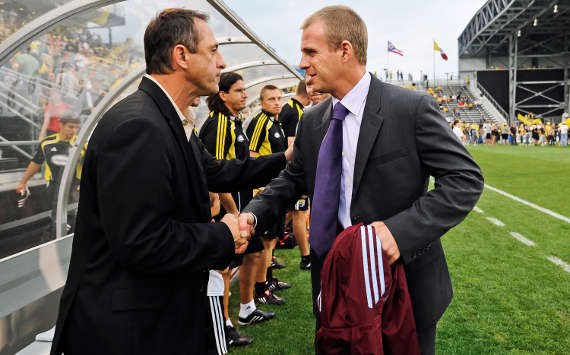 Drew Moor, who helped preserve a clean sheet for the Rapids, echoed the coach's comments.
"We are definitely happy with the win," the defender said. "I think even more so with the performance. We would have liked to maybe get one more, just for an extra cushion going to Columbus, but I think we made a very good team look pretty average at our home field."
Not only did the Rapids get the win, but they also proved to the Crew and to themselves that they are a resilient and skilled team.
When these two teams meet again on Nov. 6, the Rapids hope their one goal from this match - combined with their determination and talent - will be enough to see them through to the next round.
Keep updated with Major League Soccer throughout the playoffs by visiting Goal.com's MLS page and joining Goal.com USA's Facebook fan page!