HARRISON, N.J. – New York offered yet more proof that it will pose considerable problems for any team it faces in the MLS playoffs with its showing in last night's 2-0 victory over New England.
Granted, the evidence put forth on this night may not prove particularly persuasive when viewed in its immediate context. Neither side contributed much to a drab and ugly affair marred by physical play and restricted by a lack of ingenuity in the attacking third. If this was New York's central statement of its playoff intentions, the final assertion would fall well short of championship caliber despite the positive result.
Fortunately for the Red Bulls, a wider view of this performance shows exactly how much danger Hans Backe's side will pose in a playoff game or series. Few, if any, teams are better suited to a postseason run than the top regular season team in the Eastern Conference.
Playoff combatants veer toward an opportunistic and tentative approach rather than an ambitious and composed deportment. MLS games aren't generally bogged down by radical tactical adjustments, so this conservative disposition serves as an equalizer of sorts come playoff time. Some teams eschew these modest goals – Real Salt Lake did so in dispatching Columbus in the first round of the Eastern Conference playoffs last season, for example – for more expansive ideas, but the balance of teams usually favor dull contests over entertaining affairs unless circumstances dictate otherwise.
In other words, a typical playoff game might resemble this rugged encounter between two old rivals, though presumably with more sharpness across the board.
"I thought it was a battle throughout," Red Bulls defender Carlos Mendes told reporters after the match. "It was a physical game. We knew they were going to come out and pressure, they had nothing to lose. It was a team effort."
As this particular meeting with the Revolution showed, New York can excel in games where quality isn't a discerning factor. That statement isn't a slight against a Red Bulls side with plenty of talent in its starting XI and the capability to play any MLS team off the park on its day, but rather a nod to its ability to compensate and succeed when its showing doesn't quite reach the desired heights.
The basis for this confidence rests in a potent counterattack. New York retains a tight defensive shape from the start and seeks opportunities to send players forward – particularly Dane Richards on the right wing and Thierry Henry in a freer role when available – on the counter to expose the opposition when they inevitably press into the attacking half.
The formula worked to perfection on this night even with Henry sidelined by a right knee strain for the second consecutive match. Richards scored the opening goal of the match by capping a quick break with a stinging drive after Juan Pablo Angel's unhampered turn and subsequent feed played him free down the right flank. Joel Lindpere's decisive second also owed much to exploiting the space vacated by the Revs.
Playing for the counterattack works particularly well after securing an early advantage. Like all MLS teams, New York prefers to play from the lead. Unlike most teams in the league, New York is particularly well equipped to do so given its capabilities. By fielding Rafa Marquez in front of the back four to bolster the defensive shape and the work in possession and sending players forward at opportune times to force the opposition to remain somewhat honest, the Red Bulls represent a difficult proposition to break down even if they allow the opposition plenty of the ball.
The task is so arduous that no MLS team has turned the Red Bulls over after they have scored the opening goal. Fifteen teams have watched New York take the lead in a match this season, but only Houston emerged with a point at the final whistle. The Red Bulls' record of 14-0-1 when scoring first is currently tops in the league by winning percentage, though four other teams have also prohibited opponents from grabbing all three points in similar circumstances.
New York has proven its ruthlessness when holding a lead, but questions surround whether the Red Bulls can meddle through when asked to carry more of the game. While New York can play in possession if required, the Red Bulls sometimes lack the incisiveness to slice teams open if asked to do so. Henry's recent absence has only underscored the inherent lack of creativity in the ranks.
Based on this evidence, the Red Bulls can address those creative concerns for the moment by relying on their ability to grind out results even when falling well short of their best. It is a characteristic that could come in handy as the demands and the expectations increase for a side that will be favored to lift the Eastern Conference championship in a few weeks' time.
"We need to finish (the season) off well," Angel told reporters after the match. "We don't want to disappoint ourselves, because we've worked so hard. But we know we have a big challenge ahead. We have to correct the things that we need to correct, and because of the formula of the league, anything can happen. We have to be our best from the beginning, because we don't want to miss out on this great opportunity."
Last week:
3/8 (38%)
For the season:
94/192 (49%)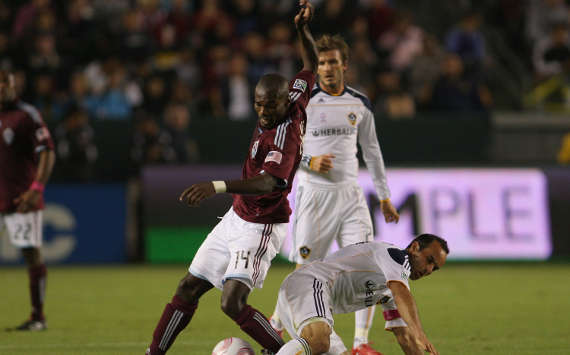 Saturday
Seattle @ Houston – 4:00p.m. (Telefutura) –
Goal.com Preview

Back in the days when the Dynamo ruled MLS, this game would have turned in the wide areas. Houston's weakness in central midfield and central defense may push the decisive moments inside in this encounter even though Seattle boasts two in-form wingers in Sanna Nyassi and Steve Zakuani.
Prediction:
Seattle win.
Toronto FC @ D.C. United – 7:30p.m. –
Goal.com Preview

Bet on United mustering up a decent effort to celebrate Jaime Moreno's sendoff and Ben Olsen's last match as interim boss.
Prediction:
D.C. United win.
San Jose @ Kansas City – 8:30p.m. –
Goal.com Preview
Watch for a bit of strategy here from Frank Yallop and the Earthquakes. If Seattle emerges with all three points from the early match against the Dynamo, Sounders FC will clinch fourth spot in the Western Conference and send the Earthquakes to the Eastern Conference regardless of the result in this game. San Jose would then theoretically stand to benefit with a victory against Kansas City – assuming the Earthquakes see Columbus as the preferred first round opponent – because it would then seal fifth spot in the West and a date with the Crew. A Seattle stumble would open up a wealth of possibilities and might encourage the Earthquakes to employ a more measured approach against the Wizards to avoid a spot in the West bracket.
Prediction:
Draw.

Real Salt Lake @ Colorado – 9:00p.m. –
Goal.com Preview

These two Rocky Mountain rivals specialize in season-ending slugfests. Expect nothing less from this match even though the stakes aren't as high – despite RSL's Supporters' Shield push – as they have been in recent years.
Prediction:
Draw.
Chicago @ Chivas USA – 11:00p.m. (Fox Soccer Channel) –
Goal.com Preview
Brian McBride rides off into the sunset after this low-profile encounter, but the Red-and-White could place a damper on his last match as a professional.
Prediction:
Chivas USA win.
Sunday
Philadelphia @ Columbus – 4:00p.m. –
Goal.com Preview
Don't discount the positive impact of Columbus' 4-1 victory over Joe Public in a meaningless CONCACAF Champions League match on Thursday night. The Crew needs positive results after a rough patch over the past six weeks and dispatching the Trinidadians falls into that category. It stands to reason that a rather mixed starting XI will try to build on the Champions League victory by foiling a Union side that doesn't travel well.
Prediction:
Columbus win.
FC Dallas @ Los Angeles – 8:00p.m. –
Goal.com Preview

Can the Galaxy afford to adjust its approach to this match if RSL loses in Colorado on Saturday night? Last week's defensive nightmare against the Rapids suggests Bruce Arena will have to field his back four regardless of the circumstances, but Landon Donovan (among others) probably requires a break at the other end of the park if the Shield is already in tow.
Prediction:
Los Angeles win.
Kyle McCarthy writes the Monday MLS Breakdown and frequently writes opinion pieces during the week for Goal.com. He also covers the New England Revolution for the Boston Herald and MLSsoccer.com. Contact him with your questions or comments at kyle.mccarthy@goal.com and follow him on Twitter by clicking here.
For more on Major League Soccer, visit Goal.com's MLS page.