It is baffling to Shalrie Joseph that the New York Red Bulls would let go of star striker Juan Pablo Angel, but the 32-year-old admitted that he would love to see the Colombian hitman join the New England Revolution.
"For me, I think it would be really stupid to let Angel go," Joseph said exclusively to
Goal.com
. "In my eyes, he is definitely one of the top three scorers in this league. He does so much for that team. For him not to re-sign would be a sad loss, but if he leaves, hopefully our team and organization can make a bid for him."
The Red Bulls captain has been very vocal in admitting that he won't be back next season and several teams made inquires about the forward during the trade deadline. Even with Angel turning 35 this month, Joseph believes that Angel is a very dangerous player in MLS.
"He holds up the ball and controls the play and is still good in the air."
The captain of the Revs and one of MLS' top players, Joseph wants to see the team deliver on its promise to bring in designated players to help the team rebound from its disappointing 16-loss season.
"We just need great level players that can come in and compete," Joseph said. "Guys who will practice hard and make our team work hard."
The tough-minded midfielder added, "I think we have a great nucleus and a lot of young good players. Hopefully, we can put this season behind us. We can definitely forget about last year quick."
As enticing of a prospect of signing Angel might be, Joseph respects that the forward is entering the playoffs and won't be too vocal in recruiting him until the offseason.
"I can't really speak too much about that because he has the playoffs ahead of him and I wish him the best."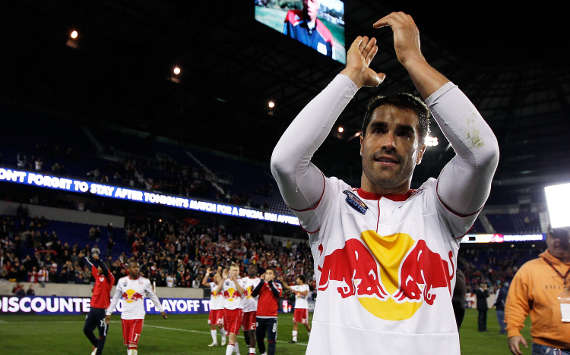 Free Kicks:
Seeing is believing according to Joseph. Over the past weeks, the Revs have promised fans a soccer-specific stadium and designated player signings but Joseph cautions that the current roster has to be prepared to improve from within.
"I'll be happy when I see it," said Joseph. "If something happens, then you'll see a big smile on my face. Until then, we have to compete with the guys that we have."
Alex Labidou, a Goal.com contributor, is based in New York City. Follow him @SportsLab.


For more on Major League Soccer, visit Goal.com's MLS page and join Goal.com USA's Facebook fan page!