On Form
Los Angeles Galaxy
: The Galaxy have the ability to execute precise passing and searing counterattacks resulting in high quality scoring chances. This was demonstrated last Saturday night against the Colorado Rapids. Perfect tic-tac-toe passing resulted in an Edson Buddle goal in the first 10 minutes. Other things are falling into place, as well. David Beckham's rust is virtually gone, and Landon Donovan has caught his breath after some exhaustion from an emotional World Cup. However, they are, by no means, in play-off shape.
FC Dallas
: The best news for the Hoops this week is that veteran goalkeeper Kevin Hartman looks set to make his return to action after suffering an MCL injury at the hands, or foot rather, of Thierry Henry on Sept. 16. Backup keeper Dario Sala did well enough in covering for the former Galaxy man, but Dallas will no doubt feel more comfortable with their number 1 in the net. Hartman's return means FCD is now back at full strength, something coach Schellas Hyndman will be more than pleased with.
Off Target
Los Angeles
: Granted, the Galaxy scored an awesome goal against Colorado, but it was primarily due to a deflection. The rest of the Colorado match was the same story; the final touches are not there. LA always make their way to the one-yard line, but they have trouble crossing the goal line. If they plan on making it far in the post season, they have to start making the correct final decision.
Dallas
: The 2-0 loss to Real Salt Lake ended a very impressive unbeaten run for FC Dallas. That run had to end at some point, though, and better to pick up a loss in the regular season than in the postseason. What should concern Hyndman, however, is the ease with which his team were brushed aside. Ugo Ihemelu was beaten to a ball that he probably should have won, and Sala proved why Dallas need Hartman back so bad. The defending on the second goal, what little there was, is the weakest FCD have looked all year. Heath Pearce certainly didn't do his international career any favors on that one.
The Hoops have just three wins in their last eight games, and in their last two outings they've looked especially tired and slow. If this truly is to be a championship year, they will need to find some intensity quickly.
Tactics
Los Angeles
: No one will know the tactics of the game until Saturday night when Real Salt Lake takes on Colorado at home. An RSL victory or draw would mean a more aggressive approach by the Galaxy, possibly going with three defenders – doing anything in their means to match RSL's results. But an RSL loss would automatically grant LA the Supporters' Shield and home pitch advantage before their match on Sunday. That would give Bruce Arena the opportunity to rest or give limited playing time to the big guns before the postseason.
Dallas
: The return of Dallas' injured players should re-energize the team. Hartman's return especially will add some much needed leadership and experience to the defense. The same familiar lineup will take on the Galaxy Sunday. Captain Daniel Hernandez and Dax McCarty will man the middle as they've done all year, but a few questions remain about the outside mid positions. Atiba Harris made way for Jackson Goncalves on the right last week, and Marvin Chavez continued to start on the left last weekend. Goncalves should probably keep starting over Harris, but Brek Shea needs to be back in the starting XI. Chavez is a fine player, but Shea provides a much more dangerous option.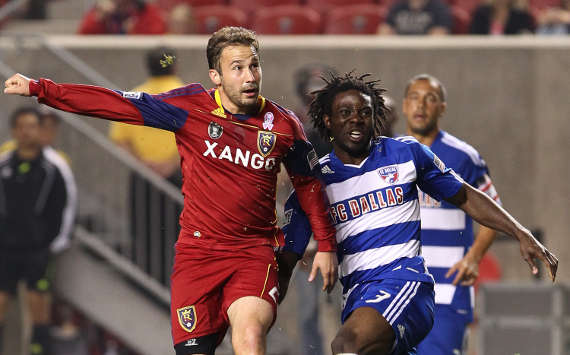 Intangibles
Los Angeles
: This is it for the regular season and it's one for the history books. It can be a fairytale ending for the Galaxy, having been in first place since week one and never dropping it. Or, it can end in poetic tragedy, being in first place for 29 weeks and dropping the mantel in the 30th. One thing is certain about the lead up to Sunday's matchup, all of LA will be watching the RSL/Rapids game Saturday night.
Dallas
: Playoff pairings may be decided by kickoff time at the Home Depot Center on Sunday, and judging by the way everything goes down, both teams may decide to rest key players and play somewhat conservatively, or they may go all out and play at full speed. A reserved and careful match-up is more likely, as neither team will want to risk injury or fatigue. This one probably won't be much of a thriller.
Outcome
Los Angeles
: I have two possible results for this game. The Galaxy have always come out swinging when their first place spot was jeopardized by RSL. So, if RSL wins their Saturday night, the Galaxy will show up Sunday night ready to play. Galaxy win 3-1. BUT! If RSL falls to the Rapids, LA will conserve their strength and energy for the post season, drawing 0-0 at home.
Dallas
: With minds focused mostly on the playoffs, a low-scoring draw seems likely. Should Salt Lake win and Los Angeles need all three points to secure the Supporters' Shield however, Dallas may suffer its fourth loss of the 2010 season.
For more on Major League Soccer, visit Goal.com's MLS page and join Goal.com USA's Facebook fan page!