SANTA CLARA, Calif. -- "Complacent" was the word of choice in the San Jose Earthquakes locker room, the team having just fallen 1-0 to a Houston Dynamo side which pulled itself out of last place in the Western Conference.
The Dynamo dominated play for the first 60 minutes of the game, tallying off an André Hainault header in the first half. The visitors made Jon Busch and the San Jose defense work all game, putting seven shots out of 19 on frame. Meanwhile, San Jose only managed to put three of their 10 shots on target, barely managing to test Dynamo goalkeeper Tyler Deric, who made his first ever MLS start.
"I think the whole team was flat, said head coach Frank Yallop. "We just didn't really push and didn't really exert a ton of energy."
Having just clinched their first playoff spot since returning to San Jose in 2008, the Earthquakes wanted to keep themselves injury and suspension-free, and that was apparent in the team's conservative approach to playing the already-eliminated Dynamo.
"I think it's in the players' minds that we're already in the playoffs," said Yallop. "It's not so much that they don't want to get injured, but maybe don't want to give that last little bit of effort that we've given all year to do well in matches."
Defender Jason Hernandez struck a similar tone, commenting, "I think we were all complacent, every one of us. We were naive in thinking that we were going to come here [and] just because we've had some good results the last few games we would get a win."
The midfield was also a problem area for the Earthquakes in the game and gave the ball away with a number of errant passes, especially in the first half. While Yallop conceded that the midfield, and Khari Stephenson in particular, hadn't been at the top of their game, he gave credit to the Dynamo for their efforts.
"I think Houston did a good job of cutting our space down and making it difficult for us and they worked hard and had a good game," Yallop said.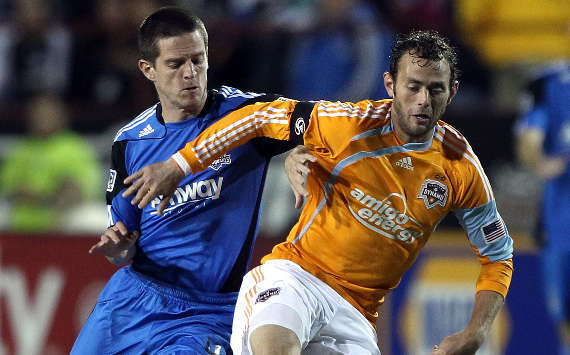 The loss represents San Jose's second defeat in a row at home, and with the a vital home game in the playoffs just two weeks away, the team is looking to avoid the same kind of complacency against Chivas USA, who visit Buck Shaw Stadium on Oct. 21.
"We'll hopefully come out with a with a good performance and a good attitude on Wednesday and hopefully erase the memories of these last two games we've had at home, which are result-wise, not what we wanted," Yallop explained.
San Jose goalkeeper Jon Busch, who made six saves in an impressive outing, also highlighted the importance of the regular season run-in serving as preparation for the playoffs, saying, "We have to get ourselves to play in the playoffs and that's what these last couple games are about."
After the game against Chivas during the week, the Earthquakes will travel to Kansas City for their last regular season game. After that, the team will have a week's rest before hosting the first leg of the conference semifinals on Oct. 30.
Nick Rosano is a NorCal-based contributor for Goal.com. Follow him on Twitter @nicholasrosano for more MLS insight and the occasional moment of hilarity.