The Forecast previews FC Dallas – Real Salt Lake before sorting through the Week 29 fixture list.
By Kyle McCarthy
It took 29 weeks, but MLS may have finally produced its most important match of the season.
FC Dallas and Real Salt Lake meet at Rio Tinto Stadium on Saturday night in a match many will hope turns into an epic preview of the expected playoff meeting between the two sides.
The stakes and the storylines are immense. Both teams enter the match in stellar form – FCD boasts a 19-match unbeaten streak in league play, while RSL holds a 12-game unblemished run and a MLS-record 24-match home unbeaten streak – as they jostle for homefield advantage in the first round of the Western Conference playoffs. A RSL victory would ensure the Claret-and-Cobalt finish no lower than second in the West, while a FCD win would vault them into second spot behind Los Angeles heading into the final week of the season. Both sides also enter the match with a series of injury concerns and selection questions as they attempt to maintain their momentum with the postseason on the horizon.
The Forecast knows when an occasion deserves the special treatment and breaks out the Five Points to dig a bit deeper into this marquee showdown:

1. The outcome may rest with the creative forces in the middle
: MVP candidates David Ferreira and Javier Morales operate as the fulcrums of their respective attacks. Both players need to see plenty of the ball in order to influence the outcome of the game. The key to stopping both playmakers lies with cutting off service to their feet and directing them into wider areas to limit their ability to pull the strings as they wish. Ferreira and Morales will no doubt generate some opportunities because they are two of the best players in the league at the moment, but the key to obtaining a result lies in keeping them relatively quiet over the course of the contest. With Kyle Beckerman and Will Johnson to harrass and harry Ferreira and FCD facing plenty of questions in its engine room, the edge goes to RSL here.
2. Hernandez's possible return crucial to FCD's chances
: FCD could receive a timely boost if captain Daniel Hernandez can take the field from the start after missing the past four matches with a hamstring injury. FCD operates considerably better through the center of the park when Hernandez is on the field. The veteran holding midfielder serves as a traffic cop at both ends by facilitating the attack with a wise pass to move possession out of the back and shielding the back four with his ability to gobble up space with his superior positioning between the lines. With Hernandez likely limited after resuming training earlier this week, FCD will have to ask to other players to assume some of the burden if he does play. Finding the correct support won't be easy, particularly with Dax McCarty still trying to find his form after overcoming his own injury concerns. While FCD will have a five-versus-four advantage in midfield, the extra man won't help much if RSL controls the ball well and forces FCD to chase the play rather than dictate it.

3. Tough choices ahead in central defense for FCD
: Ugo Ihemelu (concussion) and George John (hamstring) could both come into contention for a spot in central defense after also returning to training earlier this week. All indications point toward FCD coach Schellas Hyndman naming both players in his starting XI, but he may have to prioritize if he is uncertain about whether Ihemelu and John can last 90 minutes. If it comes down to selecting between the two first-choice center backs, John makes the most sense for this match because he remains the FCD player best suited to tangle with Alvaro Saborio. Hyndman reminded reporters earlier this week about how useful Ihemelu could prove if Robbie Findley is on the field, but RSL coach Jason Kreis will likely field Fabian Espindola (right adductor strain) if the Argentine striker is fit enough to play given Findley's currently suspect form. The question, as presented right now, may come down to who partners either Ihemelu or John in central defense if Hyndman decides the risk of selecting both players is too great, a point that could be informed by...
4. More selection posers for FCD in the wide areas as well
: ...whether Hyndman follows through and starts Jackson on the right side of midfield in place of Atiba Harris (foot). The move isn't unprecedented – Jackson did play there against RSL earlier in the season – but it doesn't make the most sense with the other available options. Marvin Chavez's recent run of form on the left flank has kept Brek Shea out of the side. If Harris isn't fit enough to start, it makes ample sense to push Chavez to the right side and introduce Shea on the left side to follow New York's lead and press the RSL fullbacks inside their own half. Jackson could certainly do a creditable job on the right flank, but there's room to attack with Johnson operating a bit more conservatively on that side of the field. Why not take it by using a more potent attacking option and push a bit further up the field?

5. Monitor the set pieces
: RSL thrives when presented with dead ball opportunities. The Claret-and-Cobalt has scored a staggering 13 times off corner kicks and free kicks this season. FCD looked a bit flimsy in its set piece defending in its 2-2 draw against Colorado last weekend, but John's return to the lineup would certainly help matters considerably. Even with additional reinforcements, FCD can't afford to switch off and permit RSL to notch from a set piece if it wants to leave Rio Tinto Stadium with its unbeaten run in tow.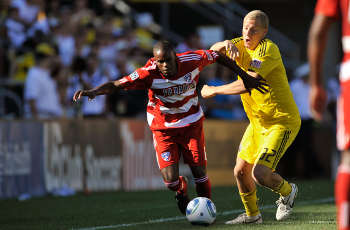 Last week
: 3/7 (43%)
For the season
: 91/184 (49%)
Friday
Chivas USA @ Seattle – 11:00p.m. (ESPN2) – Goal.com Preview
Talk about a Pyrrhic victory for Sounders FC. Collecting three points against the Red-and-White will all but ensure a date with Los Angeles in the first round of the Western Conference playoffs. Not much of a reward for finishing sixth in the league, is it?
Prediction
: Seattle win.
Saturday

D.C. United @ Chicago – 4:00p.m. (Telefutura) – Goal.com Preview
If this game adheres to the season both teams have enjoyed, it'll end in a lifeless 0-0 stalemate.
Prediction
: Draw.
Columbus @ Toronto FC – 4:00p.m. (CBC) – Goal.com Preview
After a much needed respite from the scheduling hamster wheel, the Crew should look better against TFC than it has in recent weeks. The improvement, however, does not necessarily mean three points is in the offing as these two sides battle for the Trillium Cup. Dwayne De Rosario's one-match ban (caution accumulation) could make the task considerably easier, however.

Prediction
: Columbus win.

New York @ Philadelphia – 6:00p.m. (Fox Soccer Channel) – Goal.com Preview
Philly is always a tough out at home, but the Red Bulls can clinch the Eastern Conference title with a victory in this match. If New York can control the proceedings at its preferred tempo (slower than the Union would prefer, surely), then the worst-to-first climb could end at the summit.
Prediction
: New York win.

Kansas City @ New England – 8:00p.m. – Goal.com Preview
History backed the Revs as they emerged from Houston with three points on Sunday. History – plus Kansas City's desperate desire to keep its season alive – does not buttress their hopes this week. Unless the Revs can reverse their franchise-long hex (11-20-8, including 0-5-1 in the past six meetings) against the visitors, the Wizards will at least survive until matters conclude in Los Angeles on Sunday morning.

Prediction
: Kansas City win.
FC Dallas @ Real Salt Lake – 9:00p.m. – Goal.com Preview
One unbeaten streak continues, one fine unblemished run ends. Play nicely, fellas. This match is just the prelude to the playoffs.
Prediction
: Real Salt Lake win.
Houston @ San Jose – 10:00p.m. – Goal.com Preview
Maybe the Dynamo knows a trick or two to slow down old teammate Chris Wondolowski. Then again, stopping opposing players hasn't been a forte for Houston this season, particularly when Geoff Cameron (one-match ban) is removed from the equation.
Prediction
: San Jose win.
Colorado @ Los Angeles – 10:30p.m. – Goal.com Preview
Quite a bit in this match could ride on the earlier result between Kansas City and New England. Colorado played inspired football in Frisco last weekend, but all of the Rapids' ambition and desire could seep away if the Wizards drop points in Foxborough to hand them a playoff berth. Colorado's level of motivation probably won't matter either way as the in-form Galaxy should find a way to seal the Supporters' Shield with a match to spare.
Prediction
: Los Angeles win.
Kyle McCarthy writes the Monday MLS Breakdown and frequently writes opinion pieces during the week for Goal.com. He also covers the New England Revolution for the Boston Herald and MLSsoccer.com. Contact him with your questions or comments at kyle.mccarthy@goal.com and follow him on Twitter by clicking here.
For more on Major League Soccer, visit Goal.com's MLS page.