FOXBOROUGH, Mass. – Few teams embodied the antithesis of the Designated Player era quite like New England did.
New England rose to the top of MLS based on its collective strength, not the powers of one or two individuals. Revolution coach Steve Nicol constructed a balanced squad through intelligent drafting and keen player development. The measured approach led to four MLS Cup appearances, a SuperLiga title and a U.S. Open Cup crown during a six-year stretch from 2002-2008.
The increasing strain of success ultimately caused a downturn in fortune. While two star players – Shalrie Joseph and Taylor Twellman – rose to the maximum salary allowable under the salary budget, many other key figures departed as New England struggled to address the increasing financial demands of their most successful players. Replenishing the squad with comparable players proved difficult and the performances have declined over the past three seasons to the point where the Revs were eliminated from playoff contention with four matches remaining.
As New England enters its first postseason without a playoff berth since 2001, one question rang through Gillette Stadium as Revolution officials contemplate how to solve the increasingly troubling problem.
"We don't want to be a non-playoff team," Revolution chief operating officer Brian Bilello said in an interview prior to Saturday's 2-1 defeat to Real Salt Lake. "How do we fix that quickly?"
The most notable suggestion resulted in a philosophical shift within the organization. New England investor/operators Jonathan and Robert Kraft have made the necessary funds available to permit Nicol and vice president of player personnel Michael Burns to bring in one or two moderately priced Designated Players (DPs) designed solely to bolster the squad. The decision marks a change from the club's previously stated approach that would have required any DP signing to make an impact both on and off the field.
While the Revs will continue to search for one of those prototypical DPs in addition to more reasonably priced options, the search will likely focus on a quick infusion of talent regardless of box-office appeal.
"Our goal would be to find that player before the 2011 season kicks off," Bilello said. "It's hard to say we can guarantee it because we don't have anyone signed, but our goal is to have one for the beginning of the season."
The move also captures a sentiment sweeping through MLS after a rule change in April made it easier for clubs to acquire one or more Designated Players without decimating their surrounding squad. The altered DP rule – each MLS team now holds two DP slots with the option to purchase a third for a $250,000 fee and takes a $335,000 charge on the salary budget for each DP on the roster – has inspired most clubs to refine their DP approach. Free spending clubs like Chicago, Los Angeles, New York, Seattle and Toronto FC have imported additional DPs this season, while Houston could soon join its major market brethren after investor/operators Anschutz Entertainment Group approved a significant DP signing for next season.
While the traditionally lavish spenders were expected to add DPs, the most notable trickle-down effect from the revised rule involves clubs not previously expected to wade into the DP pool. In addition to New England's recent declaration of DP intent, other comparatively modest sides have either expressed interest in a DP or have already secured one.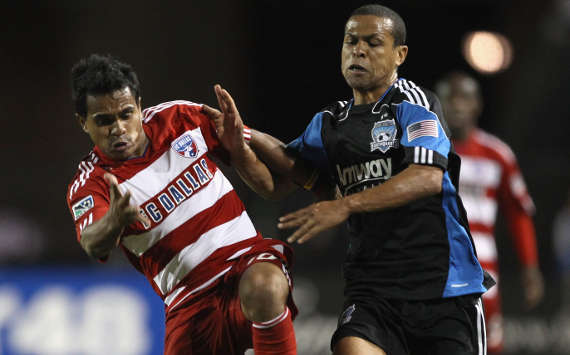 Kansas City relied on its ambitious investor/operators to fund a move for Chivas Guadalajara striker Omar Bravo and secure his arrival in time for next season, while San Jose surprised just about everyone by signing former Hull City and Manchester City schemer Geovanni to spur its apparently successful playoff push. Real Salt Lake investor/operator Dave Checketts recently said that a deal to permanently sign on-loan striker Alvaro Saborio from Sion (Switzerland) in the winter could make him the Claret-and-Cobalt's first DP, though the Costa Rican international isn't expected to draw a DP-level salary if the transfer is completed.
As previous forays into the DP market show, the willingness to splash the cash on a DP does not guarantee success. Three clubs with DPs on their roster – Chicago, D.C. United and Toronto FC – will watch the playoffs from home. For each of those three also-ran sides, the addition of a DP or two did not mask or save an inherently flawed roster. There is also proof that the previous model – an evenly distributed squad with a range of players making salaries underneath the maximum for a non-DP player – still works as four of the eight projected playoff teams do not boast DPs in their side.
The future, however, points toward a road where DPs play a more vital role in supplementing the balanced squad required to challenge for honors. Altering the course to accommodate a practical DP or two may harbor some risks – ask around about Denilson, Luis Angel Landin, Marcelo Gallardo and Mista, after all – but the shift also reflects the changing times and the pressure created by the current success in Los Angeles, New York and, to a lesser extent, Seattle.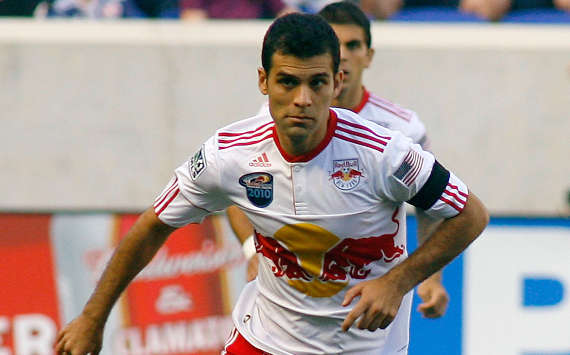 The choice to sign a DP may or may not pay off for New England as it seeks to return to the playoffs next season. Either way, it's fair to say the decision itself represents a jarring admission from one of the members of the old guard that future success may require clubs to embrace the DP model as the league continues to develop and expand.
Five Points – Week 271. One last note on the DP movement: it's inherently flexible:
Saborio's situation highlights one of the hidden benefits to the new DP structure: the system allows teams to acquire moderately priced players by using the mechanism to assume some of the incidental costs. D.C. United (Branko Boskovic's signing-on fee after joining a free transfer) and Seattle (Alvaro Fernandez's transfer fee) currently boast DPs who would likely not count as DPs without the additional fees associated with their moves to MLS. The subsequent fallout from these arrangements – how long does a player count as a DP under these circumstances, for instance? – remains somewhat murky in the long-term, but the additional flexibility protects the limited allocation money available to each team and provides alternative options in the transfer market. One additional note: Despite the machinations now available to technical directors around the league, seven of the nine new DPs signed this season qualify strictly by salary.

2. Is the Galaxy a player short in midfield?:
There were plenty of positives for Los Angeles in Sunday night's 2-1 victory over Chivas USA in the SuperClasico, but the reconfigured midfield deserves most of the praise for driving an impressive first half performance. David Beckham and Juninho worked well together in central midfield with the Brazilian dropping deeper and tackling firmly in a passing-oriented holding role underneath the former England captain. Michael Stephens returned after a long layoff and sparkled down the left wing. It all looked rosy for those Galaxy midfielders until Chivas USA poured down the left flank in the second half and exposed Chris Birchall time and again as he attempted to cope with his ill-fitting station out on the right. With Beckham and Juninho now surely the preferred tandem centrally because of how the Galaxy worked the ball through the center of the park, Bruce Arena will have to weigh his options on right – does Landon Donovan drop back into midfield and leave Edson Buddle with a lesser partner up front? – to locate a more suitable option as the Supporters' Shield chase continues.

3. Red-and-White need to take a page from their cross-town rivals at the sharp end:
The final third provided all of the difference in the SuperClasico. Los Angeles took its two best chances with aplomb as Buddle volleyed home Stephens' sumptuous throughball to open the scoring and Beckham curled home a trademark free kick shortly before halftime to double the advantage. The story differed considerably for Chivas USA as Martin Vasquez's side lacked imagination and potency in the final third. Alan Gordon clawed one back to reward the Red-and-White's improvement after halftime, but the previously wasteful striker had the assistant referee (blown offside call) and Donovan Ricketts (fumbled save) to thank for his opener. The Red-and-White can only blame its dearth of creativity, its generally mediocre service into the penalty area, and its profligate finishing for its failure to grab something from the game.

4. Missing Marquez makes task more difficult for Red Bulls:
New York did just about enough to climb to the top of the Eastern Conference on Saturday night, but Rafa Marquez's late withdrawal with a knee injury muddled the Red Bulls' work in midfield and contributed to a cumbersome 1-0 victory over Kansas City. Hans Backe opted to pair Mehdi Ballouchy and Tony Tchani in central midfield, but the pairing didn't click and the Wizards peppered Bouna Coundoul after the Red Bulls faltered in the wake of a bright opening period. Dane Richards' sixth-minute tally provided the tangible difference, but Coudoul rescued the points with 12 saves on the evening. New York's uneven performance once again reinforced Marquez's importance both as a conduit through midfield and as a shield for the Red Bulls back four.
5. Give a sliver of credit to a worker bee for United's surprising victory in Colorado:
During its recent run of torrid home form (previous four home wins: Colorado 13, visitors 1), the Rapids made a habit of swarming the opposition with an early goal. Drew Moor attempted to continue the trend by sending an effort toward goal off the remnants of a corner kick after eight minutes, but Kurt Morsink stuck by the post and thumped the goal-bound effort out of danger. After surviving the early threat, United asserted its dominance for much of the first half over a complacent Colorado side weakened by several changes and grabbed its reward with Danny Allsopp's winner in first-half stoppage time. United's ability to switch the point of attack – particularly through sweeping diagonal balls toward Andy Najar on the right flank – provided most of the danger and Najar's run past Danny Earls set the table for Allsopp's winner. The shocking result won't save United's season, but it does at least mark a rare taste of success in Colorado.
BONUS.
Cunningham strikes for the 132nd time as FCD extends unbeaten run to 18 matches:
Jeff Cunningham tied Jaime Moreno atop the MLS career scoring charts after notching from the penalty spot in FC Dallas' comprehensive 3-0 victory over Chicago. The buildup to the penalty award revealed exactly how the former U.S. international has scored so many goals: David Ferreira split the defense with a clever pass and Cunningham ran through a gaping chasm to expose a slower defender. While Cunningham saw his progress halted before he could finish from the run of play, his tidy finish from 12 yards placed him on level terms with Moreno and set the stage for him to claim the record outright by the end of the campaign.
Kyle McCarthy writes the Monday MLS Breakdown and frequently writes opinion pieces during the week for Goal.com. He also covers the New England Revolution for the Boston Herald and MLSsoccer.com. Contact him with your questions or comments at kyle.mccarthy@goal.com and follow him on Twitter by clicking here.
For more on Major League Soccer, visit Goal.com's MLS page.