U.S. national team coach Bob Bradley named just two MLS players to his squad for the upcoming friendlies against Poland (Oct. 9 in Chicago) and Colombia (Oct. 12 in Philadelphia).
Bradley cited the impending postseason as the principle reason for deciding to name 18 foreign-based players for the match.
"We understand this is a critical point in the season for teams in MLS," Bradley said in a press release issued by U.S. Soccer on Thursday. "Given the circumstances, we felt it was important that the MLS players be given as much opportunity as possible to remain with their clubs and continue to make important contributions as the playoffs approach."
The approach is a sensible one as professed, but the two MLS players selected raise one rather persnickety query in its application.
When did FC Dallas switch leagues?
Two FCD players – fullback Heath Pearce and left midfielder Brek Shea – will link up with the U.S. squad on Oct. 10, one night after presumably featuring against Colorado at Pizza Hut Park. The pair may or may not see the field against the Colombians at PPL Park on Oct. 12 before jetting back across a couple of time zones to face Real Salt Lake at Rio Tinto Stadium on Oct. 16.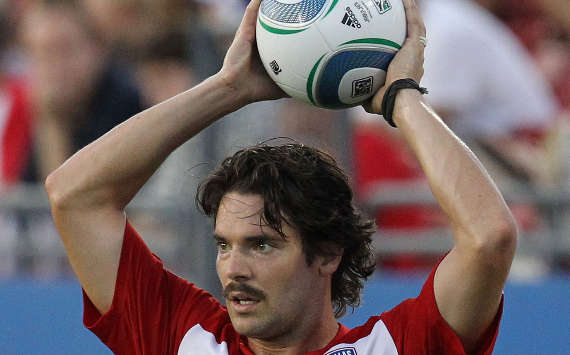 While it remains within Bradley's ability to call both players into his squad and he almost certainly consulted FCD coach Schellas Hyndman before he did, he also chose to wade straight into the playoff race by selecting this particular duo.
FCD enters this weekend a meager two points behind RSL for second spot in the West. As the previous 24 visiting teams to Utah can attest, home-field advantage matters in any potential playoff series against RSL. FCD would prefer to contest a two-legged tie against the Claret-and-Cobalt with the decisive match in Frisco and the most plausible scenario to accomplishing that goal likely involves a draw or a victory in that critical game on Oct. 16.
Sealing the required result would no doubt be easier with Pearce and Shea in the fold for the buildup to the match. Even if the pair doesn't take the field in Philly, the crowded travel itinerary does not represent the ideal preparation for a big match.
While Pearce and Shea can certainly take solace in the fact that Bradley wanted to pluck them out of a playoff race to join the U.S. squad, there were other available options from non-contending clubs – the recovering Jonathan Bornstein (Chivas USA) and Brad Davis (Houston) would make sense – to plug those holes. For whatever reason, Bradley decided against using them at the present time and opted for Pearce and Shea.
Pearce and Shea should benefit at the international level, but FCD may end up feeling the effects of the decision even with its reasonable squad depth at both positions. Given the circumstances and the possible solutions, it feels like an opportunity lost for all parties involved.
Last week: 2/8 (25%)
For the season: 84/169 (50%)
Saturday
Toronto FC @ Seattle – 3:30p.m. (CBC) – Goal.com Preview
Time to put those beleaguered Reds fans out of their misery, Seattle.
Prediction: Seattle win.
Houston @ Philadelphia – 4:00p.m. (Telefutura) – Goal.com Preview
Most of the Union's defensive goodwill dissipated in Colorado on Wednesday, but the friendly confines of PPL Park could help revive Peter Nowak's charges as they seek to continue a decent run of form into the end of the campaign.
Prediction: Philadelphia win.
San Jose @ Columbus – 7:30p.m. – Goal.com Preview
Crew coach Robert Warzycha left a raft of regulars back in Ohio in midweek when he could have used a flotation device to wade through the Guatemalan rain. He should reap the benefits of his decision against an Earthquakes side that didn't quite find its range in a midweek home defeat to Chicago.
Prediction: Columbus win.
Real Salt Lake @ New England – 7:30p.m. – Goal.com Preview
The home side will thank its lucky stars this match isn't at Rio Tinto Stadium. New England's aggregate scoreline in Utah over the past two seasons: 11 goals conceded, zero goals scored.
Prediction: Real Salt Lake win.
Kansas City @ New York – 7:30p.m. – Goal.com Preview
Now would be the time for the Red Bulls to keep the pedal to the floor with a glimpse of the Eastern Conference crown within sight.
Prediction: New York win.
Chicago @ FC Dallas – 8:30p.m. (Fox Soccer Channel) – Goal.com Preview
Will the Fire's midweek win serve to spur them onwards against a FCD side that went into Kansas City and bombarded the Wizards last weekend?
Prediction: FC Dallas win.
D.C. United @ Colorado – 9:00p.m. – Goal.com Preview
Even in the best of times, United often struggles to find its way in Colorado. These are not the best of times.
Prediction: Colorado win.
Sunday
Los Angeles @ Chivas USA – 8:00p.m. (ESPN2) – Goal.com Preview
This match looks like no contest on paper, but the Rocky Mountain tussle last week provided a reminder that derbies don't always hold true to form.
Prediction: Draw.
Kyle McCarthy writes the Monday MLS Breakdown and frequently writes opinion pieces during the week for Goal.com. He also covers the New England Revolution for the Boston Herald and MLSsoccer.com. Contact him with your questions or comments at kyle.mccarthy@goal.com and follow him on Twitter by clicking here.
For more on Major League Soccer, visit Goal.com's MLS page.