CARSON, Calif. -- Friday night was supposed to be a night celebrating how far Major League Soccer has come. It was hyped and considered to be, because of the star power on the pitch, the greatest match of the regular season.
However, one team failed to show up for the game: the Los Angeles Galaxy, who were stampeded 2-0 at home by the New York Red Bulls.
"New York deserved to win the game tonight. They outplayed us in the first half; no question about that," confessed Coach Bruce Arena. "Their midfield dominated ours."
From the midfield and into their zone, the Red Bulls were the big dogs in charge. There were always there incepting passes and stuffing shots in front of the net. The Galaxy first shot at goal came in after 65 minutes of play and the home side only mustered another two shots afterward.
"We didn't have any energy, we didn't run and I think we were a little disheartened with their passing and their movement," said a disappointed Landon Donovan. "That's all of our faults."
Even though their signature superstar, Thierry Henry, didn't play due to injury, the Galaxy's focus and tactics prior to the game did not change. A few minutes into the match, the tempo of the game dictated their performance.
"The first half sets the tone of the game, and the first half wasn't good for us," said a very tired David Beckham. "We didn't start well, we didn't pressure well. When you start games like that it is tough going on from that."
One surprising event for the home team was Beckham, who soldiered on the entire game on the pitch.
Becks was penciled in to come off the pitch after 65-70 minutes of playing, but because of an injury to Dema Kovalenko and the tactical substitution of Leonardo, the 35-year-old had to choice but continue.
"Once we got that injury, I had to do that," the Englishman explained. "I discussed it with Bruce during the week, I'd play 65-70 and I felt pretty good. There were some stages where I felt tired; I felt my lungs a little bit."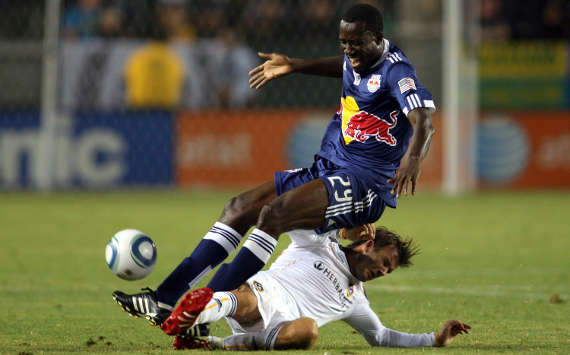 The bright side to these events are that although the Galxy played horribly, they know their folly and, therefore, can learn from that.
"Our midfield got stretched and their midfield dominated us," explained Donovan. "Up front, we didn't have a real presence in the game. And when you have those three factors, you're not going to win many games."
It's now up to the team to shrug this game off and set their attention on next week when they take on Chivas USA in round two of the SuperClasico.
For more on Major League Soccer, visit Goal.com's MLS page and join Goal.com USA's Facebook fan page!