SANDY, Utah -- Thanks to today's 1-0 win over the Chicago Fire, Real Salt Lake have finally eclipsed the mark they long sought to break. 23 straight MLS regular-season games at home (29 in all competitions) without a loss means the all-time league record is solely theirs. If that number doesn't seem to mean much, then consider this: RSL are undefeated at Rio Tinto since May 16th -- of last year. There are plenty of teams who would give their left arm to be undefeated at home since the 16th of last month.
"It's really cool," said head coach Jason Kreis of the streak his team now owns. "We put a lot of emphasis in it. We haven't shied away from how important it is to us as a club. Now we need to - at least for a few minutes - celebrate."
Apparently, those few minutes were over before the assembled press were allowed to speak to the players, because there was no celebrating going on in the Salt Lake locker room. The feeling was not what one would expect on such a monumental day.
"All the fans are happy, but the guys in here aren't necessarily pleased," said midfielder Ned Grabavoy. "It felt like our energy level was bad from the start. We just didn't seem to possess the ball well."
If there is one player who could be pleased with his night, it would probably be Grabavoy. He was active on both sides of the ball and drew the foul on Wilman Conde that earned the decisive penalty kick and sent Conde to the showers before halftime.
"It was a well-weighted ball [from Alvaro Saborio], and it was probably tough for Conde because he was turned around a little bit," said Grabavoy. "You could kind of tell that Conde had a bad angle on it."
Known more for his goal-scoring prowess, Saborio is quickly making a name for himself by virtue of his deft passing touch. It was a fitting reward that his teammates chose him to take the penalty that ended up being the only score of the match. The fact that he converts them at a remarkable rate probably doesn't hurt, either.
"I don't remember," laughed Saborio when asked when was the last time he missed a PK. "I feel good when I take penalties."
But as has been the case so many times for Real Salt Lake this season, today's result was because of the defense, not the attack. Goalkeeper Nick Rimando didn't even have to make a save to earn RSL's league-leading 13th clean sheet.
"That's my best game, that's the way I see it, when I don't have to touch the ball" said Rimando. "Our defense in front of me did so much work, and I get the credit, but those guys go out there and do it."
RSL's shutout streak is now up to 532 minutes in MLS play. That's only the second-longest shutout streak in the league this season, but remarkably, the longest one also belongs to Real, who didn't get scored on in 567 minutes over a period of almost two months in early summer. The defending champs are also on pace to set the league's all-time mark for goals against average, which currently sits at only 0.67 goals per game.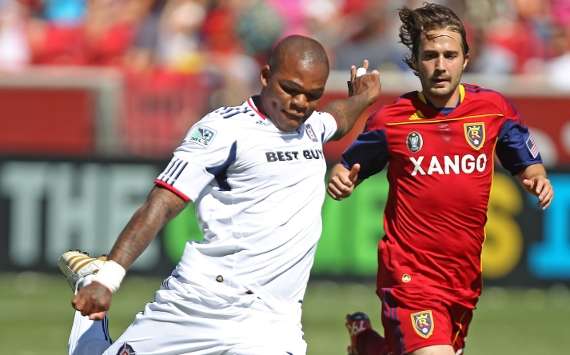 Rimando is quick to assign the eye-popping defensive numbers to "collective defense. We swarm around the ball."
But when it comes to streaks, records, and the like, perhaps the real reason behind them is that RSL are never content to dwell too much on what they've accomplished. This is a team that is never satisfied with where it is.
"It feels great. It's very important for the club," said Saborio of the undefeated streak. "But we have to look forward and keep going."
Jeremy Horton covers Real Salt Lake for goal.com. Get in-game updates during all RSL matches by following him on Twitter @rsl_jeremy
For more on Major League Soccer, visit Goal.com's MLS page and join Goal.com USA's Facebook fan page!