SANDY, Utah. – Kyle Beckerman's leadership was the difference for Real Salt Lake in the side's come-from-behind 4-1 victory over Toronto FC Wednesday.
Salt Lake gave up an 8th minute goal to Toronto in the CONCACAF match; however, the side rallied back starting with a 21st minute equalizer from Beckerman. On the play, Salt Lake's captain charged forward and cleanly headed an Andy Williams corner kick past Stefan Frei and across the goal line.
"That's what a captain does, he picks up his team," defender Chris Wingert said. "For Kyle to go in and bang home a header, it completely changed the game."
Early in the match, Salt Lake made multiple bad passes that led to Toronto's opportunities. Motivated by their early lead, and possibly their new interim manager, Toronto played attacking soccer and kept Salt Lake uncharacteristically off-balance at Rio Tinto Stadium.
"Shaky is a very kind description to how we started the first 15 minutes," Salt Lake coach Jason Kreis said.
However, the match changed with Beckerman's goal.
"[Beckerman] was one of the few players that was completely engaged from the opening minute," Kreis said. "It was fantastic to see him score the goal because I thought he deserved it. Then everybody woke up."
After the goal, Salt Lake took over the match. Jamison Olave added a second tally before halftime, and the side added two more goals in the second half.
"We made a mistake," Beckerman said. "We didn't panic, we just stayed with it and we knew we'd get our shot."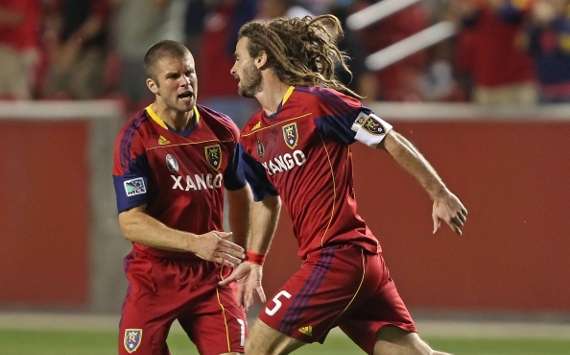 Beckerman's influence was felt throughout the match. His fiery dissent earned him a yellow card, while a dust-up with Mista drew a red card on Toronto's designated player. Mista was in the match only six minutes before being sent off. He disagreed with the call and put a dent in a sign on his way off the pitch.
Salt Lake is now tied with Cruz Azul (each have six points) atop their group in the CONCACAF Champions League.
Despite the lead this victory gives to Salt Lake, coaches and players indicated they will not become complacent until their position is more secure.
"Three points tonight is huge for us," goalkeeper Nick Rimando said. "If we go down and get a result in Panama, we'll be looking good."
For more inside information on Real Salt Lake follow Tyler G. Page on Twitter @tpageMLS