Shane Evans:
Alright, guys, the MLS season is in it's closing stages with a bunch still left to be decided, including the MVP. Who's been your man of the season so far? Being totally unbiased, I've got Sebastien Le Toux.
Luis Bueno
: Le Toux is having a fantastic season but on a non-playoff team, he's going to need ridiculous stats to compete for MVP.
Evans:
Isn't it the most valuable player to his team though? Or do I have that twisted?
Allen Ramsey: I'd like to see Edson Buddle get some votes. It'll be hard for him to win because he's not considered the best player on his team, but Buddle has been a monster this season.
Bueno
: I'd be tempted to cast my vote for Edson Buddle too. Big stat in Buddle's favor: when he scores, the Galaxy are 9-0-1; when he plays and doesn't score, they're 2-5-2. He missed a few games due to World Cup duty.
Seth Vertelney
: Fredy Montero has turned a similar trick for the Sounders, but they're a playoff team. He gets my vote.
Evans:
Yeah, I'd have to say Montero would get my second vote...too bad he's such a Anelka-type though. Take that how you will.
Vertelney
: Montero has 10 goals, Zakuani has 8. The next highest scorer? That would everybody else, tied with one.
Zac Lee Rigg
: I imagine the playmaker in whichever team wins the Supporters' Shield will at have a pretty major say. Javier Morales, Landon Donovan, or David Ferreira. Making an argument for Guillermo Barros Schelotto is more difficult, since he's clearly regressing physically.
Vertelney
: Montero also has nine assists. The Sounders' next highest in that category are four players tied with three.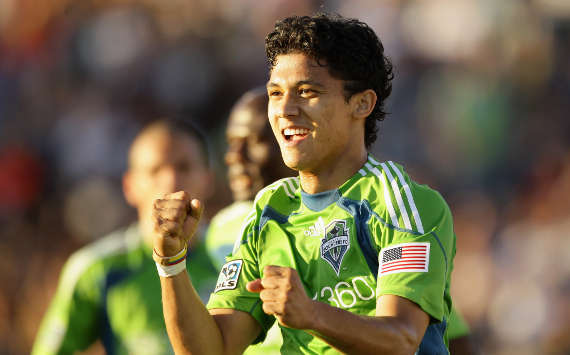 Evans:
What about the Rookie of the Year? Surely, that has to go to the Union this time?
Ramsey: Not so fast. Tim Ream anybody?
Bueno
: I don't think anyone else but Danny Mwanga has an argument.
Evans:
Ream has been pretty shaky lately, apparently.
Rigg
: Michael Stephens' downturn of late might just see him drop out of the race. He was tidy and tremendously handy for the first few months there.
Ramsey: Ream has had a huge hand in New York being a decent team his season, and for that he'll get plenty of votes.
Bueno
: Stephens was in the conversation up until July. He may not see many starts now with Beckham healthy, and Kovalenko and Juninho playing well in the middle. Birchall is ahead of him as well.
Vertelney
: Yeah, it's Mwanga's to lose. Although I think we'd see Sean Johnson in the mix had he started from the beginning of the season.
Bueno
: Mwanga also had to deal with being the top pick for an expansion team. Some big expectations and he's lived up to a lot of them.
Evans:
Yeah, not the easiest of tasks.
Bueno
: Maurice Edu did pretty good for himself in his rookie season but other expansion top picks haven't panned out well in their first seasons. But voters and fans might not put a lot of stock in recent history. It's a good thing then that Mwanga has seven goals and four assists to help out his cause.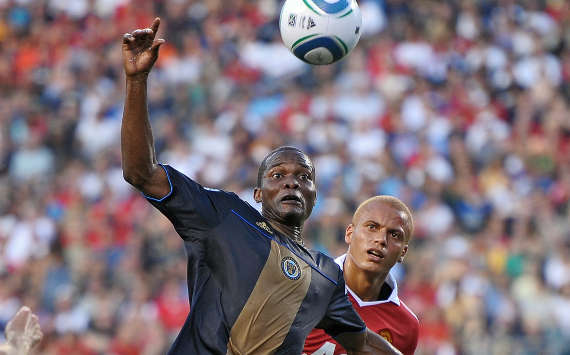 Vertelney
: So, what do we all think about TFC cleaning house today? I say Mo Johnston deserved to go and Preki got a raw deal.
Bueno
: Preki deserved to see the season through.
Ramsey: Addition by subtraction if you ask me.
Evans:
Yeah, I'd agree with that.
Ramsey: Sometimes you have to change the organization to try and spark a new life.
Bueno
: The loss to D.C. was just awful, inexcusable, but overall Preki had done well with what he had to work with. Still, I don't think the organization forgot all the preseason turmoil and negativity that Preki created. He was on a short leash since then. Whatever the case, it makes Toronto FC's Oct. 9 game at Chivas USA much less interesting.
Vertelney
: Johnston didn't give Preki much talent to work with. He hasn't done much differently than past TFC managers who stuck around much longer than 3/4 of a season.
Outside of Attakora, who on that defense starts for other MLS teams? And their forward line is lacking as well. DeRo can't do it all every season.
Ramsey: And that just shows a lack of organizational strength. If the guys at the top are doing their jobs, DeRo should have plenty of help.
Bueno
: Toronto FC has six games left, just two at home, and need to make up six points. They are done. Their only hope is that they have games against two teams they're chasing - San Jose at home and at Seattle.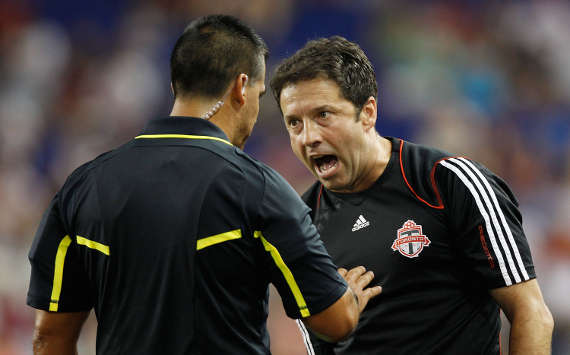 Evans:
So outside of TFC, how do we see the playoff picture shaping up?
Bueno
: We'll have six Western Conference teams in the playoffs. How awesome is that? Although, I do think Kansas City can make a run.
Ramsey: It's been a sad year in the East.
Bueno
: Of course, if the league just did away with conference designations and had just one table, it wouldn't really matter. But as it stands now, the Western Conference teams are just stronger, even at the bottom. Chivas and Houston are better than D.C. and New England.
Evans:
Could be even worse next year...
Ramsey: Watching the decline of the Revs over the last few years has been disappointing. Watching Chicago join them was almost shocking.
Bueno
: And D.C. has just completely bottomed out.
Evans:
Hiring Onalfo was a mistake from the start.
Evans:
Finally, more games next season. Thoughts?
Ramsey: More games should equal more money, plus bringing in new teams should be a good thing. MLS is still headed in the right direction.
Bueno
: I don't know, I think it's asking for trouble. The league already complains about how they have a limited number of weekends available for games and schedule congestion and now they're throwing four more games to each team? Maybe cut down on the summer friendlies, or just do away with SuperLiga.
Vertelney
: I was just going to mention SuperLiga. What a waste.
Bueno
: And then of course 2011 is a Gold Cup year. That's a great idea to introduce more games to an already crowded calendar during a Gold Cup year.
Ramsey: Or, MLS could just open up more roster spots, bring back the reserve league, up the cap and let teams build squads that can deal with it. Which is more likely where they're headed in the next couple of years.
Vertelney
: Yeah, reserve league or no, they should at least have a couple more roster spots next season,

Evans:
Progressive ideas, fellas. We'll see how it turns out. Great for the fans, anyway.
For more on Major League Soccer, visit Goal.com's MLS page and join Goal.com USA's Facebook fan page!