HARRISON, N.J. -- During the New York Red Bulls first match against the Columbus Crew at Red Bull Arena back in May, Tim Ream made a costly passing error that resulted in the Crew's game-winner.
It was the first time Ream actually looked inexperienced, as he had been earning rave reviews from coaches, media and players alike up until that point. Addressing the mistake to the media, the 22-year-old rookie took the blame for the error and was visibly disappointed.
Moments later, veteran Mike Petke was asked about what Ream had said. The 34-year-old veteran had a very different take on events.
"He said that?" asked Petke, acting surprised. "Listen, that goal was my mistake."
A close mentor to Ream, Petke was honorably trying to deflect media attention from the youngster. Never mind that it was his 300th game, the Long Island native - whose accent clearly points to his New York upbringing - knew that Ream's confidence was essential to his success.
While discussing scoring his first goal with the media after a 3-1 win over the Colorado Rapids Saturday, Ream reflected on his close relationship with Petke. Ream admitted he is saddened by Petke's decision to retire at the end of the season.
"I actually had a one-on-one conversation where he told me [about the retirement decision]," Ream told reporters. "I don't know. Personally, I've come to love the guy. It's heartbreaking, to tell you the truth."
Ream added, "Having conversations with him every day, I could talk to him about anything. It's sad. Hopefully he sticks around. I have his number. Whenever I need to have a phone call or have a conversation with him, I'll reach out to him."
Despite having lost a lot of his pace to age, Petke filled in admirably for injured starting defender Carlos Mendes during the first half of the season. His intelligence and outgoing demeanor on the field set an example for the generally reserved Ream. The soft-spoken Ream admits that Petke's passion inspired him to work hard during every game and practice.
"Just bringing in intensity day in and day out - every training session, every game - just playing hard," Ream told to Goal.com exclusively about the lessons learned from his mentor. "Everyone respects the amount of passion that he plays with each game, it's just unbelievable."
For his own admittedly self-serving reasons, Ream doesn't agree with Petke's decision to retire. During their one-on-one conversation, the rookie from St. Louis University learned that Petke's demotion from the starting XI combined with his aging body to play a large part in the decision.
"I think the biggest thing for him was his body not being up to it anymore," said Ream to reporters. "He explained to me when he is on the sidelines watching the game, guys are flying around. He thinks to himself, 'Am I really able to do that?' So I think that's the big thing.
"Plus, I don't think he wants to go through another preseason and possibly have to sit another season on the bench."
Ream did say that Petke is in the "right place mentally," and is "happy with his decision." He looks up to the 34-year-old's legacy in MLS and aspires to have the same level of respect amongst his peers and fans one day.
"Hopefully, if I'm here long enough, maybe this city will adopt me and I can take over for him, but he is the hometown guy and everyone loves him," Ream said exclusively to Goal.com. "He plays fierce."
Now that is something that Petke can be proud to take credit for.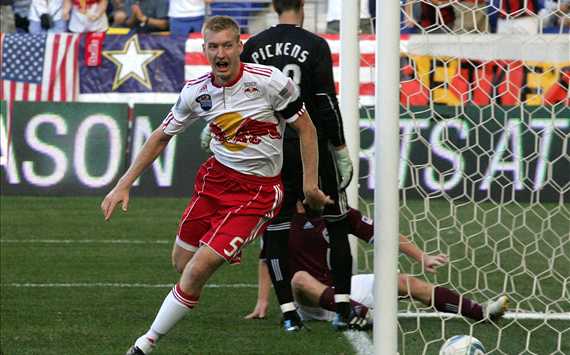 Free Kicks:
Ream was ecstatic to finally get his first MLS goal in the Red Bulls' 3-1 victory over the Rapids. Despite being an active free-kick taker during his college days and playing as a midfielder in high school, Ream hasn't had many opportunities aside from set pieces to score.
On Saturday, Ream chipped in a beautiful cross from fellow rookie Tony Tchani to finish off a move that was started by Rafa Marquez. The 22-year-old ran towards the supporters section, basking in the pride of finally showing up on an MLS scoresheet.
"It was unbelievable. I give all the credit to Tony, it was a solid cross," said Ream.
Ream admits that no one should expect him to score goals too often as a defender but was happy in his accomplishment.
"They are few and far between; it's a rush," said Ream. "When it happens you have to enjoy it."
Ream proceeded to jokingly point out that his main ambitions don't resolve around scoring.
"I don't dream about goals, I dream about shut outs," said Ream.
Alex Labidou, a Goal.com contributor, is based in New York city. Follow him on Twitter @sportslab.


For more on Major League Soccer, visit Goal.com's MLS page and join Goal.com USA's Facebook fan page!