Just a few days shy of the six-month layoff mark, David Beckham made his return from an Achilles tendon tear, playing 20 minutes for the Los Angeles Galaxy in a 3-1 win over the Columbus Crew.
The English midfielder sustained the injury during a loan stint with AC Milan in March and it ruled the 35-year-old out of the World Cup and the majority of the 2010 MLS regular season.
For Beckham, who admitted freely that the time on the sidelines frustrated him no end, the return to competitive action brought an end to a miserable half a year.
"As positive a person as I am, when I did the injury there are thoughts that go through your mind - 'Am I ever going to play again?' - and that kind of hit me tonight," Beckham said. "But being back out there, being fit again and being with the team and being on a winning side tonight, it makes it sweet."
The Galaxy Designated Player also revealed an unlikely source of encouragement six months ago.
"One of the first people who actually sent me a message saying 'Stay positive' was Jose Mourinho," Beckahm said. "The morning I woke up after the injury, that was the first message I got."
On Thursday, Beckham told reporters that he was ready for a cameo at the end of the upcoming Columbus match. However, coach Bruce Arena remained bullish, refusing to play his hand one way or the other.
Beckham disclosed the compromise that led to his 20 minutes of pitch time.
"[Arena] came up to me and he said 'How about 10-15 minutes? We want to get a good 10-15 minutes.' I was like 'Well how about 20-25?' so he kind of listened to me and we met in the middle and he put me on for 20 minutes."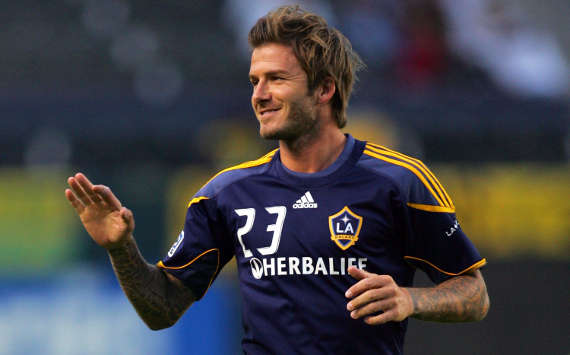 Not that the first minutes back came without sacrifice. Even with the game effectively over at 3-0 when he hit the pitch, the former England captain still tired during his time on the field, despite spending hours warming up the injured ankle.
"I was here three hours before the game and warming it up," Beckham revealed. "There's a lot of hard work before you actually get on the field so I probably did about two and a half hours of warming up in the gym.
"After being out there 10 minutes I was dying. I felt good after that and I finished strong so I was happy with that."
For more on Major League Soccer, visit Goal.com's MLS page and join Goal.com USA's Facebook fan page!