TORONTO -- With his club now winless in six matches and the prospects of being on the outside looking in when it comes to the post-season now increasing by the game, Toronto FC manager Preki placed a majority of the blame for TFC's 1-0 loss to lowly D.C. United squarely on the shoulders of one group of people: MLS schedule-makers and TV broadcasters.
In a match where virtually none of his players seemed to be on the pitch with the intentions of winning or vying for a playoff spot, the gaffer chose to direct culpability away from his tired club.
"I don't like to make excuses, but [this is our] third game of the week and playing at 4:00 p.m. and the other team is waiting for you for a whole week," said Preki.
"I think whoever is scheduling these games has to look really hard [at the process]. I'm really, really disappointed. Earlier in the year, I made the same point to the organization and TV people, but they didn't wanna give any favors for us and move the games a little later on. So, it is what it is."
Sure, this was a case of a manager attempting to maybe shift the media's eye away from his underperforming squad, but the transparency of Preki placing the responsibility for an abysmal performance on fatigue and an unfavorable schedule was obvious here. You can't make excuses for the inexcusable and, simply put, Toronto FC put forth an abysmal effort in a match that they had to win.
Upon being informed of his manager's statements, TFC goalkeeper Stefan Frei called them for what they were.
"Excuses," Frei said. "I mean, everybody has tough scheduling, so you gotta go through it. We had a tough game against Chicago and we laid it on the line in Dallas, but I think the result that we got in Chicago, where we got a point, should kind have lifted us up and we had the fight, but it's all excuses. We're professionals. We need to deal with it and be better than we were today."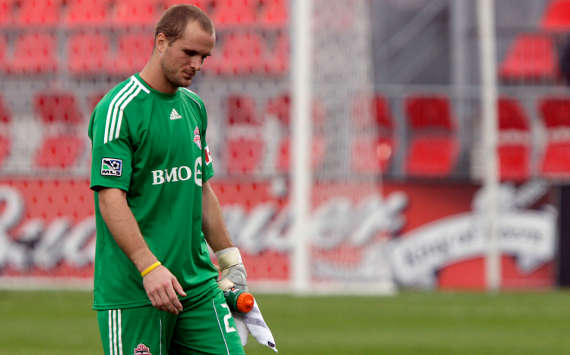 The Reds, whose struggles on the road have been well-documented, now have only two home matches remaining, with the other five away. The fact that a very winnable home match was essentially thrown away with a poor performance did not sit well with TFC supporters.
Toronto FC is known for its loyal fan base, but those assembled in BMO Field on Wednesday afternoon sent the Reds home with what has hardly a reception for their heroes. The Toronto XI were booed lustily by the home fans at the match's end.
Defender Nana Attakora can sympathize.
"We lacked passion...you could see our fans today really didn't like it and they showed it and they had every right to it."
The club has very little time to find that passion, as they face a daunting midweek Champions League Group A test at Rio Tinto Stadium versus Real Salt Lake. If Preki wasn't happy with MLS' congested fixture schedule, the prospect of another match on Wednesday must have his blood boiling.
Still, Frei recognizes what value a win in Utah would bring to the club, not only for their Group A standing, but for their postseason dreams. The goalie thinks that Wednesday night's encounter can be a statement game for him and his mates.
"We're not going to give up. I'm not going to give up. I don't think anybody on the team is going to give up," said the Swiss 'keeper.
"We dug ourselves a hole. The last game in CONCACAF (versus Arabe Unido) was winnable and we didn't get a result there. I think we have good players on this team and I still believe in them. Right now, they're not the results that we're looking for, but we still have games to play and we have pride and we're going to show that."
With the clock ticking away on the Reds' season, they're going to have to show their pride in a hurry if they still expect to reach the post-season for the first time in the club's history. Time is not on Toronto's side, but Preki expects his men to be there right up until the end.
"Of course, we [still] have a shot," the difiant coach said. "If you're still playing, you have a shot. If you have that chance, you never quit. I like to think that we have a group that is really going to fight for each other."
Thinking that this club still has fight and actually seeing real fight are two entirely different things altogether, and only one of the two can save Toronto's season and put them back in the playoff hunt.
For more on Major League Soccer, visit Goal.com's MLS page and join Goal.com USA's Facebook fan page!