On Form
Toronto FC
: Much like a young Jay-Z, you can't knock Toronto FC's hustle in their midweek draw with the Fire. In long stretches, the Reds controlled the tempo of the game and bossed the midfield, keeping forward runs from Chicago few and far between. Undoubtedly, there's a palpable sense of confidence in the Toronto XI whenever Dwayne De Rosario is on the field it was on display at Toyota Park. The team played an atypical away match - unafraid to take chances, but the opportunities never really came. TFC might have been unlucky to not have been awarded a penalty late in the first on an obvious (albeit, accidental) handball in the Fire area, but when you're talking about luck in professional soccer, you're grasping at straws.
D.C. United
: Since there is literally nothing else to go on, let's give the designation to United's interim manager, Ben Olsen. He hasn't had a stellar record since taking over at the beginning of August for Curt Onalfo, but the former United player has made a decent account of himself given the current state of the team. It was always going to be a struggle for Olsen to have much success, but he has his team playing hard, and they'll be playing a more attractive style of the rest of the season. "Now we have a little bit of a luxury to try to play the proper way," Olsen said in the press conference following the loss to Columbus on Saturday. "And I want D.C. United to play an attractive style."
Off Target
Toronto
: The Reds must have purchased their offside trap from the Acme Corporation, as, over the past two matches, its usage has either burned them badly (like in Dallas) or almost done so (like in Chicago). A terrible decision by Maksim Usanov played Freddie Ljungberg onside on Wednesday night, allowing the Swede a clean break in on goal and almost 30 yards with which to work. If it weren't for Ljungberg's inability to hit the broad side of a barn, for the second match on the trot, a horrible mistake from the back four would have led to defeat. It only takes a single error to lose a match in MLS, so this needs to be sorted out in a hurry.
When I noted in the preview for the TFC/Fire match that another game meant another suspension for the Reds, I wasn't being facetious. Maksim Usanov picked up his fifth yellow of the campaign versus Chicago and is suspended for the D.C. encounter on Saturday. Toronto finished Wednesday's match with seventeen fouls to the Fire's five. The indiscipline with the Reds is approaching ridiculous levels.
D.C. United
: The injury bug has hit United hard again. In addition to the long term absences of Rodney Wallace and Brandon Barklage, United is dealing with a slew of injuries at the moment. Both Adam Cristman and Marc Burch were recently ruled out of the rest of the season, as they required surgery within the past week. Chris Pontius, who has had a limited season ever since picking up a hamstring injury with the national team in January, is also likely heading to the operating table, meaning he would not feature again this season. Juan Manuel Pena continues to have injury problems with his quadriceps, which has limited him to just nine appearances this season. It has also been revealed within the past week that Bill Hamid has shoulder issues which will likely require surgery, and it appears that United will shut him down for this season sooner rather than later.
Tactics
Toronto
: Martin Saric, out for the Fire match (suspension), is again available for selection. On the injury front, Chad Barrett (hamstring) might be able to dress on Saturday, while Maicon saw action in Chicago as a substitute and will be at Preki's disposal. It's not all good news, though, as Mista was a last minute scratch on Wednesday with an unknown ailment and Dan Gargan played 90 minutes with a noticeable limp. Both players' statuses are unknown at this time.
One thing is for certain, though, TFC will be playing to win this match and will be attack-minded from the start.
D.C. United
: Olsen just might have enough players to put together a full side of 18 players this week. Against Columbus, Olsen only had 16 players to choose from. Still, picking a decent starting XI will be difficult. Troy Perkins is likely to get the start in goal, and expect to see a backline consisting of Devon McTavish, Jordan Graye, Julius James, and Dejan Jakovic. The midfield should be the regular set up, with Clyde Simms and Branko Boskovic in the middle, and Andy Najar and Santino Quaranta out wide, which leaves Pablo Hernandez and Danny Allsopp up top. Seems simple enough, but this has been the side that has struggled game-in and game-out in league play this season.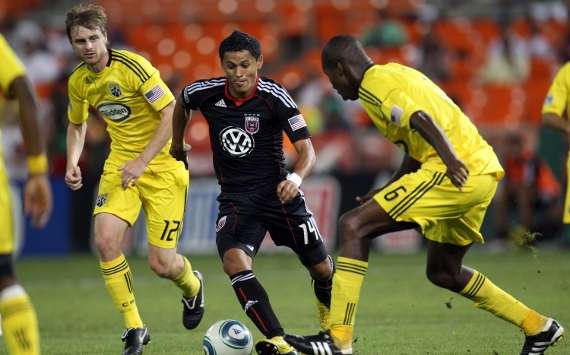 Intangibles
Toronto
: The Reds cannot look at United on the schedule and see an easy three points. As badly as they need a win on Saturday and even with DCU's abysmal away record and starting 'keeper Bill Hamid likely sidelined, they're going to need to earn it. D.C. is going to play spoiler from here on in and will relish the opportunity to drag Toronto down into the mire with them. There's no reason that TFC shouldn't get full points here, but it's not going to be handed to them.
D.C. United
: Two things might give United a slight edge over Toronto this weekend. Firstly, Toronto just got done playing Chicago on Wednesday night. Its not a long trip from Toronto to Chicago, but it's one more game than D.C. had to play this week. That might just give United an edge in the stamina department. Secondly, United don't have anything left to play for. On the other hand, there is a lot of pressure on Toronto to get the necessary results in their remaining games to get to the playoffs for the first time in the clubs' history, which might mean they play a bit too timid or a bit too wild, giving United an opportunity to sneak a result.
Prediction
Toronto
: The Reds win their first in six matches with a 2-0 victory over United.
D.C. United
: Alas, this D.C. team just doesn't have enough to win games like that. Toronto comes out strong knowing it needs a win at home, and D.C. fails to win again, losing 2-0 at BMO Field.
For more on Major League Soccer, visit Goal.com's MLS page and join Goal.com USA's Facebook fan page!