By Kyle McCarthy
CARSON, Calif. – It's not particularly hard to look at Justin Braun and see what former Chivas USA coach Preki saw when he spotted him playing in an amateur tournament at the Home Depot Center in January 2008.
Braun ticks just about every box you'd want a forward to tick. In terms of raw tools, Braun possesses the optimal size (6'3", 195 lbs.), speed and athleticism. In terms of intangibles, he's the type of guy who would run through walls to close defenders down, protect his teammates and score goals.
But there are more than a few of players with those sorts of skills who wash out every year for all sorts of reasons, especially when they make the leap from nowhere (an amateur team in Utah) to somewhere (MLS) as quickly as Braun did.
The difference in Braun's case rests with his ability to push aside the incredible nature of his rare journey and scrap every day to reinforce his unwavering belief that he can make an impact at this level.
"I did (think about the journey) at the beginning, but growing up through high school and even when I was playing in the men's league, I always knew I was capable of playing at this level and I always had that belief," Braun said after Chivas USA completed its training session on Thursday. "I think that's one of the things that has allowed me to come in here and do what I've done. I've always had that belief that I was capable of doing it. If you believe in yourself, you can make things happen."
Braun's first two seasons showed those thoughts weren't misplaced and revealed a promising prospect. A return of seven goals over that spell – a return hampered by a concussion suffered last season – may not have represented much of a goal haul, but Braun's overall performances merited a spot in the U.S. national team camp last January.
When Martin Vasquez took over Chivas USA after Preki's departure and started to mold his team for this campaign, he asked Braun to convert all of that potential into more goals on the field and more responsibility off of it. Braun has responded by eclipsing his previous career production by notching a team-high eight goals in league play and stepping into a greater role off the field.
"This year has been huge for me," Braun said. "I think I've finally come into my own. For the first two years, I was a little bit more timid. I'm out there playing with a lot more confidence. When you have that confidence, you want to go at people and you believe you can score. That's been the biggest thing for me this year, the confidence I've had and the confidence the coaches have instilled me."
The assured approach naturally leads Braun to wonder what the future holds. Despite his impressive goal haul this season, the 23-year-old Braun isn't quite the finished article. Room for improvement still remains in front of goal and in the finer tactical points of the game, but Braun harbors reasonable expectations – a place in the U.S. national team and a career in Europe at some point – as he refines the raw edges to his game and advances toward a more polished end product.
"I think I still have a long ways to go with my soccer skills and with the opportunities that will present themselves in the next few years," Braun said. "I'm just going to take it a year at a time and see what happens."
With his considerable progress this season and his physical tools, Braun has established himself as one of the top prospects in the league. His career arc and his final destination remain uncertain at this point, but Vasquez believes his young forward has the potential to go as far as his work ethic will drive him.
"I think it's up to him," Vasquez said. "His mentality is good and solid. We keep repeating to him that the way he's going to score goals is by being close to the box and having that hunger that he shows. We have had to work with him in some tactical aspects, but I think the sky is the limit for him."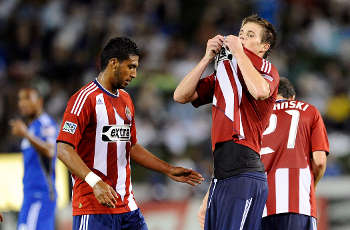 Last week
: 5/8 (63%)
For the season
: 76/149 (51%)
Friday
New England @ Chivas USA – 10:30p.m. – Goal.com Preview

Both of these teams have struggled to snuff out lapses in concentration at the back, so it stands to reason to suggest the team that makes fewer errors will come out on top.
Prediction
: Chivas USA win.
Saturday

Colorado @ New York – 4:00p.m. – Goal.com Preview
This match should prove to be a nice test for the revived Rapids. The game, however, isn't one Colorado particularly needs to win and the cadence of the contest could reflect that fact.
Prediction
: New York win.
D.C. United @ Toronto FC – 4:00p.m. (CBC) – Goal.com Preview
If TFC can't find a way to win this match at BMO Field against an injury-riddled United side, it should just fold up shop and start making vacation reservations for late October.
Prediction
: Toronto win.
Chicago @ Philadelphia – 6:00p.m. (Fox Soccer Channel) – Goal.com Preview
Word out of El Salvador indicates Carlos de los Cobos remains the top choice for the national team job he vacated earlier this year. With the way the Fire has played under his stewardship, de los Cobos could likely find his way to San Salvador at the end of the campaign if he so chooses.
Prediction
: Draw.
FC Dallas @ San Jose – 10:00p.m. – Goal.com Preview
FCD will find it difficult to get David Ferreira involved as often as usually warranted on the rather tight field at Buck Shaw Stadium. Normally, this prickly issue would provide some cause for concern, but FCD has shown it is eminently capable of grinding out results during its 13-match unbeaten streak.
Prediction
: Draw.

Columbus @ Los Angeles – 10:30p.m. – Goal.com Preview
At some point, the Galaxy needs to rediscover its form from the first half of the campaign. This particular match – with the Beckham hoopla, the difficult opponent and the stakes in play – probably isn't the one to get the train back on track.
Prediction
: Draw.
Kyle McCarthy writes the Monday MLS Breakdown and frequently writes opinion pieces during the week for Goal.com. He also covers the New England Revolution for the Boston Herald and MLSsoccer.com. Contact him with your questions or comments at kyle.mccarthy@goal.com and follow him on Twitter by clicking here.
For more on Major League Soccer, visit Goal.com's MLS page.