CARSON, Calif. -- After a long injury layoff due to an Achilles heel rupture back in March, David Beckham is now ready to return to the sport where he made his fame and fortune. Much has changed in the months he has been away, however. Though he was hurt while playing for AC Milan, Beckham has been taken off the disabled list and is set to take to the field for the Los Angeles Galaxy, who face the league co-leaders, Columbus Crew, this weekend.
"Nice to be off the list," Beckham told the media after Galaxy practice today. "I'm ready, to be honest. I've been working hard with the rehab and trying to get the strength back in my legs. I feel good."
Perhaps in an attempt to play down expectations, coach Bruce Arena would not commit to exactly when Beckham would play. Instead, Arena pointed out the England midfielder's speedy recovery, given the seriousness of the injury Beckham suffered.
"All reports are that these things take six months," Arena said. "He's ahead of schedule. Our original goal was to get him on the field Oct. 1. We think that could be moved up. The decision-making has to be based on getting David on the field when he's ready to play and not susceptible to an injury and also it has to be in the best interests of our team, but he's getting real close."
Once the runaway league leaders, the Galaxy have slumped of late and are now in a battle for the Supporters' Shield trophy for the best regular-season record, though Major League Soccer's championship is decided in a playoff tournament between the top clubs.
Galaxy captain Landon Donovan was glad to welcome Beckham back to the field of play.
"It's just nice to have him back in training," Donovan said. "He makes our team better immediately when he's in training, in the locker room every day and eventually when he gets on the field. It still might be a little early on Saturday, but if he gets a chance I think he'll do fine."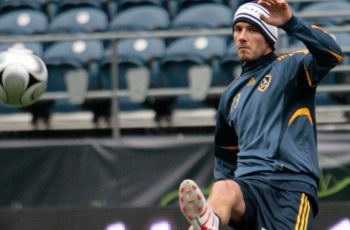 For his part, Beckham was eager to face the challenge offered by Columbus and their top star, Guillermo Barros Schelotto.
"You want to play against the best teams and you want to play against the best players and if they're considered up there with the best, if not one of the best, then that can only be good for me personally and obviously for the team because this is a big game," Beckham explained.
Though he attested that he is still eager to help both the Galaxy and the English national team, should they ever call him in again, win, one important factor may have changed for Beckham. He indicated that he is unlikely to go on loan again to another club in Europe. Instead, a rest break seems to be in order.
"My body needs that," Beckham explained. "I've been hitting it quite hard the last couple of years and the injury is because of that. I think it's now time for me to maybe look at myself and look at my fitness and make sure I have that first before I make any other decisions."
That would certainly come as good news to Arena, who did not seem to like the idea of another loan at all.
"At this point in his career, it's good for him to have the right kind of preseason to get himself ready," Arena said. "We'd love to go start to finish with him next year. I don't think that's ever been done here. It would be remarkable if we could accomplish that.
"

For more on Major League Soccer, visit Goal.com's MLS page and join Goal.com USA's Facebook fan page!