BRIDGEVIEW, Ill. -- Both the Chicago Fire and Toronto FC may look back at their matchup Wednesday a month from now and see it as a missed opportunity. With both teams on the outside looking in, neither was able to capitalize on the chance to edge closer to the San Jose Earthquakes and Seattle Sounders FC for the final playoff spot.
For Toronto, a team that started the season well but has struggled mightily of late, it was a great chance to right the ship. While Chicago had the better chances, the visitors had two penalty non-calls go against them and were unlucky to not get at least one of the two.
"Not one but two penalty kicks should have been called for us," explained a frustrated coach Preki. "But you take a point if you are having a tough time scoring a goal, and sooner or later we will start putting the ball in the net."
Preki's disappointed but content reaction to the game seemed to be the consensus in the visitors' locker room. On the one hand Toronto got a point on the road in a tough place to play, but on the other hand time is ticking on their playoff hopes.
"It's frustrating," said defender Ty Harden. "I think we wanted to get three points. But we got one point, so that's positive. I think we are going to try and stay positive and the farther we get away from the game it's going to be okay. But we are at a point in the season where we need points."
The Fire will look back on this game with regret as well. With two games in hand on most of the league, there was a real chance to make up some ground. Head coach Carlos de los Cobos lamented the missed opportunity but still remained positive about the play of the team.
"It is a pity that we didn't win a game that we deserved to do so," de los Cobos said. "We had two or three clear opportunities that we weren't able to finish. But, from my point of view, there was an improvement on our defense's performance. The team played strong against a tough team, yet, unfortunately, we couldn't win a game, considering the efforts we made on the field."
One such clear opportunity came early in the second half for the Fire when Freddie Ljunberg got on the end of a great through-ball from Nery Castillo and found himself all alone with Stefan Frei. Unfortunately for the Fire, Ljunberg pushed the ball wide on a chance he had to finish.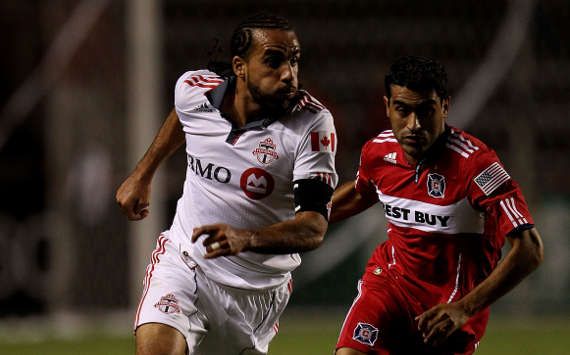 Although Ljunberg did not have his best day, there was considerable improvement by Nery Castillo. While he still has a ways to go, the Mexican international created problems for the Toronto defense and was probably the most active player in the Fire attack the second half.
"I felt very good out there on the pitch," Castillo said. "I am feeling better little by little, and it is important for me to gain playing time and minutes on the field. I played all 90 minutes tonight and now I will try to keep my performance up to help the team."
The Fire will need Castillo to continue his improvement quickly, because they travel to Philadelphia for yet another must-win game Saturday.
Fire midfielder Patrick Nyarko put it best when he said, "Every game since Houston has been a must-win; we haven't gotten a win yet. The next one is the most important."
For more on Major League Soccer, visit Goal.com's MLS page and join Goal.com USA's Facebook fan page!