CHESTER, Pa. -- There is a quote, often attributed to various figures such as Benjamin Disraeli and Mark Twain, that states: "There are lies, damn lies, and statistics." The statistics for the game between the Kansas City Wizards and the Philadelphia Union will show that Kansas City goalkeeper Jimmy Nielsen made just one more save than his opposite number, Chris Seitz, and that both men allowed a single goal.
What they won't show is that Nielsen had a brilliant game, keeping his team alive on multiple occasions. They also won't show that Seitz singlehandedly cost his team their first ever winning streak. In the 71st minute, Davy Arnaud caught Seitz off-guard on what had seemed to be a routine set piece near the sideline. His free kick went over the head of Seitz and into the far corner of the net.
After the match, Wizards assistant coach Kerry Zavagnin was full of praise for his keeper.
"He was huge," Zavagnin said of Nielsen. "He's been big for us all year, and certainly when we've given up opportunities, he's responded and kept us in a lot of games -- not just today, but throughout the season. A credit to him for keeping us in the game in that first half. We could have easily gone 2-0 down, 3-0 down, at the time, but he made some fine saves, and kept us in the game."
Asked about how it was to play against an in-form keeper like Nielsen, Danny Mwanga, who had several shots saved by the Dane, responded, "It's definitely hard, especially at the end of the day. It was a game that we felt we could win, and he came up with some pretty good saves."
Conversely, Philly coach Peter Nowak minced no words when talking about his keeper's performance.
"Chris made a huge mistake," Nowak said bluntly. "When we control a game for 70 minutes, and we're in a position to score a couple more goals, it's disappointing."
Nowak was also frustrated with his team's ability to keep a clean sheet. Philadelphia are the only team in the league to have conceded at least once in every match.
"It was a perfect game to have a shutout. It was an unnecessary goal. I think the guys in front of Chris made it very easy for him today. When it comes to the crucial moment, he needs to be there for this team. This is goalkeeper A-B-Cs. I was very disappointed to see the ball go in the goal."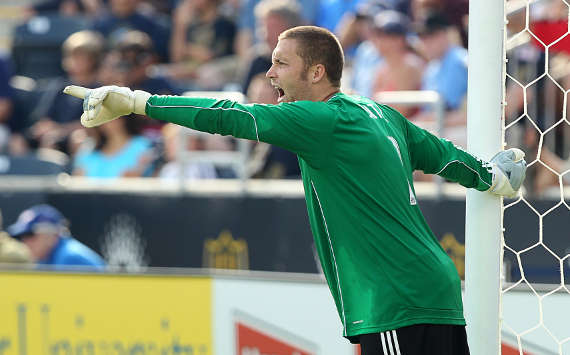 Seitz himself was obviously downhearted by the outcome.
"I feel like we let one go," the former Real Salt Lake backup said. "I've gotta raise my hand and say it was my bad. Davy Arnaud whipped in a good ball, and it caught me off-guard."
Arnaud himself was understandably more charitable towards Seitz than Nowak.
"Chris knows where the dangerous area is. I didn't see what he did on the goal, but it's tough for goalkeepers from that angle."
Kansas City's captain was, however, complimentary of the Philadelphia fans, who did their best to create an intimidating atmosphere for Peter Vermes and his team.
"They're good," Arnaud said. "It's great for the league. We've all seen this stadium on TV, it's a really nice stadium. The atmosphere is great, which is good, and I'm sure these guys enjoy playing in front of it every week and we are really looking forward to getting our place next summer and playing in the same atmosphere."
For more on Major League Soccer, visit Goal.com's MLS page and join Goal.com USA's Facebook fan page!