HARRISON, N.J. -- Four years into his MLS career, the story of Dane Richards had already been completed. Sure, the Jamaican was fast and sure he could be dangerous getting behind the opposition's back line, but the league had already figured him out.
Defenders knew how to contain that blistering pace, how to prepare for his movement, how to entice him into his countless ineffective dribbling forays.
Richards was stubborn, unwilling to learn and unwilling to adapt. He had peaked in Houston during that playoff game in 2008 when he had effectively brought to an end the Dynamo's monopoly of MLS.
The Jamaican was simply a headache for Red Bulls supporters. A player always making the wrong decisions, always tantalizing those who had seen the talent that he possesses.
Saturday night, the 21,859 in Red Bull Arena watched Dane Richards pry open his career and revise everything that had been written about him.
The scintillating winger reintroduced himself to MLS in a 2-0 victory for his New York Red Bulls against the San Jose Earthquakes, in which he deservedly beat out the likes of Rafa Marquez and Thierry Henry to garner the night's man of the match award.
Richards' first masterstroke came just as the first half was winding down, an interval in which New York dominated for longs stretches but wasn't able to capitalize on their superior play.
After controlling a bouncing ball with his chest, Richards showcased his acceleration by flying past an inert Brandon McDonald. Next, a cheeky meg that deflected off the inside of Bobby Burling's leg left him alone with Earthquakes goalkeeper Jon Busch in the penalty area. To complete the sequence, Richards feigned a shot and then dragged past the luckless, sliding Busch.
His soft finish into the open San Jose net, his first goal of the 2010 MLS season, sent Red Bull Arena into a rapture, possibly the most deafening moment in the stadium's young history.
"I can't believe it came, I scored against Santos, Manchester City, but I couldn't score in MLS," said Richards. "So it was good to get it started tonight, hopefully more come."
The man of the match was not satisfied with just his goal, though, as he was pivotal in a goal that ignited an already hot Red Bull. Chris Albright flighted Richards into the corner, where Richards paused before delivering a perfect cross to Henry. The French striker controlled with his first touch before stroking a quintessential half-volley past Busch.
The first MLS goal for the Designated Player put the game out of reach, but could also be the finish needed for Henry to finally break out.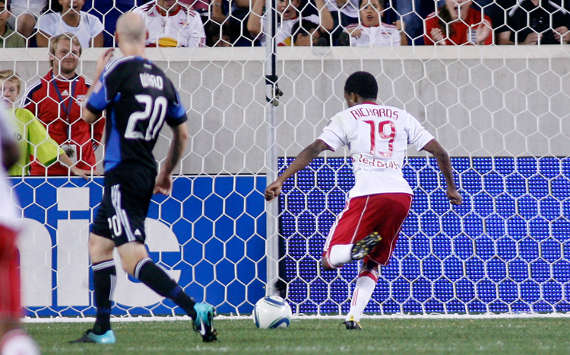 It would have been impossible to predict that Richards would be stealing the headlines from one of the most decorated forwards to have ever played.
However, those who have been watching the Red Bulls will know that the new Dane Richards didn't just suddenly appear overnight. Ever since the arrivals of Marquez and Henry, Richards has slowly improved. The space afforded by their additions has allowed the speedster to attack defense's flanks and create room to cross.
"If you give him a good pass, then he's going to go and beat you in space," said Henry. "It's amazing the way he's been playing."
Albright, the player positioned behind him for most of the season, revealed an interesting observation about Richards that may open the eyes of many Red Bull supporters. The veteran compared the Jamaican to a "sponge", saying that players who have his speed rarely are willing to learn and improve.
Richards taking the compliment in stride, stated to Goal.com, "If I listen to my teammates, I'll learn a lot from my teammates, each practice, each game."
If Richards continues to build his relationship with Henry and Marquez, the Red Bulls' hot form seems likely to continue. After the Crew tied FC Dallas today, New York are now only four points out of first in the Eastern Conference. Disappointingly though, they will be without Richards who will likely be away on international duty with Jamaica.
For wry non sequiturs follow Goal.com correspondent Avery Raimondo on Twitter @averyraimondo
For more on Major League Soccer, visit Goal.com's MLS page and join Goal.com USA's Facebook fan page!