If the circumstances do not change, the Eastern Conference could end up largely on the outside of the playoff picture.
Four Western Conference teams – FC Dallas, San Jose, Seattle and Colorado – fill the four wild card berths heading into the weekend.
The cause isn't a lost one for the Eastern brigade with a third of the season left to play. Toronto FC starts Week 22 just two points behind eighth-placed Colorado, while Chicago must close a four-point deficit with two games in hand. Throw in Kansas City's five-point gap and the Eastern Conference has three teams within a pair of wins of the playoffs.
In order to eradicate the deficit and ensure Columbus and New York have some familiar company in the postseason, the aspiring Eastern Conference playoff contenders must find a way to improve their road form.
The numbers make for grisly reading for the bottom six sides in the East:
Toronto FC: 1-7-1
Chicago: 3-4-2
Kansas City: 1-6-2
New England: 1-8-1
Philadelphia: 1-9-1
D.C. United: 1-7-2
It isn't difficult to see why these sides are in their current predicament. The six sides have played 58 games away from home and collected just 33 points. Strip away Chicago's respectable tally of 12 points in 9 road matches and the yield decreases significantly.
Fortunately for the four Eastern Conference clubs – New England rests just seven points out of a berth entering the weekend – still chasing a playoff berth, there is still time to rectify those troubling away days. It may take an extra dash of commitment and a solid foundation at the back, but a composed performance or two could reverse the string of adverse results and fuel a playoff run.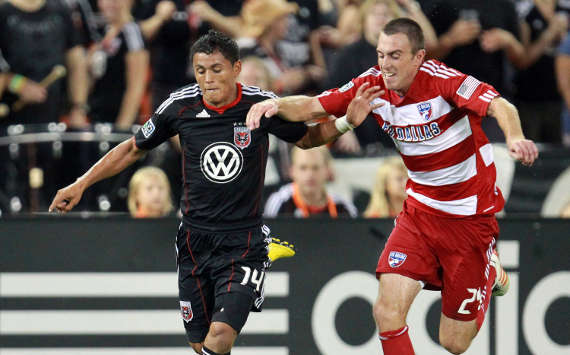 The solution, however, is still just conjecture. Without significant improvement away from home, those hopeful Eastern Conference sides may have to watch yet again as a Western Conference club or two mounts a postseason push for the Eastern Conference crown.
Last week: 3/7 (71%)
For the season: 66/133 (50%)
Saturday
FC Dallas @ Columbus – 4:00p.m. (Telefutura) – Goal.com Preview
This match could expose how much FCD misses Dax McCarty (right quad strain) if the unsung midfielder can't recover in time to feature.
Prediction: Columbus win.
Real Salt Lake @ Toronto FC – 7:00p.m. – Goal.com Preview
Both teams will need to rebound from their peculiar midweek exploits. It isn't out of the realm of possibility to suggest those efforts could dampen the proceedings here.
Prediction: Draw.
Philadelphia @ New England – 7:30p.m. – Goal.com Preview
Expect the Revs to engineer the proper rebuttal to last Saturday's 4-1 defeat at Kansas City by dispatching the Union.
Prediction: New England win

San Jose @ New York – 7:30p.m. – Goal.com Preview
It'd be a bit foolish to pick against the Red Bulls at home after the way Hans Backe's side pulled apart Toronto FC at BMO Field last week, wouldn't it?
Prediction: New York win.
Houston @ Colorado – 9:30p.m. (Fox Soccer Channel) – Goal.com Preview
Rapids coach Gary Smith said this week his side needs four more wins to seal a playoff berth. This date with the Dynamo should count as one of them.
Prediction: Colorado win.
Kansas City @ Los Angeles – 10:30p.m. – Goal.com Preview
If Kansas City can find a way to score first against the Galaxy (0-4-1 when conceding the opening goal), this match could end up far differently than many people would project. The Wizards' poor away form, however, does not make this feat particularly likely.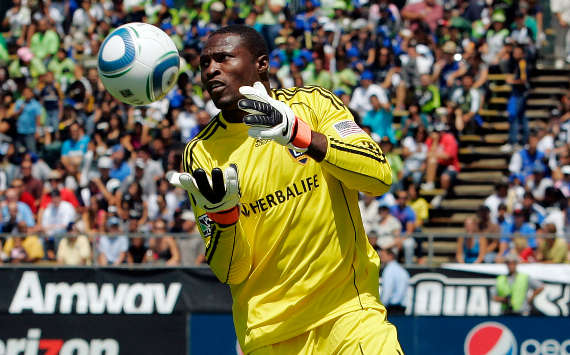 Prediction: Los Angeles win.
Chicago @ Seattle – 10:30p.m. – Goal.com Preview
Freddie Ljungberg likely won't have much to celebrate upon his return to the Pacific Northwest with Osvaldo Alonso around to limit his influence on the match.
Prediction: Seattle win.
Sunday
D.C. United @ Chivas USA – 10:00p.m. (ESPN2) – Goal.com Preview
While the Ben Olsen era has led to an uptick in United's performances, it may be a bridge too far to include successful cross-country road trips within this side's current capabilities.
Prediction: Chivas USA win.
For more on Major League Soccer, visit Goal.com's MLS page and join Goal.com USA's Facebook fan page!