With the creation of the Designated Player roster slot to facilitate the arrival of David Beckham, the goal for Don Garber and MLS was clear: to bring star power to MLS. Although there is no questioning Beckham's abilities on the field, what is still clear is that Beckham was signed partially due to his celebrity and name-recognition to the average American. There might have been other players more capable of addressing the Galaxy's on the field issues, but no other player would generate the same kind of publicity for both the team and the league Beckham could.
Three years later, 22 players have signed as Designated Players in MLS, with nearly half of them putting pen to paper in 2010. (This includes Landon Donovan, who was previously not on a DP contract.) Some of them, namely Thierry Henry and Rafa Marquez, are names recognizable to soccer fans around the world, while others, Geovanni and Branko Boskovic are players that would not normally register on the radar of American soccer fans before their arrival in MLS.
The creation of the DP rule to attract star power is only one side of the story, but considering that the big name signings are inherently going to be well-publcized, it pays to examine the other side of the story, and that is the signing of the designated player that will not instantaneously fill the stands, but one that will address the needs of a team on the field and lead the team to success.
Two prime examples of this type of signing can be traced back long before 2010, with two South Americans, Juan Pablo Ángel and Guillermo Barros Schelotto, signing Designated Player contracts in 2007 and 2008, respectively (Schelotto actually signed on a non-DP contract in 2007), and going on to make huge impacts on the field. Although well-known in other parts of the world, Ángel and Schelotto certainly did not have the name recognition among fans in the USA that a player like Beckham or Cuauhtémoc Blanco (another 2007 arrival) would have.
Nonetheless, they would go on to be two of the most successful DP signings in the MLS, with Schelotto leading the Columbus Crew to two consecutive Supporter's Shields and an MLS Cup. Over in New York, Ángel has continued to delight Red Bulls fans with a goalscoring rate of over one goal every two games, leading them to two playoff appearances in three seasons, including an MLS Cup final which the team lost against Schelotto's Crew in 2008.
However, many Designated Players with little star power have gone on to become overpaid flops, Houston's Luis Ángel Landin and Dallas' Denílson being two notable players who failed to make the impact their teams were hoping for. Both saw little time on the field and failed to make any impact on their team's fortunes in the standings.
Fast forward to August 2010, and we have seen a slew of Designated Players come to MLS in the past three months. While Thierry Henry and Rafa Marquez are certainly big-name players who will be looked to in order to win some silverware, they are also commanding big-name player type money, with a combined salary of $11.14 million. Seattle's new signings, two players largely unknown in the USA before the 2010 World Cup, Blaise N'Kufo and Alvaro Fernandez, combine for a $780,000 salary, or about 7% of what the Red Bulls are paying their two new stars. Furthermore, Seattle dumped Freddie Ljungberg's $1.3 million annual salary on Chicago and their play has improved markedly since.
While it is too early to draw any serious conclusions about the performance of any of these new signings, they clearly represent two divergent methods of implementing designated players into a successful team. New York has gone for star power, in part to complement the opening of their state-of-the-art Red Bull Arena and make sure the stadium isn't half full as New York endeavors to become a contender this season. Although the likes of Marquez and Henry clearly improve the team their eight-digit combined salaries would make them a luxury for most other teams in the league.
Meanwhile, Seattle, recognizing the need for a more dynamic midfield and a target striker to complement Fredy Montero, has signed two players, that while lesser-known than their counterparts on the East Coast, bring a wealth of experience and ability to the team. Although they have not gotten on the scoresheet in MLS play, Sigi Schmid's side has greatly benefitted from the tactical flexibility both players offer and the team has not lost an MLS game since July 4.
In the end, it is the frugal strategy that will prove viable for most MLS clubs. Sure, there are some clubs that will be able to shell out for the likes of a Beckham or Henry, but, at least for now, the majority of franchises out there should be content with finding the next Schelotto or Ángel. Not only will this type of strategy keep the books balanced, it will also allow teams to stay competitive.
One of the biggest concerns about the expansion DP rule in MLS is the disparity it will create between the bigger and smaller market teams. This theory has been partly disproven with the last two MLS Cup winners coming in the form of two smaller market teams largely devoid of star names, Real Salt Lake and the Columbus Crew (and in fact, Real Salt Lake has never had a Designated Player). Furthermore, Columbus has picked up two consecutive Supporter's Shields and both teams are in contention this year and sure bets to make the playoffs. Still, teams like Los Angeles and New York are turning themselves into genuine title-contenders, and it is up to other teams to match them on the field of play, if not in their expenditures.
While most teams cannot hope to match the spending of New York and Los Angeles, the relative success of lower-salaried Designated Players and the triumph of team chemistry over star power, means that most other teams in the league can still keep up. Not every team can make the giant leaps in spending teams like New York, Los Angeles, and even Chicago are making, but they can make steps to improving their on the field product by signing players like Fernandez, Geovanni, and N'Kufo, players who bring the special element needed for many teams to become championship contenders without commanding the star power of bigger name players and the salary that comes with it.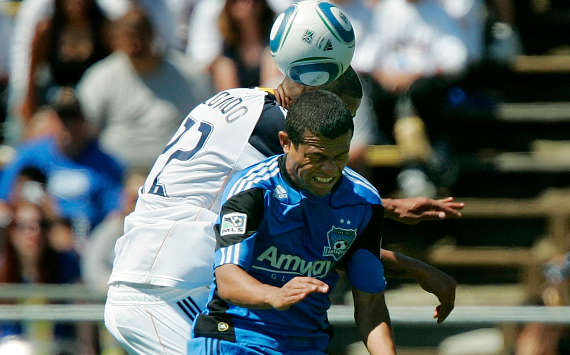 The other positive worth mentioning here is that the influx of more skilled players in the league could potentially shift perception of MLS away from the notion that it is a league for washed-up stars. Though most of the DP signings are on the wrong side of 30, the success of players such as Luciano Emilio (29 years old when he signed for D.C. United), Landon Donovan, and the potential impact of Álvaro Fernandez Nery Castillo show that there is certainly room for younger, talented Designated Players who want to prove themselves in MLS and lead their teams to success on the field. They clearly have the upside to command DP money, but their lack of superstar status means they will not be commanding $5 million salaries.
These are the types of players the most MLS clubs should look for in order to compromise between financial stability and on the field success. To expect Kansas City or Columbus to land another Henry-type signing is the stuff of fancy, but to find a Schelotto or Luciano Emilio, that is the kind of thinking that can win over fans and win championships.
Nick Rosano is a NorCal-based contributor for Goal.com. Follow him on Twitter @nicholasrosano for more MLS insight and the occasional moment of hilarity.
For more on Major League Soccer, visit Goal.com's MLS page and join Goal.com USA's Facebook fan page!