Wizards ring in changes while balancing big dreams and playoff hopes.
By Kyle McCarthy
KANSAS CITY, Mo. – Kansas City manager Peter Vermes started to form a blueprint for the future from the moment he descended from the front office to take control of on-field matters last August.
Vermes spent the remainder of the lost 2009 campaign weeding through his roster to sort out who would stay and who would go. He used the winter to import players from around the globe to fill in the gaps and improve his squad. Then he started to implement his vision on the reconstituted group during training camp.
As one might expect in a league where successful teams are usually constructed over a period of years rather than in a matter of months, the final product remains a work in progress.
"Even throughout preseason, the whole idea was to try to start building a team and a new culture within the group," Vermes said after a Wizards training session at Swope Park last Friday. "I think tactically, technically and physically, we've improved immensely. I still think the psychological aspect is being worked on – and it's progressing – but it doesn't progress at the same rate as the other three (factors) do. As we've gone through the season, we've had ups and downs."
Those fluctuations are endemic to a side completely overhauled in less than a year. While a smattering of reliable figures from the past – stalwarts like Davy Arnaud, Jimmy Conrad, Jack Jewsbury and Josh Wolff plus a few members of the younger generation – retained their place in the squad, most of them adapted to new responsibilities. A bevy of fresh faces joined the club to replace the departed and a few of them – most notably Stephane Auvray in central midfield, Jimmy Nielsen between the sticks and Ryan Smith down the left – now play integral roles in the side.
"First and foremost, we're a new team," Smith said. "It's no secret that it's been a transitional type of period this season for us. We've been streaky – (both) up and down – and that happens with new teams."
Two wins from two to start the season soon yielded to a more disappointing run of results. Despite a series of decent performances – including a 1-0 defeat at Seattle on Apr. 17 and a spirited second-half fightback to grab a 2-2 draw at Chicago on May 15 – in the aftermath of the surprising early surge, Kansas City stumbled through a barren stretch that included just one win in 11 matches.
"It's in the tough times when you find out what kind of team you are," Conrad said. "That's something we've had to manage and I think we've done a pretty good job of coming out of it."
A stunning 1-0 victory in Columbus on July 14 started the resurgence and perhaps marked a turning point in the Wizards' campaign. After Teal Bunbury's first MLS goal ended a 339-minute scoreless drought and a dogged defensive display secured all three points at Crew Stadium, the Wizards drew in Colorado before returning to CommunityAmerica Ballpark to defeat Toronto and tie Real Salt Lake to compile a season-long four-match unbeaten run subsequently ended last weekend in San Jose.
Through good times and bad, Kansas City hasn't wavered from its new direction. While a raft of players shuttled through the lineup as Vermes evaluated his options, the fundamental structure – a high-pressure 4-3-3 formation designed to unsettle opponents and expose their weaknesses – has rarely varied regardless of the results.
"The great thing is that we've stuck to our style and we've been continually trying to build off of that style," Vermes said. "We really wanted to create an identity about who we were. We're a team that plays quick out of the back, we play wide, we get service into the box and we always finish off with some type of shot towards goal. That is continuing as we move through the season."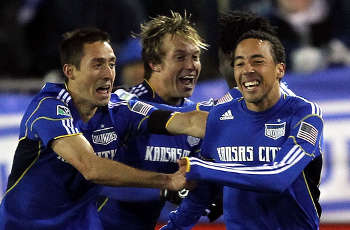 It also continues as Vermes and his players attempt to balance the present and the future demands placed upon them as the 2010 season winds to a close.
The recent signing of former Mexico international striker Omar Bravo reveals how those two priorities can lead to disparate resolutions. Bravo certainly would have bolstered Kansas City's playoff chances this season had he immediately joined the club, but MLS and the goal-shy Wizards agreed to loan Bravo back to Chivas Guadalajara to compete in the Copa Libertadores final and the Apertura 2010 campaign. The agreement may have represented the only way to secure Bravo's services in the future, but it also struck a blow for the Wizards' short-term aspirations.
The divergence creates an inherent tension between the need to produce now and the desire to assemble a successful franchise over the long haul. Ambition isn't in short supply in Kansas City with investor/operators OnGoal willing to splash the cash to place the Wizards among the league's elite teams. The corresponding pressure created by such financial backing and the impending arrival of an impressive soccer-specific facility next season leaves Vermes trying to juggle his unyielding will to win now with the mandate to place this season in the context of a grander plan.
"It's not easy because it is a results-oriented business and we're fully aware of that," Vermes said. "But my thought is a simple one: I have to stick to what I believe in and I have to stick to the plan ahead, knowing full well that there will be some short-term losses, if you will. I know that one day, somebody could wake up and say that we don't like the results. I understand that, but the only way I think consistent, long-term success will be sustained is if you build a foundation and and a team that can then do it consistently over time."
The foundation seemingly isn't quite there yet to mount a MLS Cup run in 2010, but the idea of chalking up this occasionally frustrating year as a mere transition to greater things in the future isn't particularly palatable to a squad filled with belief.
"When you think big picture and the 25-to-30 year plan, then I'm sure it would be considered as such (a transition year)," Conrad said. "For the guys here – especially for us older guys – we're trying to win every chance we get. We know our time is limited and we try to emphasize that to our young guys. Just because you don't win it one year doesn't mean it's going to happen the next year."
It may yet still occur this season. A comprehensive 4-1 victory over New England on Saturday night pushed the Wizards to within four points of the eighth and final playoff spot. In order to continue the postseason push, Kansas City will need to use its proclivity for creating chances – the Wizards rank first in MLS with 112 shots on goal despite scoring just 19 goals (second-worst in the league) – to exhibit more ruthlessness in front of goal.
If Kansas City can ally its recent defensive resurgence with more potency at the sharp end, there is no reason why future can't arrive a bit earlier than expected, according to Conrad.
"We're dangerous," Conrad said. "I don't think anybody really wants to face us come playoff time. I think if they can push us down and not let us get to that point, it's probably in the whole league's best interests. We have some weapons. At times, I think we can be very streaky. If we can catch a streak at the right time à la Real Salt Lake last year, we could do something. But we have to get to that point."
Maybe that point will arrive this season. Maybe it won't. In either case, the plan continues.
Five Points – Week 21 1. New England will be the first and last team to play three at the back against Kansas City this season
: Revolution boss Steve Nicol reverted to his once-standard 3-5-2 formation against the Wizards in an attempt to clog the midfield and increase the opportunities for Marko Perovic to collect knockdowns in the attacking third. Kansas City's three-pronged attack exposed the spaces left in the corners by New England's three-man back line and pulled apart the Revolution defense time and again. Vermes told reporters after the game that he thought the Revs' switch away from their usual 4-4-2 played into his side's strengths and the final result certainly buttressed that conclusion.
2. Rafa Marquez's wonder strike against Toronto FC was even better than it looked on first glance
: Marquez ripped home a swerving volley from distance to open the scoring in New York's 4-1 win at Toronto FC. While the emphatic strike itself deserves top billing on any highlight reel, Marquez merits even higher plaudits for connecting so sweetly with the bouncing ball played to him by Tony Tchani at the top of the TFC penalty area. Most of the time, those sorts of goals start with the perfect feed, but Marquez did most of the work and reaped one heck of a reward.

3. Preki can't afford to be Preki when it comes to Mista
: The TFC manager yanked Mista at halftime with the Reds facing a two-goal deficit and inserted Jacob Peterson in his place. In a limited sense, the move worked. O'Brian White – the striker presumably and rather inexplicably spared – slid in a nice pass to allow Dwayne De Rosario – the midfielder pushed up front upon Peterson's arrival – to pull a goal back after halftime. With all of that said, it's a bit boggling to see a supply-starved player withdrawn just 45 minutes after submitting a stellar shift to help dispatch Cruz Azul in CONCACAF Champions League play during the midweek. Maybe Mista doesn't quite fit the Preki mold, but he represents a cultured option TFC will need as it competes on two fronts. Alienating him with an embarrassing substitution after a decent first-half performance doesn't seem like the right play from this vantage point.
4. If Houston somehow manages to crawl into the playoffs, it probably should thank Richard Mulrooney for his contribution this weekend
: The veteran midfielder put on a masterclass in proper service in Houston's wild 4-3 victory over Chicago on Saturday night. Mulrooney exerted considerable influence on the match from start (a teasing cross from the right flank to prompt Geoff Cameron's thumping header off the crossbar after three minutes) to finish (the well-weighted corner kick to set up Ching's game-winning header with five minutes to play) as the Dynamo grabbed a critical win. On a night when hat-trick hero Ching and Freddie Ljungberg excelled, Mulrooney stood out as the most influential player on the park during stints at right back (first half) and in central midfield (second half) because of the impact his service had on the match.
5. Consistent discipline isn't just a problem for MLS officials
: In the same week, the MLS Disciplinary Committee handed Kansas City's Teal Bunbury a one-match ban for a wayward elbow in San Jose last Saturday and ignored an off-the-ball elbow by Chicago's Nery Castillo against New England's Kevin Alston on Wednesday night. Two fairly similar incidents (aside from the on-the-ball nature of Bunbury's blow and the inexplicable yellow card shown to Castillo), two elbows, two different conclusions. How are clubs and players supposed to discern what to expect in terms of punishment for a particular incident when the league doesn't maintain a coherent stance?
Kyle McCarthy writes the Monday MLS Breakdown and frequently writes opinion pieces during the week for Goal.com. He also covers the New England Revolution for the Boston Herald and MLSsoccer.com. Contact him with your questions or comments at kyle.mccarthy@goal.com and follow him on Twitter by clicking here.
For more on Major League Soccer, visit Goal.com's MLS page.