Goalkeeper
Kevin Hartman, FC Dallas:
The veteran 'keeper is finding a new lease on life at Pizza Hut Park and has been an integral part of the Hoops' rise in the standings. He made three outstanding saves to keep Chivas USA out and guide his team to a shutout win.
Defenders
Bobby Convey, San Jose Earthquakes:
If you've only watched Bobby Convey in his last two games you'd be surprised to learn that left back is not his natural position. Convey proved against Los Angeles that he has the confidence to perform any role Frank Yallop asks of him, defending well against LA's potent attack and chipping in with an assist on the game-winning goal.

Carlos Mendes, New York Red Bulls:
Often overshadowed by compatriot Tim Ream in the New York back line, Mendes recovered from an early yellow card to shut down the Toronto attack on Saturday afternoon.
Chad Marshall, Columbus Crew:
The reigning Defender of the Year is facing some tough competition to repeat that achievement this season but will have done his chances no harm with a fine defensive display against Colorado. He won nearly everything in the air and capped it off with a smart header across the face of goal to set up Steven Lenhart for the goal that closed out the game.
Jair Benitez, FC Dallas:
Benitez was the best defender on the field against Chivas USA on Saturday, showing himself to capable on both sides of the ball and setting up Brek Shea's game-winning goal.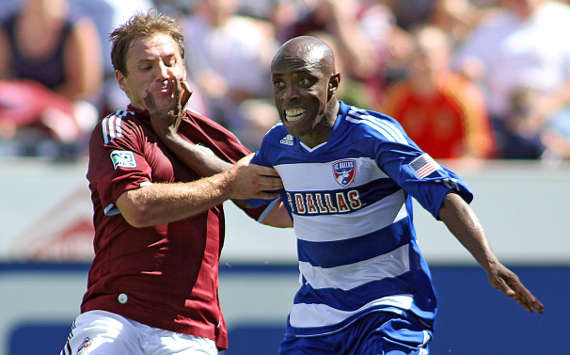 Midfielders
Freddie Ljungberg, Chicago Fire:
If his last two performances are anything to go by, the mercurial Swede is enjoying something of a renaissance since his move to Chicago. He was involved in nearly every goal-scoring move during Chicago games against New England and Houston and came out of this week with his first three assists in Chicago colors.
Tony Tchani, New York Red Bulls:
In this year's SuperDraft, many fans were clamoring for the New York front office to pick Dilly Duka. Instead, they went for Tony Tchani and have been vindicated in that choice by his strong midfield performances. He ran the show against Toronto and looks to be forming a great understanding with newcomer Rafa Marquez.
Rafael Marquez, New York Red Bulls:
After a poor performance in last week's defeat to the Galaxy, the Mexican star redeemed himself superbly. He opened both the scoring and his MLS account with an absolute screamer from outside the area and looked very smart in his play, with accurate distribution and strong tackles.
Birahim Diop, Kansas City Wizards:
Diop's two goals to open the scoring in Kansas City's rout of New England were well-deserved and proved that he belongs in MLS after a long career drifting in and out of professional soccer.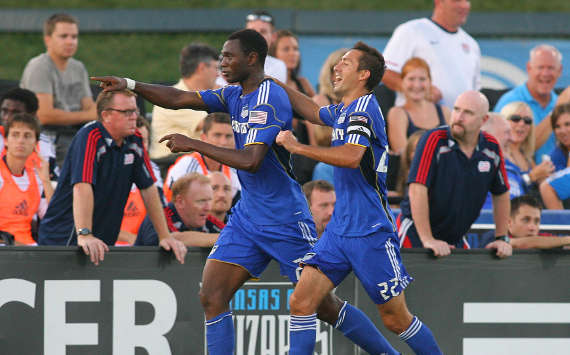 Forwards

Brian Ching, Houston Dynamo:
A no-brainer for inclusion in this week's best XI, Brian Ching showed he still has what it takes to lead the Dynamo front line with a superb hat-trick that displayed a wide array of skills including a superb bicycle kick that will surely contend with Rafa Marquez's blast for Goal of the Week honors.
Danny Allsopp, D.C. United:
Allsopp's finishing was crucial in handing United a much-needed win over Philadelphia. He found himself in the right place at the right time for his first goal, before sealing the deal with a well-placed shot to beat Chris Seitz.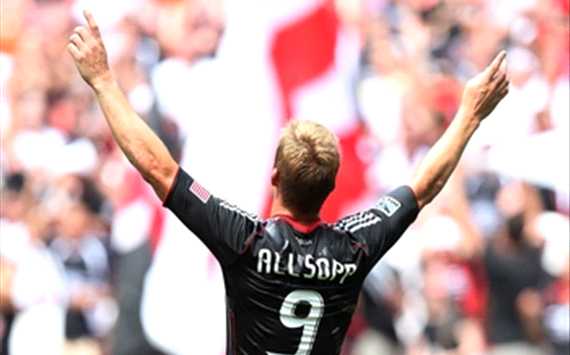 Formation (4-4-2)
Hartman
Convey - Marshall - Mendes - Benitez
Ljungberg - Marquez - Tchani - Diop
Ching - Allsopp
Bench
Jon Busch (San Jose Earthquakes); Dejan Jakovic (D.C. United); Pablo Mastroeni (Colorado Rapids); Richard Mulrooney (Houston Dynamo); Juninho (Los Angeles Galaxy); Kei Kamara (Kansas City Wizards), Guillermo Barros Schelotto (Columbus Crew)
Nick Rosano is a NorCal-based contributor for Goal.com. Follow him on Twitter @nicholasrosano for more hackneyed theories and bellyaching.
For more on Major League Soccer, visit Goal.com's MLS page and join Goal.com USA's Facebook fan page!