Three corners, three goals. Simple enough from Brian Ching, but the Houston Dynamo needed every last strike in his hat-trick to overcome the Chicago Fire.
The U.S. international's towering header late in the 4-3 match proved the difference between three home points gathered and two dropped.
Prior to that, Ching had opened the scoring in the first half by sweeping home after Sean Johnson dropped a corner and notched a second with an audacious bicycle kick.
The hat-trick doubled Ching's tally for the season and keeps Houston nominally in the playoff race. The Dynamo sit second last in the Western Conference.
Ramin Majd:
I went to Atlantic City yesterday. I kept hearing "Ching Ching Ching," and it wasn't the slot machines.
Seth Vertelney:
An MLS hat-trick doesn't make up for a World Cup snub, but Ching delivered a message to Bob Bradley that he may still have a part to play for the national side.
Isabel Navarro:
Brian Ching not only scored a hat-trick but he scored a sick scissor kick goal. Ching had the best performance of any player this week.
Andrea Canales:
It's got to be Brian Ching - a hat trick of goals, one of them a stunning bike and each one needed to get his team the victory over the Fire.
Nick Rosano:
Brian Ching needed some goals and Houston needed a win, so Ching's hat-trick on Saturday night was a huge boost to both his own confidence and his struggling team. Not only did his three goals power Houston to a wild win, but they showed an array of skills the 32-year-old still has at his disposal, with the first a real poacher's effort, the second a stunning bicycle kick, and the third a powerful header.
Kevin McCauley:
After that goal, how do you vote for anyone else?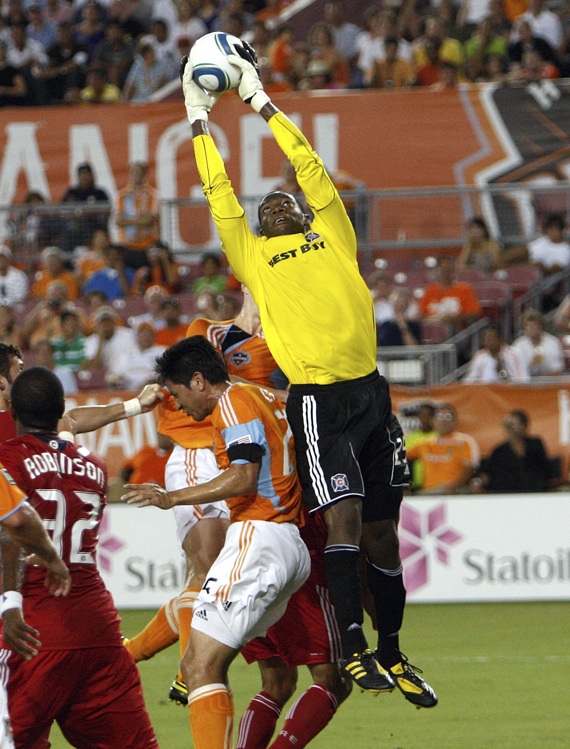 For more on Major League Soccer, visit Goal.com's MLS page and join Goal.com USA's Facebook fan page!