Why Carl Robinson's actions after his goal matter.
Carl Robinson probably never dreamed that there would be a goal he would score for his team on Toronto's BMO Field and not celebrate with enthusiastic abandon. After all, the Welsh player had been a fan favorite in the city almost from the moment he arrived, eventually served as the club's captain and was twice voted the team's Most Valuable Player award.
However, when Robinson popped in a header for the final goal of the match between the New York Red Bulls and Toronto FC, he wasn't playing for TFC anymore. The jersey crest he wore on his chest, over his heart, was that of New York.
What was in Robinson's heart, though, was another matter.
He took his goal well, anticipating where the cross would arc down, as it eluded the grasping goalkeeper. In the aftermath of scoring, perhaps Robinson considered some gesture toward the seating area of the Toronto administrators that had let him go so cheaply to New York after his three years of dedicated service to the Canadian club.
If Robinson thought of any such revenge, he didn't act on it. He didn't do much of anything, actually, after the goal. He stopped, clutching his jaw with one hand like some do when at a loss for words. He bowed his head as his New York teammates swarmed him with congratulations, smiled slightly, then jogged back to the center circle to finish the game.
"I didn't celebrate out of respect for the Toronto fans who were great to me when I played here," Robinson later told
CBCSports
.
That regard by the TFC supporters didn't go away just because Robinson did. When he entered the match in the 74th minute, facing his former team for the first time since the trade, Toronto fans applauded and cheered in homage.
"I appreciated the reception I got when I came into the game, and the memory of that will last with me forever," Robinson said.
On the field that same day were some of the league's biggest stars, and one in particular, Rafael Marquez, struck for a stunning goal to put New York up early.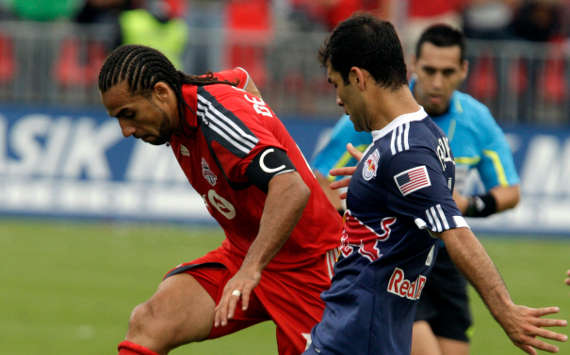 Still, the interplay of class and genuine affection between Robinson and the TFC faithful stood out more.
With the contrast of Robinson's actions to those of many commercially jaded professional athletes who seem to be all about their paycheck and never about those who love the game enough to cheer for it, it's clear that soccer needs soul as much as it does superstars.
When Manchester City striker Emmanuel Adebayor scored against his old team, Arsenal, last year, he ran to their fans to tauntingly celebrate in front of them. Arsenal supporters responded in kind, throwing debris at their former player and attempting to storm the pitch. Neither party covered themselves in glory that day.
Adebayor is without doubt a better player than Robinson, but Robinson is clearly the bigger man.
That's something that hopefully everyone keeps in mind as Major League Soccer continues to grow. Frankly, there are players on the market who eye the league as simply a place to pick up a paycheck, without regard for their club and fans. Their sense of loyalty is only to themselves, and clubs should be wary of signings with such predatory motivations.
The glitz of big names aside, people, whether players or supporters, connect to something special when they care.
Fans, however, play a role as well. Sitting in the stands, they're usually the first to see which players have that extra hustle, who apologizes to their teammates after a poor play, or gives one who makes a mistake a comforting pat. Trampling over such true-blue team players in a rush to get an autograph from the latest big signing isn't just poor form, it's a sort of betrayal of what really matters to any sporting unit.
That's why Philly fans should forget about mourning about Robert Pires spurning their city and cheer on another Frenchman, hardworking Sebastien LeToux, instead. FC Dallas supporters (or rather, soccer supporters in the city who ignore the team) need to wake up to the fact that they have a pretty amazing club playing some of their best soccer right now. Kansas City fans should remember time is running out to say they were consistently backing the squad before the club got its spiffy new stadium.
Most of all, the soccer fans who turn their noses up at MLS, citing as rationale that the league isn't "the best level" need to realize that being a true supporter is always more about emotion than logic. Becoming a Grinch towards the local league doesn't serve much purpose. The players across the pond will never hear the cheers supporters abroad direct at their television sets.
Robinson heard the voices clearly at BMO Field. "
Fantastic reception,
" wrote the veteran on his Twitter account after the match. "
Wish i could thank all fans individually! THANK YOU!!x"

Of course, Robinson did show his appreciation to TFC fans as a whole on the field, since his celebration silence shouted out his true feelings.


Andrea Canales is Chief Editor of Goal.com North America and is trying to remember to update her Twitter account.
For more on Major League Soccer, visit Goal.com's MLS page and join Goal.com USA's Facebook fan page!