Houston mired in the doldrums and other notes from the week in MLS.
By Kyle McCarthy

There is plenty to discuss – two clashes between the upper crust in both conferences plus a host of other entertaining performances and tidbits – after a busy weekend, but the Breakdown starts this week with a look at the return of one of the league's most promising young players.
Cameron starts in central defense as Houston searches for a winning formula
Houston defender Geoff Cameron summed up his first start since April 24 in one brief expression of frustration.
"The knee's feeling pretty good, but it just sucks that we didn't get a win tonight," Cameron said after the Dynamo's 1-0 defeat at New England on Saturday night.
Cameron's return to health represents a significant and somewhat unexpected boost for a Dynamo side that hasn't won in ten MLS matches (0-6-4) since May 22. The 25-year-old midfielder suffered a ruptured right PCL in a 2-0 defeat at Chicago in late April and initial estimates indicated Cameron may miss the entire season. Those fears proved unfounded as Cameron resumed light work in July and regained his fitness in time to make two substitute appearances against Monarcas Morelia and Seattle in the space of four days last week.
Houston coach Dominic Kinnear partnered Cameron with Bobby Boswell in central defense in an attempt to shore up a Dynamo back four that shipped 19 goals in its previous nine MLS matches. Early returns suggest the move could yield benefits, though this ragged encounter didn't provide much of a test for the revived center back pairing.
"(The partnership) was right on point tonight," Cameron said. "Once again, it's just the unlucky bounce. We did all of the right things and the ball just bounces right to him."
On a night when the Dynamo probably deserved something from the game, New England secured its third win in four matches through the aforementioned slice of luck and two touches of class. Ilija Stolica stopped Sainey Nyassi's scuffed volley dead with his left foot and then thrashed home the winner with his right peg after 62 minutes.
The manner of the defeat left Kinnear and his players frustrated, particularly after another impotent performance – four out of Houston's past five MLS matches have ended without a Dynamo goal – and another loss.
"We're just not scoring right now and the goals we're giving up aren't anything to pat the other team on the back about," Kinnear said. "It was a lucky shot that finds the guy right in front of the goal. He screws his kick and the guy hits a good volley. There's nothing in the game aside from luck going their way and not going ours."
Houston would likely improve its chances of acquiring a dose of elusive fortune if it could name all of its key players in the starting XI. Cameron stepped straight back into the lineup after missing three and a half months, but Brad Davis (left quad strain suffered against Seattle last weekend), Pat Onstad (hernia surgery) and Adrian Serioux (hamstring strain) remain sidelined. Onstad could return in time to face Chicago after resuming training just eight days after surgery in Germany and traveling to New England to take a few extra reps with his teammates, but Davis' timetable remains unclear because he hasn't practiced since the Seattle match.
With the influential Davis unavailable, the Dynamo would likely prefer to play Cameron further up the field – Kinnear said he still sees the 2009 MLS Best XI defender as a midfielder – to add a bit of positivity in the center of the park. The problem for Houston at this point? Cameron needs to play in several spots at the same time to fix all of the problems – the absence of creativity and sharpness, the dearth of quality wide play and the shaky work at the back and in possession – currently plaguing the side.
"(I'll help) in any way I can to help the team," Cameron said. "That's if I'm playing center back, center mid or whatever. I'm just trying to keep it simple on the field and keep doing my job. That's about it."
Cameron's job includes finding some way to help reverse the Dynamo's dreadful run in time to make a playoff push. Houston has never finished lower than second in the Western Conference, but the Dynamo will have to improve significantly just to snatch a playoff berth in 2010.
"We have to fight through this hump and get some luck on our side," Cameron said. "We have to create these bounces that go our way. That's what it comes down to."
Wizards finally acquire Bravo's services....for 2011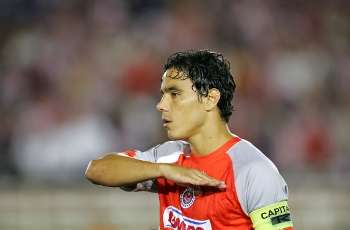 Kansas City brought the summer's longest running transfer saga to its inevitable end on Friday by signing former Mexico international striker Omar Bravo from Chivas Guadalajara.
Bravo will return to Chivas on loan through the 2010 Apertura campaign – including the second leg of the Copa Libertadores final against Internacional on Wednesday in Porto Alegre, Brazil – before joining the Wizards in time for training camp next year. The two clubs also agreed to play a pair of friendlies in 2011 as part of the deal.
"It seemed like at the end, it all came together and made sense," Vermes said as the Wizards boarded a plane to San Jose on Friday prior to Saturday night's 1-0 defeat against the Earthquakes.
As the persistent rumors swirling around the potential move for the past month suggest, a few complex factors contributed to the unique arrangement. Chivas wanted to prolong Bravo's stay to bolster its chances of winning South America's biggest prize, while Bravo needed to sort out his future after his previous contract with Chivas expired at the end of July. Kansas City meandered its way through the preferences of all parties in order to seal the deal, according to Vermes.
"We were trying to do the right thing by everybody – the player, his former team, the league, us – and figure out how he fits into our plan for the future," Vermes said. "There were a lot of moving parts, but I think everyone comes away happy at the end of the day."
The arrangement carries some benefits for Kansas City as well. Bravo will proceed through an entire training camp before taking the field in 2011 instead of trying to acclimate to a new country and a new team on the fly, while the Wizards won't have to worry about creating an ill-fitting spot for him in their current three-pronged setup. One additional bonus: MLS will likely generate a loan fee – albeit one paid by Chivas USA investor Jorge Vergara – in exchange for Bravo's extended stay.
By snatching the crafty Bravo away from Chivas and securing a notable star to help open its new stadium, Kansas City has once again signaled its intent to climb into the upper echelon of MLS and its willingness to spend the necessary funds to achieve that goal. A little patience, however, will be required to reap the reward of persuading Bravo to join the club.

Fixture congestion could impact Toronto FC's playoff quest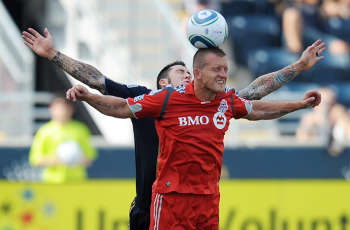 Toronto FC forward Chad Barrett doesn't mince words when it comes to the importance of ending the Reds' franchise-long postseason drought.
"I'm getting sick of watching people play in the playoffs," Barrett said after TFC's 1-0 defeat at New York on Wednesday night.
TFC will need to rely on a large dose of perseverance to break its second-season duck. The Reds will play 12 matches in four countries between Aug. 17 and Sept. 28 as they juggle league demands with the rigors imposed by the group stage of the CONCACAF Champions League. No MLS squad possesses the depth to adequately cope with such a rigorous slate, but TFC's paucity of functional defenders makes the Canadian side particularly susceptible to peaks and valleys despite its generally pragmatic approach to the game.
"We have a tough schedule, but we have to find a way to get results," TFC coach Preki said. "That's the bottom line."
Although TFC's miserly deportment should keep matches close, the Reds will also have to exhibit a heretofore unseen dose of ruthlessness to survive. In 19 competitive matches since May 1, TFC has mustered two or more goals just four times. Two of those prolific efforts, however, have come in TFC's past three outings. If the Reds can continue to find the back of the net with some regularity, it should relieve some of the pressure on the overworked back four and permit Preki to rotate his defenders more liberally as the stretch progresses.
In order to achieve success on both fronts, TFC must somehow fight through the fatigue and maintain its stellar home form (6-0-4 in MLS play this season and 17 MLS matches unbeaten dating back a 2-1 defeat to Los Angeles last June). It won't be easy, but the payoff is significant, according to Barrett.
"A lot of it is about the legs, staying mentally strong and grinding out results," Barrett said. "A lot of the games, I think, won't be very pretty. I don't really care. The only thing I care about is doing what it takes to advance in the Champions League and, more importantly, do what it takes to make it into the playoffs for the first time in our team's history."
Week 20 Notes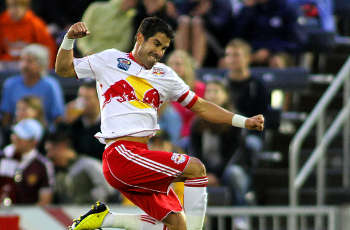 - The most interesting tidbit in Los Angeles' 1-0 victory at New York occurred when Red Bulls manager Hans Backe withdrew Juan Pablo Angel as his team went in search of a late equalizer. While Backe said he didn't believe Angel looked particularly effective on the night, he probably erred in taking off his captain and his most ruthless poacher given the dire need for a goal with five minutes to play. Would any other MLS coach even contemplate taking Angel off in a similar situation? It isn't particularly brazen to suggest a Ubiparipovic-for-Angel swap isn't going to make New York more likely to restore level terms.
- Aside from Angel's puzzling substitution, the two sides offered up generally entertaining fare. While the quality of passing wasn't quite where either side wanted it, the tempo certainly befitted a match between two of the top four sides in MLS.
- The goal, however, looked more like a tally engineered in a pub league. Nice finish by Edson Buddle, but New York looked all over the place with Rafa Marquez's giveaway at midfield and Buddle's uncontested romp between Carlos Mendes and Tim Ream to slot home his league-leading 13th goal of the campaign.
- Los Angeles coach Bruce Arena watched the match from a private box after spending two days in the hospital with a suspected case of dengue fever. Cue the one-liners about those Jersey swamplands if you wish, but Arena probably contracted this nasty bug while the Galaxy grabbed its Champions League consolation victory in Puerto Rico.
- Real Salt Lake schemer Javier Morales dominated the proceedings as the home side extended its home unbeaten streak to 21 matches with a 2-0 romp over Columbus. The battered Crew found no answer for the effervescent Morales as he scored twice and stamped his authority all over the match.
- Morales' first tally deserves special mention for its considerable quality. While the Columbus defenders were complicit by failing to close down RSL's well worked short corner, Morales more than did his part by launching a stinging drive off the inside of the far post.
- Columbus entered the match with just 17 players in its squad, but the Crew felt its lack of numbers most in midfield. Competing with RSL's midfield four – probably the best group in the league – is hard enough at full strength, but trying to stop RSL at home with Brian Carroll (illness), Eddie Gaven (concussion) and Robbie Rogers (surgery) all sidelined is darn near impossible. Columbus' central midfield duo of Adam Moffat and Danny O'Rourke simply couldn't cope with the RSL onslaught.
- Despite RSL's considerable dominance, the home side needed Nick Rimando to make a smart save on Moffat to maintain the one-goal advantage before Morales sealed the three points from a deflected free kick. Rimando always seems to come up big in the right spots, doesn't he?
- Philadelphia leaned on Sebastien Le Toux once again to snag a 1-1 draw with Colorado. Le Toux's nifty pullback prompted Danny Mwanga's neat finish to give the Union a share of the spoils on another day when Peter Nowak's side carried much of the play without reaping the corresponding reward.
- For those Philly fans counting at home, Le Toux has now contributed to 18 of the Union's 23 goals on the campaign. The increasingly pressing question in Chester these days: can a player on a last place team win the MVP award?
- D.C. United suffered through another frustrating defeat as FC Dallas emerged with a rather ill-gotten 3-1 victory at RFK Stadium. United looked the better of the two sides before Danny Allsopp wasted a glorious chance and FCD promptly cobbled together a swashbuckling move for David Ferreira's opener. As one might expect, FCD never really looked back after seizing the advantage. Story of the season for D.C., it seems.
- Khari Stephenson marked his San Jose debut by providing the game-winning assist in the Earthquakes' 1-0 victory over Kansas City. The Jamaican international punctuated an impressive performance with a cultured chip to the far post to set up Chris Wondolowski's seventh goal of the campaign to decide a lively affair. San Jose has craved a player with a bit of nous in the center of the park since Andre Luiz went down and Stephenson revealed he may be able to provide some of the missing spark as he works his way toward full fitness.
- Kansas City will probably wonder how it managed to leave Buck Shaw Stadium without any points to show for all of its hard work. Credit recalled San Jose keeper Joe Cannon for a couple of fine stops, but the Wizards – and Teal Bunbury in particular – will rue a series of scuffed finishes.
- Two points of interest in the 0-0 draw between Chivas USA and Seattle: returning goalkeeper Zach Thornton's stunning one-handed save to tip away Osvaldo Alonso's long-range drive in the dying stages and the pair of red cards issued to Leo Gonzalez and Mariano Trujillo in injury time.
- Trujillo could face an extended spell on the sidelines for his two swipes at Gonzalez, but the Seattle defender will probably spend the week wondering what exactly he did to earn his walking papers. It was a bit comical to see Gonzalez sent off, all things considered.
Kyle McCarthy writes the Monday MLS Breakdown and frequently writes opinion pieces during the week for Goal.com. He also covers the New England Revolution for the Boston Herald and MLSsoccer.com. Contact him with your questions or comments at kyle.mccarthy@goal.com and follow him on Twitter by clicking here.
For more on Major League Soccer, visit Goal.com's MLS page.