With plenty distractions off the pitch leading up to the clash between Real Salt Lake and the Columbus Crew, one player in particular kept it all about what went on on the pitch.
When the two teams met earlier in the season, a few Crew players, goalkeeper Will Hesmer in particular, suggested Salt Lake might not be deserving a MLS Cup champion, considering its shoddy regular season record last year.
Javier Morales blasted two shots past Hesmer on Saturday night to nudge the net-minder into reconsidering his stance.
Since the loss to Columbus earlier, Salt Lake has only lost one in 16 games. Morales kept that streak alive with the brace, his fifth and sixth goals of the season.
The win shot RSL above Columbus into second in chase for the Supporters' Shield, four points shy of the Los Angeles Galaxy's record.
Salt Lake correspondent
Jeremy Horton:
If Javier Morales doesn't win MLS POW, there's no justice in the world. It's rare to see a player dominate a game so thoroughly, especially against a quality defense like the Crew's. Jason Kreis called Morales' game "the most dominating performance in the history of RSL." That's hard to argue.
Salt Lake correspondent
Tyler Page:
He led a team of backups to draw at Philadelphia Wednesday and then scored two amazing goals Saturday against Columbus.
Philadelphia correspondent
Ramin Majd:
Morales sent the fans at Rio Tinto -- and the comically homer RSL TV announcers -- into a frenzy with his brace Saturday night against the visiting Columbus Crew.
San Jose correspondent
Nick Rosano:
If you're looking for the spark behind Real Salt Lake's league-leading offense, look no further than Javier Morales. Although the goals he notched against Columbus were only his fifth and sixth of the season, they were a just reward for the way he has driven Salt Lake's title defense thus far and fine strikes, to boot.
Chief editor
Andrea Canales:
Javy Morales was the main man for Salt Lake, showing the league and fans that the teams with the big names aren't the only contenders this season.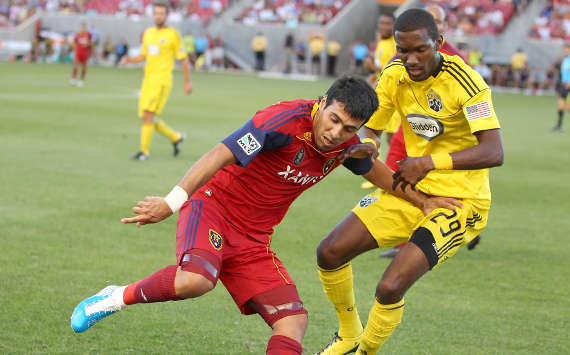 For more on Major League Soccer, visit Goal.com's MLS page and join Goal.com USA's Facebook fan page!