Four lineup changes, including new signing Khari Stephenson, helped San Jose to a much-needed win.
SANTA CLARA, Calif. -- On the back of a disappointing road loss to the Colorado Rapids and a winless streak stretching over a month, Frank Yallop and the San Jose Earthquakes were in need of a solution to get them back in the playoff hunt.
Seeing that necessity, Yallop made four changes to the starting XI that kicked off against Colorado the previous weekend, with Cornell Glen, Tim Ward, Joe Cannon, and the Earthquakes' most recent signing, Khari Stephenson, all starting from the opening whistle. Ultimately, those paid off, as the Earthquakes took the 1-0 win, with both Cannon and Stephenson making crucial plays to set up a win for Yallop's men.
Stephenson, signed in the midweek from Norwegian side Aalesunds FK, was particularly impressive in the first half, playing a more advanced midfield role in a 4-4-2 diamond formation and providing a number of good balls for his teammates and displaying an aggressive mentality when his team were out of position.
"His first half contribution -- great ball to Cornell [Glen] for the header, great ball to Wondo for the goal," Yallop said, adding, "There's more to him that we saw tonight, but what we saw tonight was a clean player that was strong. He just needs to get now game fit and feel that he can go for 90 minutes."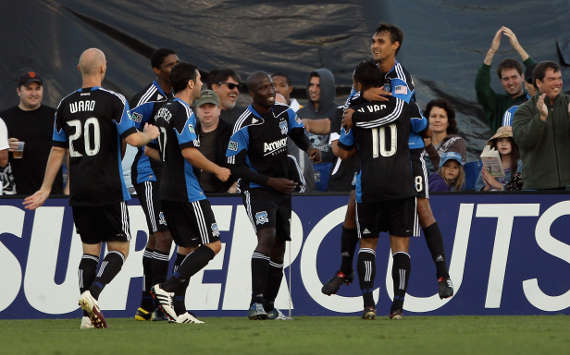 While Stephenson looked exhausted after 90 minutes, it is impossible to fault him for his contribution that led to Chris Wondolowski's game-winning goal, with Wondolowski commenting, "It was a great play by Khari Stephenson, I was drifting in off the back post and he put the ball on a platter."
In addition to inserting Stephenson into the lineup, Yallop also had a tough decision to make with regards to the goalkeeping situation, with Jon Busch's gaffe having gifted three points to the Colorado Rapids in the team's previous match. Yallop said of his decision to start Cannon ahead of Busch, "[It was] just a feel, I spoke to both John and Joe and just felt I wanted to play Joe in this game, and he did a good job."
Yallop was vindicated in his choice, with Cannon never looked shaken as he worked his way to seven saves, including two crucial stops on Teal Bunbury.
Cannon on the other hand, while pleased to be back in the starting XI, was much more focused on his team's winning performance.
"I was really anxious to get out here, I felt really good," said Cannon. "I'm just happy we won, I'm happy for our players, our staff, our organization, to stop the bleeding as you will and get some momentum back, especially before LA."
With Yallop having found the winning formula against the Wizards, he will now need to perfect it as the Earthquakes welcome Western Conference rivals Los Angeles Galaxy without suspended captain Jason Hernandez. With the playoffs looming, it is up to Yallop and his players to rise to the occasion.
For more on Major League Soccer, visit Goal.com's MLS page and join Goal.com USA's Facebook fan page!