SANDY, Utah -- Following Saturday's 2-0 defeat at Real Salt Lake, Columbus Crew players and coaches said no bad blood exists between the sides.
Crew personnel said a rivalry is developing between two successful teams; however, they backed away from controversial comments made after the sides met in April.
"Some individual players expressed their opinions," Crew coach Robert Warzycha said following Saturday's match. "We were the champions the year before and they were last year, so we have to respect each other because we did something good."
The controversy stems from comments made in April by Columbus keeper William Hesmer.
"They're walking around as a champion, saying they're the champion," Hesmer told
The Columbus Dispatch
after defeating RSL in Columbus. "They were sub-.500 last year. That doesn't sit well with us. We clearly think we've been the class of the league the past two years, and we wanted to prove it."
Following Saturday's defeat, Hesmer changed his tune and sought to defuse any controversy by claiming his comments were taken out of context by media members.
"I think individually, [Real Salt Lake players] are great people off the field," Hesmer said following Saturday's match. "As long as both teams are doing well, you are going to see the intensity continue."
Hesmer added that his comments were meant as disrespect to media who played up Columbus' April victory over Real Salt Lake.
Still, Real used Hesmer's quote for motivation this week. Coach Jason Kreis posted Hesmer's quote in the RSL locker room, and the game-day staff put it on Rio Tinto Stadium's big screen just before kick-off. The crowd fed off this and taunted Hesmer throughout the match, especially following Javier Morales' 12th minute goal.
The goal came when Fabian Espindola passed a corner kick to Javier Morales, who took it to the corner of the penalty area and drilled it across the area, off the side of the far post, and into the net.
The goal gave Real a lead that they never relinquished.
"We basically chased the game," Warzycha said in summing up the match. "Salt Lake played really well in the first half."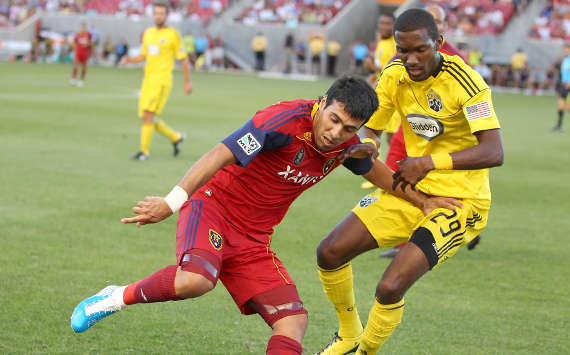 Crew players said Real dominated the first half and that put them in a hole that they were unable to come back from.
"I think we were lucky to get out of the first half only down one goal," forward Steven Lenhart said.
The match was not without opportunities for Columbus, though. Real Salt Lake keeper Nick Rimando made four blocks and put himself in contention for save of the week with a diving stop on a Lenhart header.
"It was a good save," Lenhart said. "Sometimes they go in, sometimes they don't."
Columbus remains at the top of the table in the Eastern Conference and is third behind Real Salt Lake and the LA Galaxy in the race for the Supporters' Shield. The Crew maintain their six-point lead over New York, by virtue of the Red Bulls loss to the LA Galaxy Saturday.
Both sides open CONCACAF Champions League play Wednesday and will host clubs from Latin America.
For more on Major League Soccer, visit Goal.com's MLS page and join Goal.com USA's Facebook fan page!