SANDY, Utah -- The local media and Real Salt Lake's front office and coaching staff have made quite a meal out of a few choice quotes from some Columbus Crew players. Quotes from Will Hesmer and Gino Padula questioning RSL's worthiness to be called champions were splashed on the Jumbotron before and after the match, and head coach Jason Kreis admitted that the same quotes have been posted in the team's locker room since Wednesday.
But when all was said and done on Saturday night, Javier Morales' play drowned out all the talk. Morales scored both Real Salt Lake goals and terrorized the Crew defense all night, leading Salt Lake to a dominating 2-0 win.
"He was spectacular," said Kreis. But, retracting his statement, he then said, "I don't think words can describe how truly special he was tonight."
His teammates were just as effusive in their praise of the man who makes Real's offense tick.
"I think if you look over the season thus far, you're not going to see another player dominate a game like that," said defender Nat Borchers. "To have a guy like that who changes games is just fantastic."
"For me he's the best import we've had in this league," said team captain Kyle Beckerman. "He's awesome. And once he gets going, he's just in a zone. When he's like that, we're a pretty tough team."
And tough they were Saturday, with their trademark possession game in full effect and Morales keeping the Crew's defense on their heels from start to finish. But arguably his most important contribution was scoring the critical 12th-minute goal that gave RSL the early lead.
In their previous two matches, both on the road, Real surrendered a goal in the first 15 minutes which forced them to expend heaps of energy to get matches level - not what you want to do when you're facing the murderer's row schedule that Salt Lake are. So it was a welcome relief for them to score the early goal and let someone else chase the game for a change.
"The mindset of the team has always been, in the first 15 minutes, to get out there and get after it," said Kreis. "If we score an early goal, teams are going to have to change their gameplan."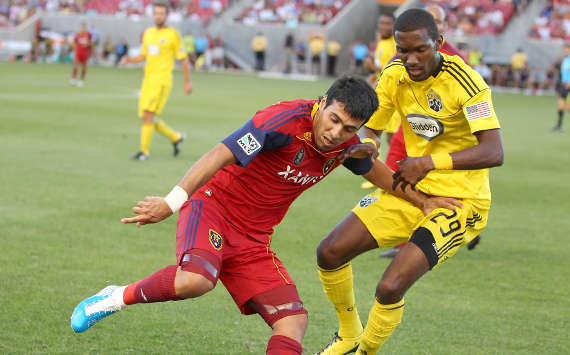 After playing a give-and-go with Fabian Espindola off a short corner, Morales found himself dribbling backwards at the corner of the Crew penalty area. Conventional wisdom would suggest he cross it, but with no Crew player apparently interested in closing him down, he decided to shoot.
"A lot of people were in the box," said Morales of his decision. "I tried to kick hard to the second post, maybe somebody would touch it and it would go in."
But a touch was not necessary. Instead the ball somehow snuck through the crowded penalty area untouched, the mass of bodies blocking Will Hesmer's view, and deflected in off the far post. It was the perfect start for Morales and RSL, and ultimately led to the finish they were after. With this win, RSL now move past this same Columbus Crew into second place overall in MLS.
And about those not-so-nice things a few Crew players said about RSL? According to the team, that's not what motivates them.
"We don't really think of other teams," said Beckerman. "We feel it's just about us."
Perhaps the clear man of the match said it best, even in his broken English. When asked if it was more satisfying to beat the Crew after some of the talk, Morales emphatically said, "No, no, no. I play for Real Salt Lake. I play for my team. I play my game."
If Morales' game continues to look like it did in this one, the rest of MLS had better find some answers quickly.
For more on Major League Soccer, visit Goal.com's MLS page and join Goal.com USA's Facebook fan page!