In a high profile match up of the top spending teams in MLS, it was a Designated Player, Rafa Márquez, who made a rookie mistake to give Edson Buddle the lone goal of the game.
HARRISON, N.J. -- Edson Buddle continued his hot streak scoring in the 10th minute after Rafa Márquez took too long to distribute the ball and lost possession to Juninho. Both teams played a wide open attacking game, but Buddle's goal was all it took to ensure another victory for the league-leading LA Galaxy.
Hans Backe did not make any excuses for his newest signing.
"It happens in football today, if you're in the middle of the park and make some mistakes or side passes, on the highest levels, you will pay a price," the Red Bulls head coach said. "It's difficult to say, he's not fully fit. Perhaps he took too much time on the ball or tried to do something spectacular in a way. Unfortunate, but still we responded very well after being one down and still controlling the pitch."
Márquez himself made it clear what he thought of his performance. "I am not happy at all," said the Mexican captain. "I need more time to perform to be at my best level."
Regardless of the defeat, Backe was happy with what he saw from his team. After three games without a loss the team continued its good form in defense despite a strong attack from the LA Galaxy.
"Overall I can say we played well," Backe said. "Even 1-0 down we chased them really good, created many chances and hit the crossbar. The goalie saved a couple of chances from the line. I think we had a good game, but lately we have been missing and haven't scored goals."
Backe clearly understood there was a problem, but he was a little less clear on how to address the issue.
"It looks like we can play really good, but if you don't score maybe we have to do something and change our game plan or I don't know," the Swede added. "Maybe it will just start one day."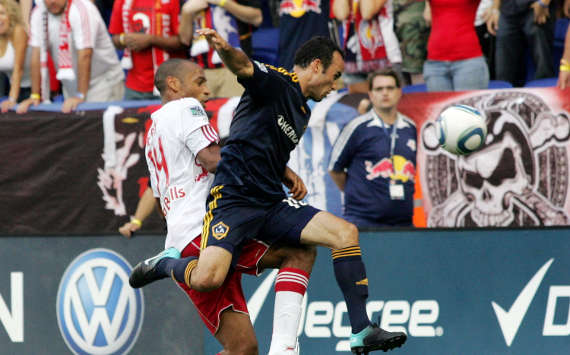 The other locker room was in a slightly better mood after returning to winning ways. The Galaxy had a rough past few weeks after crashing out of the Champions League and dropping an MLS game, but the team responded well in a harsh environment.
Dave Sarachan was happy with the way the team handled Red Bull Arena. "When you're on the road its pretty critical if you can get the first goal," said the long-time assistant manager. "It takes the wind out of their sails a little bit, takes the crowd out of it a little bit."
Sarachan felt that Edson Buddle's play especially deserved praise after the U.S. international added his 13th goal of the season. "I thought Edson, besides the goal, had a great night," said Sarachan. "He was just a handful for them, he held up balls, and defensively as a collective 11 we did a great job of closing space."
Either way the fans got what they came for as both teams opened up and played an exciting match with plenty of goal scoring opportunities, if not actual goals.
Landon Donovan enjoyed the night and the stadium. "[It] was fantastic," said the Galaxy captain. "I like the way the seats are built, how close they are, and it just feels really intimate. It's a good environment, it was fun to play in."
Donovan went on to praise the changes in the league that have seen the Red Bulls add Thierry Henry and Rafa Márquez. "It gives it immediate credibility," said Donovan. "It makes the league better. You can see the difference in the skill level, the intelligence, the work rate, the positioning. You can tell when guys like Henry and Márquez are on the field. It brings something a little different, and it's going to make our league better."
For more from Goal.com contributor Terence Steed, follow him on Twitter @Steed19
For more on Major League Soccer, visit Goal.com's MLS page and join Goal.com USA's Facebook fan page!