HARRISON, N.J. -- For those who were expecting Thierry Henry and Rafa Marquez to immediately solve the New York Red Bulls' problems on offense, head coach Hans Backe has an answer that might disappoint.
"Next year," Backe said.
In the Red Bulls' 1-0 defeat to the Los Angeles Galaxy, it became very apparent that the team's offense is still a work in progress. Solid defense and goalkeeping have been the foundation of the team's current second place standing in the Eastern Conference but the offense continues to frustrate even on a team that features Juan Pablo Angel, Marquez and Henry.
Considering that the MLS-leading Galaxy is renowned for its prolific defense, it might be senseless to predict the Red Bulls would have an offensive explosion in Saturday's match. Still, there were several squandered opportunities that New York had to equalize. Galaxy captain Landon Donovan believes that it's too early to expect results at this stage.
"They're not a bad team but obviously it's going to take them time to gel," Donovan told reporters after the match. "You can't throw in a few new players like that and expect it to just happen overnight."
Donovan is obviously is speaking from experience. Los Angeles spent two seasons mired in mediocrity after signing global superstar David Beckham. It was only after the team started building itself around solid role players and a tight defense that the Galaxy started to deliver on its potential.
The difference between the Galaxy when Beckham joined versus the Henry and Marquez additions is the fact that New York was actually an Eastern Conference contender prior to their arrivals. Backe has done a stellar job in managing and getting the most from of his players and general manager Erik Soler has to take credit for finding inexpensive talents and drafting promising rookies like Tony Tchani and Tim Ream.
One of Soler's top signings, Joel Lindpere, admitted that in trying to help Henry and Marquez adapt to the team's system, he has been a little too tentative on the pitch.
"We created good chances," said Lindpere. "Maybe we, myself included, need to start to think that we need to take it and finish it [on offense]. Sometimes we try to make it too easy and try to do very nice [plays]. I had a chance today, but I saw Henry so I tried to get it to him, so we need to think more straight [forward]."
Despite notching a few assists, Henry has yet to score in his first few MLS appearances. Having to adjust to a completely different soccer environment and not having proper rest after the World Cup has been difficult for the 33-year-old and his former Barcelona teammate Marquez. After a blunder that allowed the Galaxy to score the game winner in the first 10 minutes, Marquez was clearly disappointed in his home debut.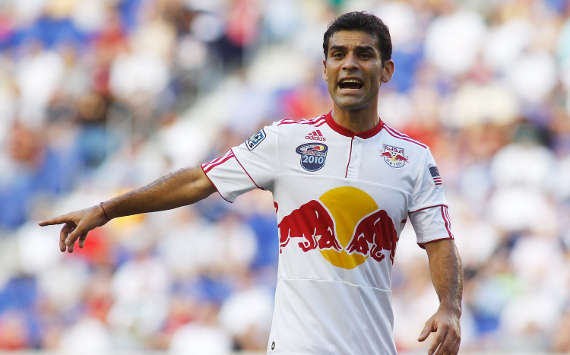 "I am not happy at all," Marquez said. "I need more time to perform to be at my best level."
Angel admits that even after being in MLS for a few years, there are still a few things that he is adjusting to. He believes that once both players start to regain their fitness and confidence, the results should start matching the expectations.
"It'll be fine," said Angel. "Any player needs to be in a good form in order for him to perform and bring the best out of him. The only way he's going to do it is by playing games. We've got to have a little bit of patience with him and also Henry because people expect too much right from the very beginning.
"They are going to be absolutely fine and I think they're going to be very important for this team. Not just for the rest of the season but for years to come."
Alex Labidou, a Goal.com contributor, is based in New York city. Follow him on Twitter @sportslab.
For more on Major League Soccer, visit Goal.com's MLS page and join Goal.com USA's Facebook fan page!