Another game, another MLS refereeing controversy.
CHESTER, Pa. -- It was setting up to be another one of those dramatic finishes for the Philadelphia Union. Tied 1-1 in stoppage time, Sebastien Le Toux was hauled down in the box.
A clear penalty, or so it seemed.
"I did not see enough on that play for it to warrant a foul or a penalty," said referee Terry Vaughn after the game.
And so the contest ended in a 1-1 draw. The 17,000+ fans at PPL Park let Vaughn and his crew know how they felt—the Union faithful showered the officials with boos and assorted vitriol both after the final whistle and as the crew left the pitch.
"What else can we do?" asked frustrated Union head coach Peter Nowak in his post-game press conference. "We can't control what we can't control. If 18,000 can see it, how can three, four men not see it?
Nowak's opposite—Colorado coach Gary Smith—wasn't so sure.
"I thought Le Toux did very well to break between two players, and when inside and under pressure, who wouldn't try to go down, given that he's not going to get a shot off?" Smith posited. "Without seeing it again, I can't categorically say it was or wasn't."
While the Colorado gaffer understandably didn't blast a decision that saved his club a road point, he didn't exactly give the officiating crew a vote of confidence.
"I thought some of the decisions he [Vaughn] made were strange, for and against," Smith conceded.
While this was the first-ever meeting between the Rapids and the Union, the franchises have little connection—except one. Colorado midfielder Jeff Larentowicz grew up in suburban Philadelphia, just miles from the site of PPL Park.
Larentowicz brought a number of friends and family to the game, and they did not go home disappointed.
In the first half, the 2010 MLS All-Star established his Philly credentials with a yellow card, given for a hard tackle on Danny Mwanga. In the second half, the fiery redhead scored the Rapids' only goal, a blast from the top of the area.
"The ball got popped up in the air and I knew that Wells Thompson was going to head the ball between another one of their players," Larentowicz noted. "It did, and I was just trying to anticipate the ball coming down. Luckily, I didn't have to do much. I was able to just shoot it in."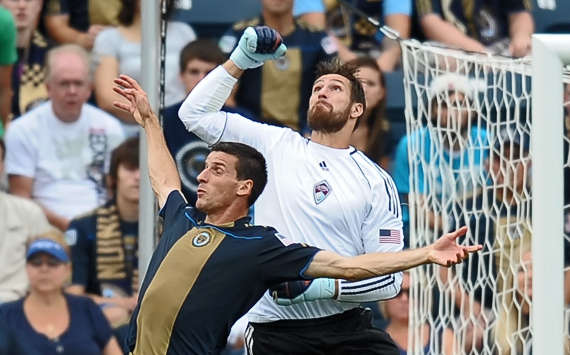 The atmosphere brought by his cheering section was not lost on the midfielder.
"It was great," Larentowicz commented. "I had a lot of family and friends that came out to see me. Just to play in front of them was a treat, but to score a goal was something really special."
Smith, his coach, agreed.
"It was very pleasing for me as well. But I'm sure much more so for him."

For more from Goal.com contributor Ramin Majd, follow him on Twitter @rmajd.
For more on Major League Soccer, visit Goal.com's MLS page and join Goal.com USA's Facebook fan page!