CHESTER, Pa. -- The Philadelphia Union and Real Salt Lake both played a physical game as each side took home a point in a 1-1 draw. Twenty-four fouls were whistled and six cards were shown by referee David Gantar. Both sides expressed their displeasure with the officials' lack of control over the match.
RSL defender Chris Wingert was unhappy with the referee's lack of action to what he felt was an offense worthy of ejection by Philadelphia's Michael Orozco Fiscal.
"(The cause of the injury) was the throw of the elbow," Wingert said after the game of a knock he picked up. "If the referees had seen it, he would have been out for at least a few games. I don't know why they didn't see it, but for sure if they did, he would have missed at least three games."
Wingert found it difficult to play through the injury, but managed a full 90 minutes. "I didn't think I played great, but I just tried to hang in there. I did have a headache throughout the rest of the match. I tried to focus as we were under for a little bit and we were battling as Seitz made a couple of great saves and we were able to get one in the end."
His coach, Jason Kreis, adopted a more diplomatic approach, choosing to praise just about everyone in the city of Chester. To the Union fans, he was effusive in his praise, saying "It was a fantastic atmosphere. What a great place to play soccer. The crowd was phenomenal."
He was perhaps even more pleased with the play of his backup keeper, Kyle Reynish. "I thought he was phenomenal tonight. He made some really clutch saves for us there in the first half and a couple of times in the second. He was really, really good. If there's one thing I could fault, it would be giving a better distribution of the ball with his feet. Other than that, he was almost perfect."
Kreis even praised his opponents on the night, despite the physical nature of the encounter. "I'm very impressed with their team. I have been since the beginning of the year. I think they have a lot of very gifted, very dynamic players that play the game I like to see it played. They possess the ball well, they move it around, they create chances. They're dangerous going forward, but then they got a little bit stretched out when they gave up our goal. That's been a little bit typical of them this season. Again, hats off to them and their coaching staff. They're doing a great job."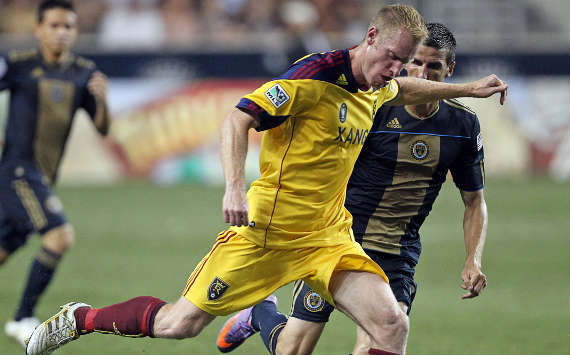 Union manager Peter Nowak was pleased with the effort put in by his players. "There was a lot of fight, a lot of running, combinations, and we got a goal. I believe we played with a lot of heart today. I told the guys I'm proud of their effort tonight. The last game wasn't our best game, regardless of the red card. We didn't play how we are supposed to play. We came back strong, and the mentality is getting better. The game on Saturday is going to be another fight. All these guys are going to do a better job."
Unlike Kreis, however, Nowak didn't hesitate to voice his displeasure with the tenor of the match. "I think there have been many games, especially at home, where the teams came in and disturbed us. There were some fouls when we had some chances to go forward and we just stopped. Teams come here and know how to disturb this game and interrupt the flow of the game. It seems to me that some of them are just doing it on purpose. They complain about every single call. It's getting out of hand. I think we can look at the plays, we can talk tactics and systems, but first we need to take care of the simple stuff, which is the bench play. I probably sound like a broken record, because I've said this many times.
"This is a men's sport, so we have to be prepared for physicality. Sometimes we give too much respect to the other team. When you come to our house, you have to expect that nothing is free. Anybody that comes to our house needs to know that they have to be up to the challenge."
For more on Major League Soccer, visit Goal.com's MLS page and join Goal.com USA's Facebook fan page!