With all the furor over New York's two new designated player signings, Red Bull fans could be forgiven if they forgot momentarily the club's first DP.
Juan Pablo Angel provided a timely reminder of his existence this weekend with an extremely well taken brace in sweltering Houston to earn a draw with the Dynamo.
Both goals came from Thierry Henry assists, and the Colombian will surely enjoy the Frenchman's creativity, but Henry squandered two simple chances which would have given New York the win.
Read Goal.com contributors thoughts on the MLS player of the week:
Jeremy Horton:
If it weren't for his timely brace, MLS fans everywhere would have already labeled Thierry Henry a flop.
Seth Vertelney:
Pair of goals and should have had an assist were it not for Thierry Henry's goal-shy debut.
Kevin McCauley:
Not just because of the two goals, but because of how he scored them. The first goal showed fight and grittiness, the second goal showed intelligence and skill.
Nick Rosano:
With everyone talking about Thierry Henry and Rafa Marquez, it's can be easy to forget there has been an international star in New York for the past three years. Juan Pablo Angel stole the spotlight in his MLS debut, capitalizing on two assists from his new teammate to earn the Red Bulls a point against a hungry Houston side.
Isabel Navarro:
The Red Bull striker had an awe inspiring night scoring 2 goals against Houston. The Columbian teamed up really well with Thierry Henry, who provided both assists.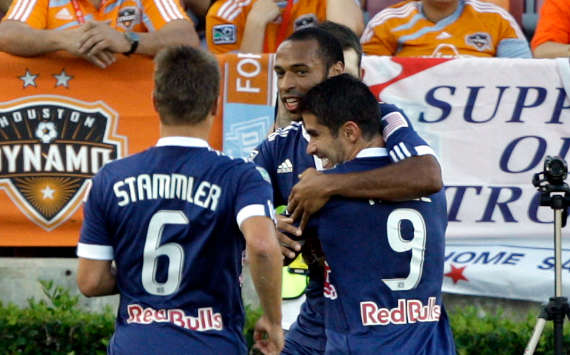 For more on Major League Soccer, visit Goal.com's MLS page and join Goal.com USA's Facebook fan page!