SANDY, Utah -- There was a time in the not-too-distant past when a result like tonight's would have been cause for hardcore celebration, no matter how it was achieved. But in Salt Lake, times have changed. Real Salt Lake head coach Jason Kreis has come to embrace the belief that it's not just what the scoreboard says that matters, but also how you got there.
"I felt like we needed a bit of luck because I don't think we've been playing our best soccer," said Kreis after a 3-0 win over D.C. United. "There were some frustrating moments for sure. For a good chunk of time, I felt they [D.C.] were the better team. Frankly, I think they deserved to score a goal at that time."
But as has become the norm for this RSL team, the defense did just enough to earn a shutout over a United team that looks to finally have the personnel to create a potent attack. For Salt Lake, the key to keeping D.C. off the scoreboard was controlling teen phenom Andy Najar, and for the most part they did an outstanding job of that.
"I thought we did a pretty good job of not letting him face up and run at us," said Chris Wingert, who had the assignment of marking Najar. "I'm definitely happy."
But the story of the night was the re-awakening of Real's offense, which appeared to have taken a siesta over the last few games. From the opening minutes until the final whistle, the offense was much more dynamic and creative than it has been as of late. A big key to that was the reemergence of Robbie Findley, who had his best game since coming back from the World Cup in early July.
"After being over at the World Cup I was pretty tired both physically and mentally," admitted Findley. "This is definitely the best I've felt since I came back."
Findley was a terror all night to the D.C. back line, who were inexplicably holding a high line despite knowing about Findley's speed. Time after time he burned them by running onto balls over the top. One of those runs netted Salt Lake an early goal by Alvaro Saborio, which really forced United to open things up. RSL haven't been the beneficiaries of an early goal in more than a few games.
"[The early goal] was important," explained Kreis. "Often times it makes or breaks the game for you. If you score that goal, it makes them open up. And as we've seen before, we're pretty dangerous when teams open up against us."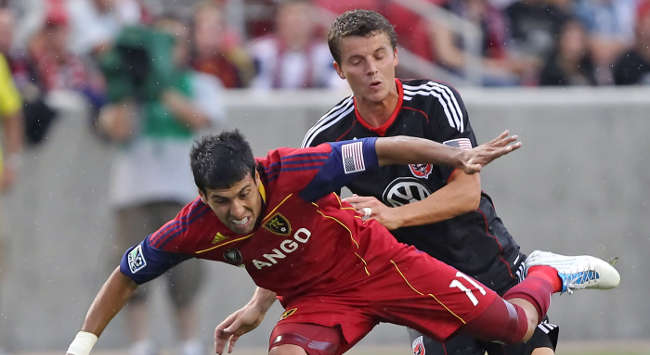 The early goal aside, RSL were not pleased with the fact that the game was still in doubt until Findley and Nelson Gonzalez tacked on late insurance goals.
"It was hard because we didn't know much about them," said goalkeeper Nick Rimando about D.C.'s new additions on offense, including Pablo Hernandez and Branko Boskovic. "We kind of got stretched a little."
Salt Lake now embark on an insane stretch of games, combining several MLS games with the CONCACAF Champions League to produce a nightmarish schedule. With fatigue and jet leg sure to slow the team down a bit over the next little while, RSL are happy to have three more points in the bank and a team that's more or less healthy.
"[The three points] are huge," said Kreis. "Everybody knows the number of matches we're going to play, and we're going to see a lot of players from Real Salt Lake play a significant number of minutes over the next month."
For more on Major League Soccer, visit Goal.com's MLS page and join Goal.com USA's Facebook fan page!