Perovic salvaged a draw for the visitors.
"Maybe it was the Jabulani," Union coach Peter Nowak said, perhaps in jest, after the game.
Up 1-0 in the 70th minute, the Philadelphia Union and keeper Chris Seitz appeared on their way to the club's first-ever clean sheet in league play. Sebastien Le Toux's highlight-reel score in the 25th minute looked like it was going to hold up. The Revs' Marko Perovic sent a harmless-looking ground stroke from 35 yards, and then -.
"It was a routine save," Nowak noted. "The ball jumped on something in front of Chris -- something on the ground. I have no idea what. Nobody could predict the ball would jump that high."
Seitz was just as incredulous.
"I was thinking the ball was headed toward the middle, but it took a big bounce," he explained. "I even think it hit the roof of the net. It just went straight up on me and I didn't have enough time to react."
Just like that, it was 1-1. New England held off a late charge from the Union and earned the road draw.
"As far as the goal is concerned, sometimes you need a bit of luck," New England coach Steve Nicol conceded. "But I think overall we deserved to get the point."
After a run as the league's basket case, the Revolution are in the midst of a startling turnaround. They defeated MLS' best club, the LA Galaxy, before recording three consecutive wins in SuperLiga play.
What's been the difference?
"Defensively, we've been making good decisions," Nicol stated. "Everyone's been doing their job."
The game was not without controversy. The crowd at PPL Park voiced its displeasure -- loudly and often -- at referee Jasen Anno and his crew.
The Philadelphia coach apparently agreed with the supporters' sentiments.
"We have 18,000 sophisticated fans who know the game well," he said.
Nowak particularly took issue with what he felt was New England's excessive petitioning of the officials.
"They treat the fourth official like a personal shrink," he pointed out.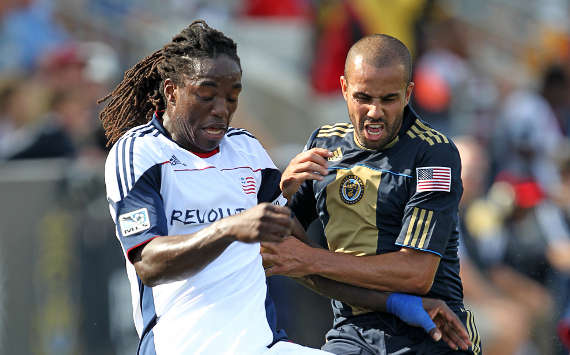 One positive Philadelphia took away from the game was the play of two new midfield acquisitions: Argentine Eduardo Coudet and former Chicago Fire player Justin Mapp.
Both saw their first action with the Union in league play today. Coudet started, while Mapp replaced Danny Mwanga in the 56th minute.
"I think [Coudet] did a good job, especially in his first league game with us," Nowak said. "He was distributing from the back and being active in trying to find guys in front of him. We are looking forward to improving his game and also getting him to be a bit more involved in being active on the attack."
Mapp admitted he was "rusty," but is looking forward to improving.
"It felt good to get out there," he said. "Great atmosphere. I wish I could have done more with the couple of chances I had to help us get the win. I hope to get sharper."
Heading into a stretch of difficult games -- including contests again the Columbus Crew and defending league champions Real Salt Lake -- Nowak was disappointed, but unbowed.
"Games like today make us stronger, mentally and physically," he insisted. "This result makes the team more hungry for wins."
For more from Goal.com contributor Ramin Majd, follow him on Twitter @rmajd


For more on Major League Soccer, visit Goal.com's MLS page and join Goal.com USA's Facebook fan page!