Manchester, England, across the Atlantic sea, may not have even bothered to stay up late and watch their two Premiership teams compete in Sunday kickabouts with Major League Soccer teams during their preseason tours to the United States. After all, preseason is a generally meaningless exercise, and coaches often roll out the dredges of a team's roster to see if, like wine, players have improved with age.
It's just as well that those Mancunians in the industrious Cottonopolis who chose to sleep did so, as viewing the games might not have been considered worthwhile by those supporters who made the effort. After all, as insignificant as the results may have been (like with most friendlies, there were no cups or trophies at stake) and though they may soon be forgotten, few could have foreseen the outcome for the EPL's richest club ownership and the most storied club team in England's history.
Both Manchester City and Manchester United lost to their MLS hosts by a neatly uniform 2-1 scoreline. Putting it another way, the MLS Reds (Red Bulls) and the Blues (Kansas City Wizards) won out over Manchester's Reds and Blues.
City was first to drop, losing to the New York Red Bulls in a match where Thierry Henry wasn't really the difference - probably due to lingering fitness issues. Juan Pablo Angel didn't even play. Jamaican Dane Richards and American/Senegalese/Gambian Mac Kandji scored two quality strikes to win the match for the Bulls over City's breathtakingly expensive roster.
Yet in only a couple of hours, that feat was eclipsed by that of the Kansas City Wizards, who defeated one of the world's most famous soccer teams, Manchester United, while playing over half the match depleted of a player due to a red card. Texan Davy Arnaud and Sierra Leonean Kei Kamara did the honors to put away the Red Devils.
Since MLS squads downed two Manchester sides, in a bit of hyperbole, Kansas City's Jimmy Conrad declared after the match to the press that, "MLS owns the city of Manchester right now."
The Warehouse City doesn't need to fret, Conrad was as serious as there is nutritional value in a Twinkie. This is, after all, the man whose suggested name for the new Wizards soccer stadium was, "The Place Where Jimmy Conrad Plays". Given that the defender was the man responsible for reducing his side to ten men for most of the game, it's pretty clear he was in no position to claim much credit for the win anyway.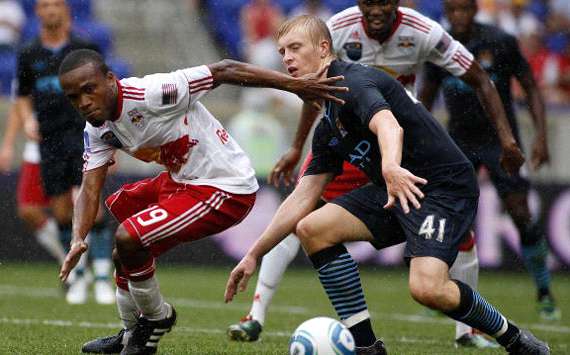 Conrad is a character - probably a better character than he is a defender, though he's a pretty good defender as well. In all probability, Conrad's comments weren't even directed at the fine denizens of the Capital of the North, but more to those who, thousands and thousands of miles away from Madchester, showed up to show how mad they were for the England city's team. The match had a veritable Old Trafford look to it, since there were 52,000 present and blue and red jerseys represented, since the Wizards' colors are blue. The Wizards were the home team, but this was actually hard to tell at the game, since the United jerseys outnumbered the ones in blue.
That's probably who Conrad was really trying to reach.
More than one media report from England on the match (grumpy from lack of sleep, no doubt), has expressed surprise at how enthusiastically the MLS players performed versus thier EPL opponents.
"It's a friendly," groused one report, "Not the World Cup final!"
Well, first of all, Americans are a pretty competitive bunch. Some actually try very hard to win every game they play. More than that, they understand that they are entertainers and work hard to put on a good show, and to be honest, the Wizards don't play in front of over 50,000 people that often. A big crowd is a rush, an inspiration to do well, a charge to prove to those who came clad in blue that they made the right choice and a 'think again' challenge thrown down to the ones in red.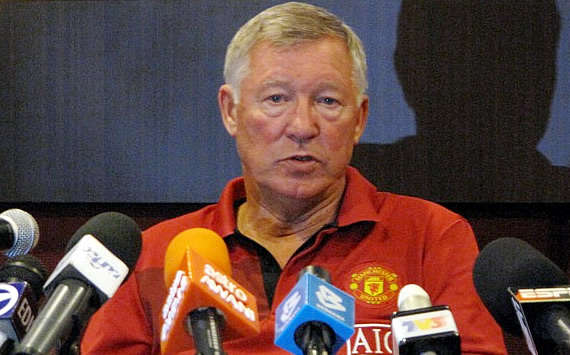 Maybe that doesn't strike the Rainy City citizens as much reason to fight so hard for a friendly win, but it's hard to to imagine Kansas City going to Old Trafford for an exhibition and seeing many of their jerseys there (Tim Lovejoy doesn't count, as his interest in the Wizards never seemed sincere). No team wants to think their own city isn't rooting for them as much as they are for the glamorous visitors.
"It's just preseason," will be the talk in Manchester for fans of both City and United, and of course, they're right. That's not the sort of chatter that MLS teams are really looking to quiet.
No, it's the "MLS is Double-A!" talk that should have to shut up, at least for a little while. No one in England talks like that - and when Americans do, they mean that MLS is insignificantly small-time and even though they're referring to baseball and not bra size, it's still intended as an insult.
It takes a lot to get through to people who honestly believe that the same league which helped develop Landon Donovan into the player he is now is somehow suddenly stunting his growth. The logic that continuing in MLS, the place that got him to perform well, is now going to hurt him is simply flawed.
The excuse for certain North American soccer fans whenever the All-Star team regularly beat foreign competition in the past was, "Well, of course, an entire league's very best players should beat just one club team." That reasoning doesn't really apply if the squads are playing club versus club, and that's the scenario in which both City and United went down. Celebrating the situation was a message to those skeptical fans.
Now, of course, with the modern world and travel being what it is, I'm sure there were true-blue Reds in Kansas City to watch their beloved-from-childhood team take on the Wizards. With New York's huge diaspora, there were probably Man City fans transplanted there, cheering on the mammoth payroll, er, players, led by Mancini.
Without running an official study of the fans in the two stadiums for the games, though, it's a safe bet that many wearing jerseys with the name of the locale have never set eyes on Manchester at all.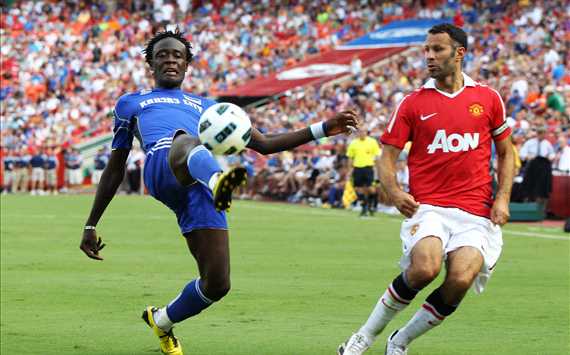 Now, no one is saying that fans in other countries aren't appreciated. Kamara said after the game that his native Sierra Leone would be cheering the Kansas City win. Sunil Chhetri fans in India will probably also be pleased. Individual choice and preference should be respected and the reasons why people cheer for any team are varied. Those decisions, however, should be made with an awareness of the options, not just a blanket judgment of cutting mockery like calling MLS the "Mickey Mouse League". (Frankly, I always wondered about the intelligence of those who use that label, because clearly, it doesn't fit the acronym MLS. 'Mighty Lame Soccer' at least does that.)
For that matter, the New York and Kansas City players probably wouldn't mind if the fans in their cities decided to embrace their options, foreign and domestic, keeping their EPL loyalty to whatever team they prefer, and choosing another club to follow closer to home.
So really, it's fine for England to go on sleeping, unconcerned by any friendly results. MLS improving doesn't have to be acknowledged or noticed by anyone overseas. No one expects Manchester residents to do anything but remain faithful to whatever side of the great blue/red divide they're already on. The exhibitions aren't about impressing anyone abroad.
The wake-up call is for those right here at home.
Andrea Canales is Chief Editor of Goal.com North America and is trying to remember to update her Twitter account.


For more on Major League Soccer, visit Goal.com's MLS page and join Goal.com USA's Facebook fan page!