SEATTLE -- There's only so much a team can expect from a new signing not quite at full fitness after a tiring season and a World Cup jaunt, but Seattle Sounders FC felt brand new striker Blaise Nkufo met early expectations in his first competitive appearance for the team.
The Swiss international played 70 minutes against the Colorado Rapids in a 2-1 win for Seattle.
"He did everything I needed from him," Sounders coach Sigi Schmid said in the post-game press conference. "He gave everything he had. He's just going to get better -- as he gets fitter, as he gets stronger. In terms of fitness, as the understanding with the team grows it'll get better."
The 35-year-old played at a steady jogging lope, clearly not fully fit, but did help in keeping the ball in offense and winning headers. Schmid thinks that as Nkufo adapts to his new surroundings, the team will also adapt to his skill-set as well.
"Obviously we need to get used to him a little bit more," Schmid said. "We need to find him, sometimes early crosses can be a little more effective with him because he finds those spaces, those seams between the central defenders."
Nkufo refused to talk about his own contributions, instead stressing the team line of the necessity of the three points. The veteran striker knew enough not to be surprised by what he saw, just as he knows enough to keep his own focus on his fitness.
"It was as I have expected," Nkufo said of the match in the locker room after the game. "But we won, that's the most important thing. For me I just build up my condition. In one week, two weeks I will be fit for the championship."
While the former Twente FC captain concentrates on what he needs to improve, his striker partner Fredy Montero can revel in the tactical shift Nkufo's addition heralds.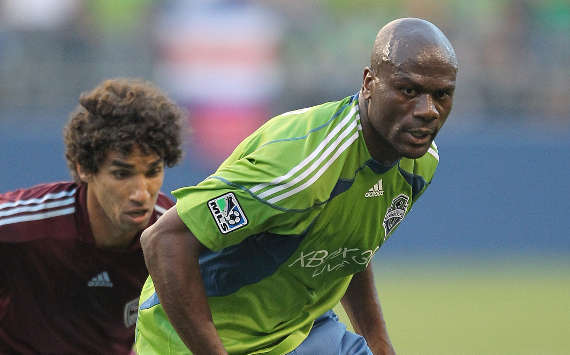 At the beginning of the season Montero found himself shoved up front alone with Freddie Ljungberg given license in the the spaces between the midfield and forward lines to create. With the Swede openly searching for a new team, Montero was entrusted with the creative duties against the Rapids.
The Colombian obliged, helping to carve out both of Steve Zakuani's strikes. The second in particular was a rather clever through-ball from a deeper position by Montero to Sanna Nyassi, who then crossed for Zakuani to tap it in. The key to the goal was Montero's vision and touch.
"With Nkufo playing a little bit more up front I can come back and play a little deeper and set up plays," Montero said through an interpreter.
Nkufo's real contributions to this team won't reveal themselves entirely until he finds full fitness. But if Montero's bright performance and upbeat post-match comments are anything to go by, the tactical shift Nkufo provides is already a good start.
For more on Major League Soccer, visit Goal.com's MLS page and join Goal.com USA's Facebook fan page!