SANDY, Utah -- With all that's going on in MLS right now, one thing is sort of flying beneath the radar: Real Salt Lake are struggling a bit. Yep, the offensive juggernaut has slowed down. The defense is looking a bit shaky at times. Even Mr. Consistency Nick Rimando is making the occasional uncharacteristic mistake. In short, these guys appear to be human after all.
"I'm disappointed that we didn't get the result," said head coach Jason Kreis after a 1-1 draw at home against Chivas USA. "I thought we did the things necessary to get it. If we play the game between the 18s, we won. Unfortunately you have to count how many times it ends up in the back of the net."
Perhaps most disappointing to Kreis is the fact that, only three minutes after taking a deserved lead, RSL let Chivas equalize.
"We're not happy to give [the goal] back so quick," said midfielder Ned Grabavoy. "Maybe we took our foot off the pedal for minute, just relaxed a little bit, so we're disappointed with that."
It was an uncharacteristic goal on top of that. Jesus Padilla took the ball at the Real defense and unleashed a hard but otherwise fairly benign long-range shot right at Nick Rimando. It looked like Rimando would make another routine save, but he inexplicably knocked the ball down between his own legs and could do nothing but watch it hop into his goal.
"I've got to do better on that," admitted Rimando. "I thought I had it. It's one of those funny bounces, but I've got to put my hand up and take care of that."
The old finishing problem reared its ugly head for Salt Lake tonight as well. The Royal Army had chance after chance go wanting, and if they finish with any kind of a reasonable success rate, then Padilla's goal is merely an afterthought.
"The simple answer [to why RSL dominated the match but didn't win] is what happens in both penalty boxes tonight," said Kreis. "The quality was lacking for us - there were a couple of opportunities where I thought we could have done better, and then obviously we make a mistake in front of our own goal."
But the news isn't all bad for Salt Lake: the highly-venerated home unbeaten streak is intact, and they are within three games of the all-time league mark in that category. And their goal tonight came courtesy of a once-in-a-lifetime strike off the foot of Grabavoy. Only three minutes after checking into the match, he volleyed a bad Chivas clearance into the top corner of the net from 22 yards out.
"It felt good," said Grabavoy. "I didn't try to kill it, I just wanted to make sure I struck it on frame. It almost seemed to pick up pace and curl into that top corner. I just hit it well."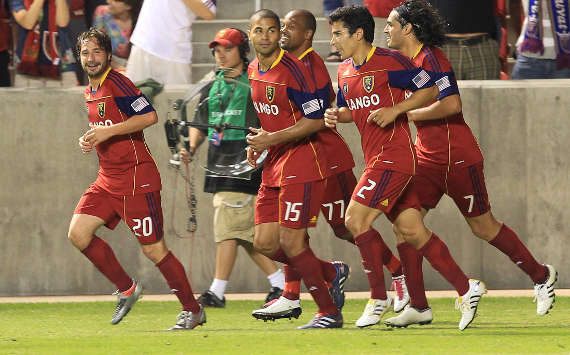 Another bit of good news for RSL was the long-awaited return of their captain and leader Kyle Beckerman, who missed over two months with an ankle injury. Beckerman played 60 minutes before coming off, and while the rust of not playing at the MLS level was apparent, it was nevertheless a successful night for him. Having Beckerman back is going to be key for Real's chances for success over the next month - their slate is packed with important league and CONCACAF Champions League matches.
"I feel good," said Beckerman. "The injury feels fine, now it's just getting the legs and everything else back."
Real don't have a lot of time to dwell on tonight's effort, though. They are back in action at home next Saturday against D.C. United, another team they will be disappointed to not get the full three points against.
For more on Major League Soccer, visit Goal.com's MLS page and join Goal.com USA's Facebook fan page!