TORONTO – It seemed like a replay from last weekend in Philadelphia, but it happened again today to Toronto FC. Last weekend, it was a Sebastien Le Toux corner meeting the head of Michael Orozco Fiscal that got the Union on the board and today, it was David Ferreira linking up with Milton Rodriguez.
The Colombian's late header off of a corner allowed FC Dallas to come out of Toronto with a road point. Yet another goal conceded from a set piece by the Reds canceled out Maicon Santos' opener, ending the match in a 1-1 draw, in a game that the hosts should have had under control.
"That's the frustrating thing right now," said veteran defender Nick Garcia.
"Knowing that set pieces have kinda been our Achilles' heel right now and we've gotta do better, collectively. That goes for everybody."
For Toronto FC manager Preki, it wasn't just the fact that another dead ball goal burned the Reds, but that the team itself completely fell apart after their goal and attempted to protect a lead, rather than icing a match that was theirs for the taking. Lapses in the last third of matches have been the calling card of TFC teams of the past, but it had yet to become a hallmark of this season's edition...that is, prior to last week.
"It's happened a couple of times, now. It's a case of seeing how we can correct this, especially after we had scored a goal," stated the gaffer.
"It's almost like somebody told my men, 'Ok, let's drop back and let them have the ball,' and that's something that we never talk about. We wanna have the ball or we wanna defend really well. I was very, very disappointed the way we played after we got the goal. I thought, as soon as we got the goal, there was no way we'd relax. You could smell something happening. Ok, good, but then we relaxed. It was almost like we took ten new guys and put them on the field and said, 'Defend'."
Midfielder Julian De Guzman was also taken aback by the loss of focus and concerted effort he and his teammates displayed after taking the lead.
"That's all it takes. One or two minutes of a lack of concentration and it can punish any team. That's what happened," said the Scarborough, Ontario native.
"We had [control] for an entire hour and then we got the goal and, I guess we were too busy celebrating, lost our focus and, after that, going into the set play, we allowed another goal. We've been very weak at that this entire season. I think it's back to the drawing board again."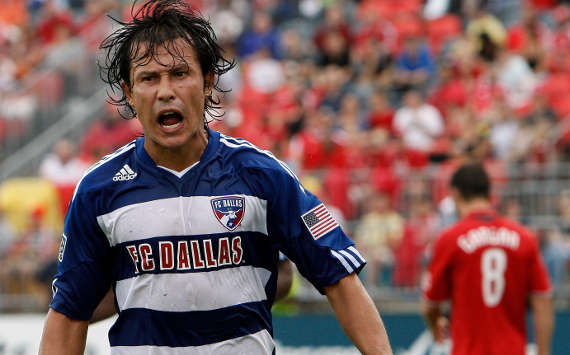 Luckily for the Reds, they have the opportunity to get this unpleasant taste out of their mouths in a hurry, as they host Honduras' CD Motagua in a CONCACAF Champions League encounter on Tuesday evening. The club, while not entirely familiar with their opposition, will see a once-friendly face in former teammate Amado Guevara. Defender Nana Attakora believes that the key to success for Toronto will be not in trying to control what they don't know, but working on what they can control, and that's their own effort.
"We know that they'll be a very technical team and we just have to stay organized, but we can't focus too much on them. Coming from a South American-style, they'll be technical, so we've gotta be smart. We've gotta stay organized and stay strong mentally and play our game."
After Tuesday's home leg with Motagua, the Reds will visit the Kansas City Wizards on Saturday, before heading down to Tegucigalpa, Honduras for the return leg. If TFC's aim is to restore their mental resolve, this next stretch will certainly test their commitment to improvement.
For more on Major League Soccer, visit Goal.com's MLS page and join Goal.com USA's Facebook fan page!