Thierry Henry signed with the New York Red Bulls last week. He's had a pretty decent little career for himself, but he is now 32 years old, so unfortunately, he must be washed up.
This continues a trend of MLS signing washed up old players and giving them a nice, cushy landing spot to spend their golden years in peace, frolicking around the pitch, and reliving their most glorious achievements.
Yes, the Sunnydale MLS Retirement Home and Senior Center welcomes Thierry Henry, where he will join recent league acquisitions Blaise Nkufo, 35; Zico, 57; and Alfredo di Stéfano, 84.
The ghosts of MLS past continue to haunt them. Before the ink was dry on Thierry Henry's contract with the Red Bulls, media outlets were already preparing the next round of "MLS Retirement Home" stories.
Like most stereotypes, there is a whiff of truth to this one, but continuing to sell this myth is shortsighted, and conveys a serious misunderstanding of the modern MLS landscape.
The Guardian
, not usually the purveyor of sensationalist sludge like many of its British counterparts, posted this fascinating poll for readers this week: "
Is the MLS a retirement home for has beens?
"
Meanwhile, Paul Oberjuerge (who should really know better) wrote "
Ageing stars eye one last payday in MLS
."
Finally, Mark Kiszla of the
Denver Post
(of whom I would absolutely not expect to know better) gives us "
MLS needs to pay the price for better talent
."
The Guardian
's poll, (which, of course, is 65%-35% in favor of "yes") states: "Thierry Henry has signed for New York Red Bulls. Players such as Freddie Ljungberg and David Beckham have also joined the league as their careers wind down. Is the US a country for old men?"
Beckham, Ljungburg and Henry all had interest from top European teams, and decided to go to MLS. Real Madrid practically begged Beckham to stay, as he had just led the team to a La Liga title. Ljungberg drew interest from Lazio, Fiorentina, Roma and Milan. Henry turned down a huge offer from West Ham before he bolted for New York. It's not like MLS asked these guys to come out of retirement.
Oberjuerge goes over a list of names that earned MLS its seemingly unshakeable retirement home reputation. Among these are guys like Lothar Matthaus, Youri Djorkaeff, and Hugo Sanchez – players who joined MLS in the not-so-recent past, and who were seriously
old
.
Matthaus was 39 when he crashed and burned with the MetroStars in 2000. Djorkaeff was 36 when he played (terribly) for the MetroStars in 2005-06. Sanchez was 38 when he stunk for the Dallas Burn in 1996.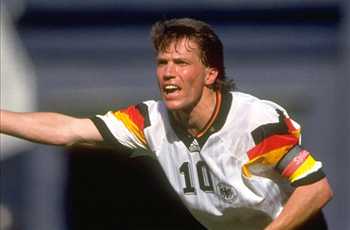 To be fair, there have been recent disappointments as well with players more in the Henry/Ljungberg age range, like Denilson, who was 30 in 2007 with FC Dallas, and Marcelo Gallardo, who was 32 when he failed to make an impact with D.C. United in 2008.
Of course, there are also guys like Luis Angel Landin, who was Houston's first Designated Player when he was signed just last August. Last week he was released, after playing and eating his way out of the league at the age of 24.
Kiszla, in the midst of a rather hackish piece overall, offers up this gem: "The MLS is still marketing itself as a soccer retirement home."
The sophistication and validity of his argument need only be evaluated by his use of the phrase "the MLS." Additionally, I have yet to see any ads from MLS hyping itself as a soccer retirement home. I'm no marketing expert, but I don't think many fans would correlate an apartment complex featuring 24-hour nursing care with high-quality soccer action.
What do we make of all of this? Sure, MLS has signed some past-their-prime soccer players in the past, but what team in what league hasn't? It's really pretty simple: If a player is in MLS, he can play. If he can't play, he will soon be gone.
In his article, Oberjuerge even mentions several veteran players that came to MLS and had success: "Some of the ageing imports have delivered results and championships. Peter Novak, the Polish midfielder and Bundesliga Player of the Year with 1860 Munich in 1996, immediately turned the Chicago Fire into champions. Hristo Stoichkov, the Bulgarian striker, a Barcelona luminary, led Chicago to a finals appearance and the US Open Cup in 2000. John Spencer and Mo Johnston, the Scottish strikers, gave value for money."
So, to summarize: MLS has signed some older foreign players over the years. Some have come over and done well. Some have come over and not done so well.
What is the issue here?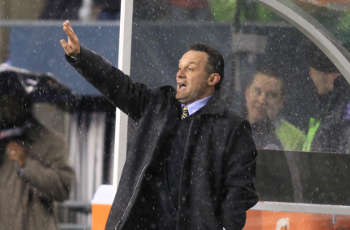 There is also the corresponding point - one that enthusiasts of the retirement home logic conveniently gloss over: MLS has produced more exciting young talent than it ever has in recent years, including guys like Andy Najar, Omar Gonzalez, Tristan Bowen, and Brek Shea just to name a few.
These are homegrown, young players, two of which - Najar and Bowen - are the product of the MLS Youth Academy system. Chances are, for every veteran import the league brings over in the next few seasons, there will be at least two or three successful domestically developed youngsters that join the league.
So in a year or two, when Frank Lampard or Clarence Seedorf or Andrei Shevchenko or whomever else are being rumored to MLS, and every genius journalist is comparing MLS to a place where your grandma and grandpa play bingo, bear this article in mind. The league has a ways to go before it's on par with the EPL or La Liga, but it also has a ways to go before it relocates to Florida to live out its golden years.
Seth Vertelney is a regular contributor to Goal.com. You can follow him on twitter.